Two big bold theme shows of exceptional interest have opened at the Haifa Museum of Art under the umbrella title Formally Speaking. One focuses on present and future directions in painting, the other on line, the most basic of art forms, not expressed by traditional means, but through the physical experience of walking.
The sheer size of these exhibitions, in which more than 40 artists from Israel and abroad are participating, will make viewing a daunting proposition for most visitors.  But Maya Shimony, an artist-curator, has come up with a neat solution. She has devised a personality questionnaire in Hebrew and English available at the entrance to the Museum. Visitors fill this out, and according to their answers, a guide map to one of three alternative routes through the shows is provided.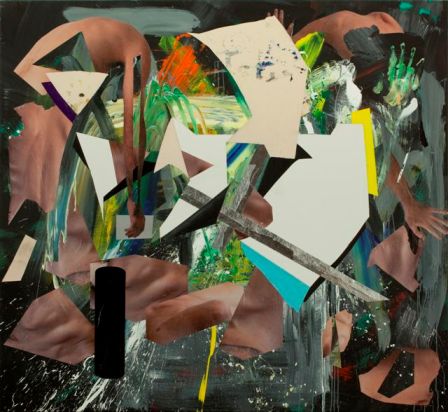 This writer has set up her own route, starting with the exhibition: And what shall we do with Painting in the 21st Century?
Walking up to the second floor of the museum where this show is sited, one's eye is drawn to a canvas on the wall: a sculptured painting by Pesach Slabovsky, the only veteran artist represented in this show. The work on view, although produced quite recently, is typical of the expressive painting style associated with this artist since the late 1970s: torn or distressed canvasses, gritty effects, a merger of painting styles, figurative and abstract elements, as well as quotations from art history.  In fact, the inclusion of his paintings in this show acts as a pointer to some of the directions that contemporary painting is now taking.
From here, one moves into the far gallery to study the collage works of Guy Avital, among them the visually exciting Letter and Knife (2010-2011). While canvas is still his matrix there is a wonderful jumble of materials and forms; passages of abstract and dashing expressionist painting interwoven with photographed fragments of human limbs, scraps of paper and textiles.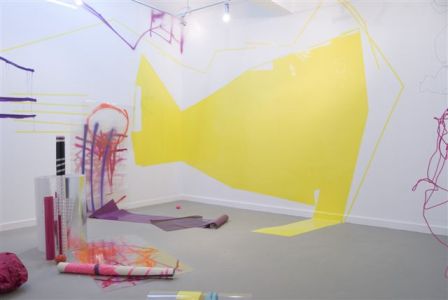 Next comes a stand-out piece by Iva Kafri set up in a small room where everything in it functions as a canvas for her painting. Colorful nets and ropes are draped from the walls, a bright yellow cut-out falls from wall to floor where small sculpted or ready made objects, such as a celluloid rolls, painted with strips of color, have been assembled. This mix may sound chaotic, but Kafri has carefully selected and ordered her components to create a painterly installation that is both lively and harmonious.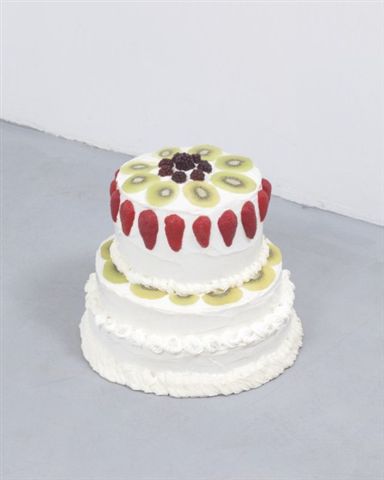 Making a striking impression in the largest gallery are Michael Sperer's luscious Silicon cream cakes, set on pedestals and arranged in a circle. This artist's lift-off point was undoubtedly the Pop Art food sculptures of Claes Oldenburg. and the paintings of frosted gateaux by Wayne Thiebaud. But whereas their works addressed the American consumerist culture of the 1960s, Sperer's sculpture-cum- painting appears to looking elsewhere: to the artificial, extravagant and self-indulgent aspects of society today.  .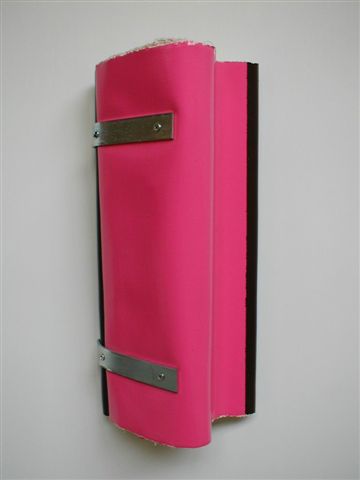 Sited on one wall are three-dimensional objects by Angela de la Cruz, a Spanish–born artist, living and working in England, who was shortlisted in 2010 for the Turner Prize. Minimum V is typical of de la Cruz's work since it follows the idea of 'liberating' a canvas. In this instance, a monochromatic abstract painting has been cut, folded and bound to become an alluring object that begs to be handled and examined.
A stellar contribution comes from Cuban-born Yaima Carrazana, living and working in Amsterdam. Shown on a battery of video screens, her Nail Polish Tutorial from 2010, is a documented performance based on YouTube instructional films. In it she demonstrates how to paint ones nails in the style of famous artists.  The lesson starts with a Google search in which an artist is selected, and then one typical work: Frank Stella, for example. In this instance, Carrazana is shown, step-by-step, creating a black and white grid pattern. This seemingly light-hearted work has serious connotations. It is yet another example of a contemporary artwork that breaks down borders, in this case between 'high' serious art and 'low', purely decorative arts and crafts.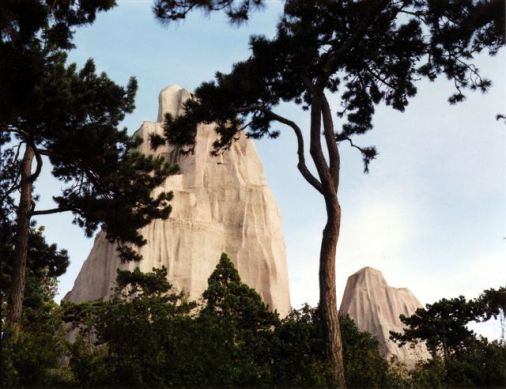 Located in an adjoining gallery are two sets of work by Noa Zait, outstanding for the way that they link painting with photography, and vice versa.  One group started out as small watercolor sketches of a face, an animal or object located in famous paintings like the donkey in Bellini's Ecstasy of St. Francis. These were scanned and enlarged, then printed onto photographic paper. Another set, photos snapped in Paris, makes reference to French landscape painting. One scene showing people relaxing on a river bank,  recalls Seurat's A Sunday Afternoon on the Island of La Grande Jatte; while another, a photo of Monkey Island in the city's zoo, recalls  Mount Sainte-Victoire, made famous by Cezanne who painted it more than 60 times.
Finally, one shouldn't miss Danny Lahav-Brown's tongue-in-cheek answer to where the future of this medium lies: a painting machine. His installation consists of a horizontally positioned white canvas board with red pigments and spices scattered on it.  Music is playing, amplified by loudspeakers, its vibrations causing the particles on the canvas to bounce up and down and form new and endless configurations. Seemingly a fun work, Lahav-Brown is actually delving into the  mechanics of painting. Is it possible, he seems to be asking, to make paintings when the personality of the artist, his inspiration and imagination are completely absent?
Lines Made for Walking, the second part of the Formally Speaking exhibition, is on display on the first floor of the Museum. Many of the works in it – mostly video pieces – were inspired by one famous artwork: British artist Richard Long's Line Made for Walking from 1967. Earth and Body Art were fashionable at that time, and Long's work related to both. It consisted of the least complicated of actions, walking backwards and forwards in a field treading down the grass until a straight line was visible which he later photographed.
Slide shows of Israeli artists who engaged in walking projects in the 1970s are  included in this show. But it would have been preferable to site them in a more central position on this floor so that they could act as an introduction, and a comparison with the walks of contemporary artists conducted for many different reasons, personal,  social, political or even historical.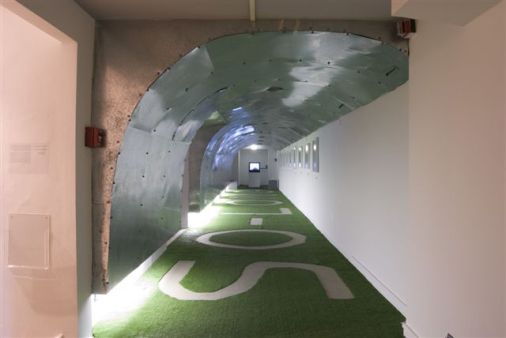 Efrat Kedem, born in Israel, living and working in Princeton and New York, pays tribute to Richard Long in her installation which is sited in the mezzanine gallery. It comprises the word So-Long, with its possible variety of meanings, cut out from a path made from synthetic grass; as well as photos taken during walks and bicycles rides. A video at the far end of this corridor shows just her legs and booted feet as she crunches through deep snow, her walk being quite different from that taken by Long in the green fields of England.
Gideon Rubin, born in Israel, living and working in London, was also photographed walking in the snow, in his case on Hampstead Heath. From a single photo he made 250 gouache paintings that are the basis for To Change Air a Little (2010) a short animated film in which his moving figure is projected onto a painting of the park. An endearing attempt to bring a static image alive.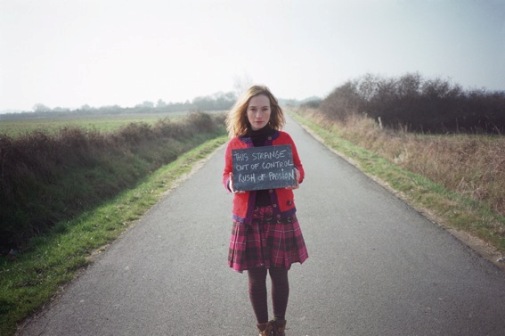 Also taking inspiration from Long's iconic piece, Amit Berlowitz's photographs depict young girls walking in a variety of locations, in France and in Israel. They are accompanied by the video What Should we Dream of? that shows a young woman walking down a country road, stopping now and then to scribble down cryptic messages such as "this strange out of control run of passion… that I might one day be happy.." In comparison to Long's walk (and the walks he made later), where his interests lay in time, distance and respect for the environment, Berlowitz gives his walks a more human image, indeed a feminine one, memorializing his  walkers by means of glossy photos. One of the aims of this film, so it seems, is to project the idea that  walking means different things to different people, but is essentially a time for meditation.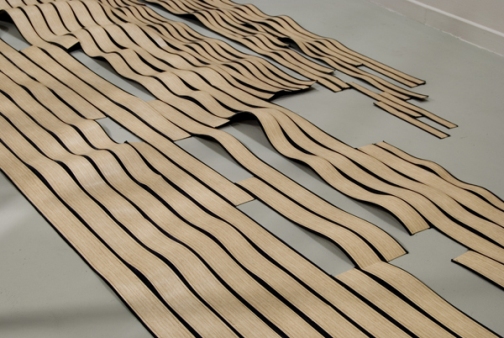 Several artists employ lines in their sculpture or paintings producing a real sense of movement. In the main gallery, take a look at a floor work by Yaara Zach. It is titled Regba, (the brand name for a well known Israeli firm manufacturing kitchens), its simple basic shape associated with Minimalist  Art of the mid 20th century. But where Minimalist sculptors like Carl Andre used stainless steel and aluminum, Zach works with zippers and strips of parquet to create a 'carpet' with a domestic aura. Also study a trio of paintings on paper by Hadas Hassid; two comprising rows of lozenge-like shapes; the other, Life Span of a Light Green Marker (2010) made up of looping rows. In the latter work, there is a  feeling not only of forward movement, but also, if one thinks about the title, there is a possibility that this activity  will stop, the artist – or  maybe a  walker – running out of steam.
Guest artists from abroad make an impressive contribution to the topic of walks and walking. I have selected only two, one by Fikret Atay, and the other by Matthew Buckingham. For The Theorists (2008) Atay, a resident of Batman, a Kurdish city in Turkey close to the Iraq border, has employed a hand-held camera to record the legs of bare-footed students carrying books, who are walking to and fro in a room. The confined space and the aimless physical activity, as in other of Atay's works, are a metaphor for the barren future facing the young Kurds for whom studying may never lead to a better future.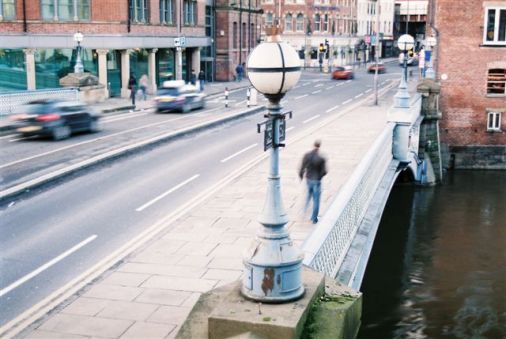 New York artist Buckingham sets up a dialogue between painting and the medium of moving images with False Future (2007), a video based on the story of Louis Le Prince, the inventor credited with developing a working motion picture system some five years before the Lumière Brothers, but who died in mysterious circumstances.
To make this video Buckingham visited Leeds Bridge in Yorkshire, England where in 1888 Le Prince filmed an eight-second motion picture.  Buckingham set up a stationary camera hinged to the bridge documenting the movements of people and cars back and forth (in Le Prince's film the vehicles were all horse-drawn.) A voice-over in French discusses his achievements and the mystery of his death. The title given to Buckingham's video relates to the fact that Le Prince's invention, never truly acknowledged, provided a false start to the history of filmmaking.
Ruth Direktor, the curator of both exhibitions, has initiated a Walks around Haifa project, inviting artists and other local residents to take part. The routes start at the Museum and meander through the city, with stops at places of personal, historical or artistic interest.

Formally Speaking is open until October.
Haifa Museum of Art, 26 Shabbetai Levi Street, Haifa, 04-8523255, 04-9115991