"As a kid I always had an incredible interest in cinema and I had the opportunity when I was younger to do a little bit of weekend work, holiday work at Pinewood Studio. I never really thought I was actually going to take it on professionally," said Gareth Unwin, co-founder and CEO of Bedlam Productions, and co-producer of The King's Speech (no introduction necessary for the critically acclaimed multi-award winning film). Unwin is currently multi-tasking at the Haifa International Film Festival, heading the jury for the Israeli Feature Competition, a member of the UK delegation of film industry professionals here for the launching of the UK-Israel co-production agreement and he's also working on a new film. Zaytoun is a project that will bring several talents and nationalities together. The film will be co-produced by Gareth Unwin and Frederick Ritzenberg, directed by Eran Riklis (The Human Resources Manager, The Syrian Bride, Lemon Tree), and shot in Israel. Unwin was generous enough to spare some time from his busy festival schedule to talk to Midnight East.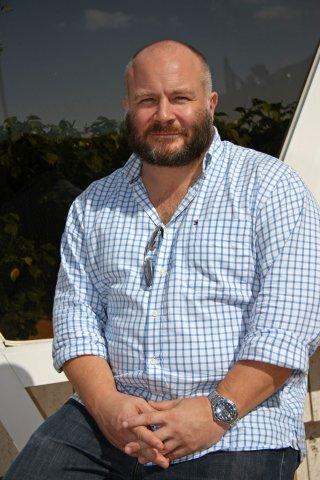 Unwin began his career as a professional ice hockey player in Britain, but what he describes as a "not fun accident" shattered two bones in his right hand. "I was sort of at a crossroads in life where professional sports were not an option anymore…I found myself actually giving my sister a lift down to this college because the family were all going to leave to Dorset and leave me in Berkshire and saw guys running around with video cameras and I had some time to kill and started chatting with them and to make a long story short basically got offered a place on the course. Me and my sister spent the three hour car ride back up to London working out how we were going to persuade my parents to let me move down to Dorset with them and start to follow this dream of filmmaking."
After graduating Ravensbourne film school in London in 1995, Unwin said, "I started off just working at the bottom of the ladder really. I was a floor runner, making teas and coffee, tidying up, you know all the sort of dogsbody roles and eventually got my first sort of break working as third assistant director on a comedy drama.That led to a very good relationship with a first AD called David Mack and David and I continued worked together for two or three years and then I started to work my way up the ladder. Eventually I ended up firsting more than a dozen feature films."
Unwin made the transition into production after 15 years of being first AD. "I decided I wanted to move across into  production management," he said, "I'd a feeling I'd sort of  hit this ceiling of control where as an AD you can only do the best thing that you can try with what's put in front of you. In 2008 I got offered a chance to produce my first feature film by a friend of mine Stuart Hazeldine. He writes for some of the big studios (The Day the Earth Stood Still) and he wanted to flex his directorial muscles so he took the very brave decision to fully finance his first film. It cost 300,000 pounds, it was all shot in one room, and I pulled in every favor that I could muster based on 15 years of being an AD. Originally he said will you first it, I said I'm not really firsting, I'm more into line producing and he said well I want you to do that as well. How it panned out is I did virtually everything from cooking the crew's dinner, and I said to Stuart really I've done everything to warrant a producer's credit and he said No, you've done more than that. So he afforded me my first producer's credit. And at the same time that that was all happening I was developing this little script called The King's Speech."  The rest is history…
When asked if after The King's Speech everyone in the world sent him scripts, Unwin replied, "It's still happening. At the moment it's still happening, we get between 50 and 100 ideas through the door every week. Some of them are fully formed screenplays and others are back of the cigarette packet ideas that people chuck out, so our developing team is kept incredibly busy at Bedlam. But its funny sometimes you come across projects in a very different way, and how Zaytoun came to me – we were opening the Dubai film festival and as part of the festival they had asked me to take part in some pitching workshops (very similar to what I've been doing here in Haifa) and got pitched very angry stories from very angry young men for days on end."
"On the very last night the lovely lady Vida who had organized my flight and accommodations came up to me and said look, I hope you don't mind but my 53 year old cousin, Nader Rizq, is in town from Iowa. He's a chemical engineer and he's just written his first script. I'm thinking this is going to be atrocious, this is going to be awful… so he started to pitch the idea to me and Fred his American producer took me through this story, and I fell for it in a really big way." They agreed to talk about the film again in a month's time as Unwin was at the time busy with The King's Speech.
Unwin recalled that "the date kept moving forward in my diary and I still hadn't read the script. I was on the Oscar campaign – there was another chicken dinner every night, another press conference, and it got to the point where it was the day before the conference call and I had to phone my development officer and said: I'm really sorry to do this to you but I need you to read Zaytoun overnight. I don't need pages of coverage I literally just need Nero's thumb – is it up or is it down?"
"He phoned me back within three hours and he said 'it's the best script we've had through the door since The King's Speech.' So I set my alarm for the next morning. The conference call was at 9:00. I woke up, I read it. I was in tears; I woke my fiancée up through laughing out loud, and just absolutely fell in love with the project."
That was in January 2011 and Unwin has visited Israel several times since to scout locations. The timing of Unwin's new project may prove to be historic, as a co-production treaty between Israel and the UK was announced at the festival on October 17, 2011. "We may well be one of the first films to go through the treaty," said Unwin, "and so it's incredibly exciting. You know the UK-Israel co-production treaty is now in place, the UK Palestinian authority treaty is apparently close to signing. I feel that with the creative balance between the Palestinian writer, Israeli director and British and American producers…we'll work very hard on trying to make a film that has international appeal that isn't just seen as a politicized story, that is genuinely a story about two people growing to know each other, having to trust each other to survive and the friendship that can be born of that type of journey being taken together."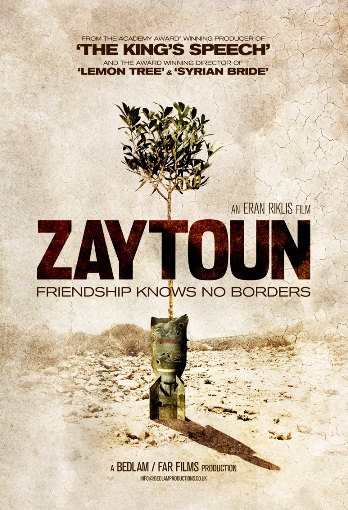 "Zaytoun is set in 1983," Unwin said, revealing the details of the project that can be discussed at this early stage, "David, an Israeli fight pilot is on a sortie over Southern Lebanon and he's forced to eject so he finds himself behind enemy lines. He's actually knocked out when he ejects and his body is recovered by a group of Palestinian kids. These Palestinian kids are in the Shatila camp – very smart, very street savvy, earn their money from selling cigarettes, newspapers and gum to all the journalists and NGOs. They're almost like slum dog kids if you can imagine that sort of reference, and they don't know what to do with David."
"The older ones wants to turn him over to the PLO, the younger ones wants to keep him as a sort of pet, but one of the kids is slightly brighter than the others and sees as an opportunity where he might be able to head back to his ancestral home in one of the occupied territories. Under the cover of darkness Fahed breaks David out of the hospital and they start on this journey that then takes them 120 km from Beirut to the Israeli border. During the course of this journey they have to get past their prejudices, their preconceptions, their baggage, and learn to know and trust each other as they face all manner of obstacles and difficulties. By the end of their journey David has learned that he has a shared responsibility in Fahed's safety and he can't just kick him back to the camp. He decides that he is actually going to fulfill Fahed's initial dream and take him to his ancestral home… and that's Zaytoun."