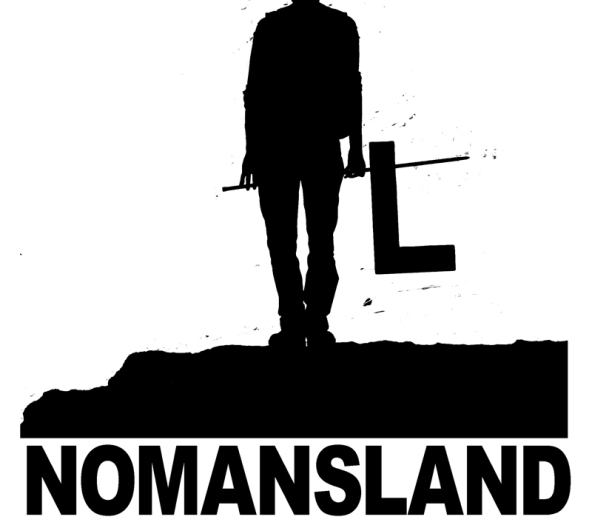 Visit Nomansland is a part of the Manofim launching of the exhibition season in Jerusalem, a project of the Self Broadcasting Authority and Muslala Group that will take place from Thursday, October 27, 2011 to Thursday, November 3, 2011. Curated by Guy Briller, Yuval Yairi and La'el Klein, Nomansland is an artistic process involving 30 artists from different disciplines who will create artwork in the public space depicted as no man's land in the heart of reunited Jerusalem. It's a project perhaps best described by the curators:
"In a place where there are no men, strive to be a man" [Ethics of the Fathers: 2:5]
VISIT NOMANSLAND is an invitation to a series of actions, gestures, tours, performances and installations, all accruing in public space for consecutive seven days. We are calling to reexamine the vague, evasive and ambiguous elements that comprise the mundane day-to-day routine of life in Jerusalem, while confronting unavoidable issues regarding boundaries, borders and ownership.
VISIT NOMANSLAND is an artistic event which will take place along the narrow strip of land that is adjacent to the eastern section of the Old City walls in Jerusalem. The fact that this territory was declared no-man's land during the years 1949-1967 is very much present to this day. "No-man's land" is a term used in legal and geographic term to describe land which separates and divides countries (or armies). This term refers to the memory of a place which lacks the presence of man in light of the efforts of external forces while simultaneously creating it – the mines, fences, snipers and fear.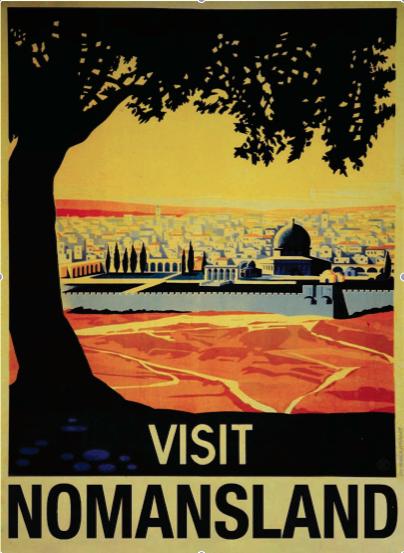 Beyond this definition, NOMANSLAND represents a place which is absent, where the acceptable rules of engagement between people are altered. Much like other realm which express an alternate form of communication, such as the sub consciousness, religion, the dream realm, or Art, NOMANSLAND serves as a platform to express the presence of the absent, which other wise may not be made possible in the natural order in which we live.
As opposed to inviting the viewers to observe a refined finished product, we encourage the crowd to experience the process of creation. A group of artists from a variety of fields (visual art, performance, dance, poetry, photography and more) have been invited to create their art work in the public space, in an effort to expose the evolution of NOMANSLAND. The piece is an artistic process rather than an aesthetic artistic conclusion.
During the week, Bomb Shelter 751 in Musrara will act as the Western border of NOMANSLAND and the control room of the project. In this underground facility you will be able to find testimony to the ongoing work done within the boundaries of the depicted territory, as well as see the base camp of the participating artists. Organized tours will commerce from this point, and provide a deeper insight into the complexity of life in "Nomansland". The Self Broadcast Authority will provide live, ongoing 24/7 broadcast of the different events taking place in NOMANSALAND. Via the Broadcasting Project web site,  you can find a variety of photos, videos, texts, poems and accurate GPS tracking.
On Thursday, October 27, 2011 we will be inaugurating the Community Workshop at Bomb Shelter 751, simultaneously with the Manofim opening events. On Wednesday, October 2, 2011 we offer a wider range of activities:
3 guided tours investigating the art work found in NOMANSLAND, guided by Ronen Idelman, Guy Briller, Muhammad Jabali, Irit Manor and Matan Israeli. Advance registration is required, to reserve a tour: write to office@muslala.org.
"Freedom Parade" from NOMANDSLAND South.
20:00  – Artists debate in Bomb Shelter 751. 22:00 "TaaPet" will be performing live music accompanying the film The Cabinet of Dr. Caligari.
Participating artists:
Hannan Abu Hussein, Ronen Eidelman, Homesick – (Iris Erez, asaf Aharonson, Ofir Yudilevitch, Tami Lebovits), Noa Arad-Yairi, Yael Balaban, Itai Ben Nun, Yuda Braun, Amnon Barri & Netanel Goldberg, Guy Briller, Muhammad Jabali, Gavri Guy, TaaPet, Mich'ael Zupraner, Lavi Zytner, Zvi Tolkovski, Yuval Yairi, Matan Israeli, Noam Kuzar, Ayala Landau, Irit Manor, Eliad Landau, Porat Salomon, Adi Sened,  Heading (Emilie Combat & Asaf Aharonson), Snir Kazir, Chaya Rukin, Chen Shapira.
Curators: Guy Briller, Yuval Yairi and La'el Klein. Broadcast: Guy Briller.
The curators will be glad to respond to your questions. Call Guy Briller: 054-5252020 or Yuval Yairi: 052-2632145. VISIT NOMANSLAND was made possible due to the generous support of The Jerusalem Foundation, Manofim and the Jerusalem Municipality.
For more information: www.thebproject.org; www.muslala.org; VISIT NOMANSLAND on Facebook