I'm not sure if this is what Ben Gurion had in mind, but InDNegev makes the desert bloom. A festival of music, culture, and the freedom to create, InDNegev was founded in 2007 by Assaf Kazado and Matan Neufeld. The festival takes place in the fall, in Mitzpe Gvulot, near Kibbutz Gvulot, in the south of Israel, not too far from Gaza. A cultural, rather than commercial venture, InDNegev creates a community experience with musicians volunteering their time and a tent city of festival goers that blossoms overnight on the sands.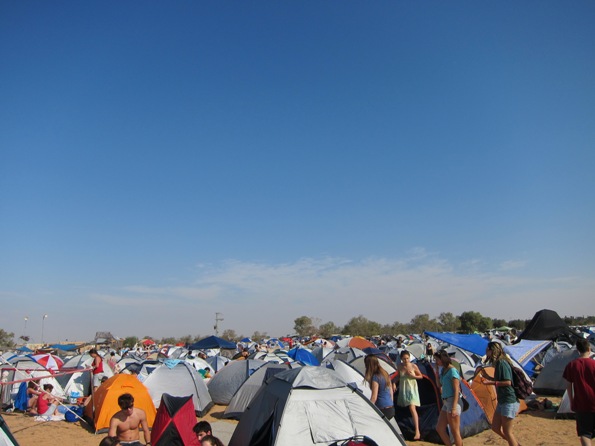 Yoni Jacob was the first person to arrive at InDNegev this year, sometime mid-afternoon on Thursday, October 27, 2011. He was soon joined by around 5,000 others. The festival grounds include a performance area with three stages, booths with food and drink, a recycling stand, CDs, Tshirts and art everywhere; a backstage area where the musicians and staff camp; and the campground that includes yet another informal stage in the sand and a shaded children's play area with activities, art supplies, face painting, and a dragon maze.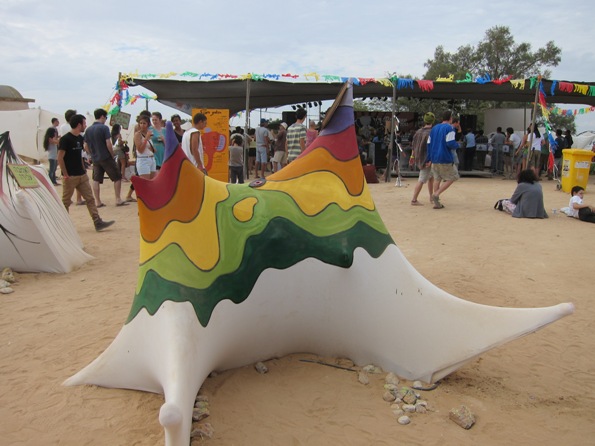 Relaxing in the tent as the sun set on the first evening, I could hear the music from the main stage, and people walking by transformed the tent into a theatre of shadows until night fell. Following the music, entering the performance grounds for the first time is like entering a carnival space, where the rules of everyday life are suspended, and the borderline between fantasy and reality is yet another shimmering illusion. Colorful sculptures lit from within covered the ground, on approaching one could look through the peepholes to discover the hidden spaces within.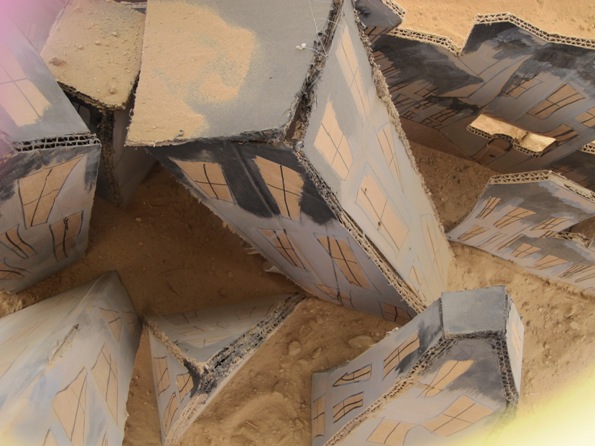 Hand painted signs – useful, playful and fun, could be seen everywhere. A large shadow theatre set up on the slope made me feel as if my thoughts in the tent had just been translated into reality, a dream manifest and magnified.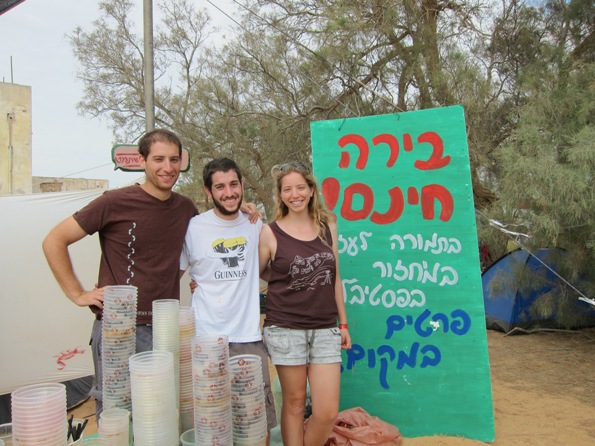 Surrounded by people and music, InDNegev is like entering an alternative reality of freedom, with endless partying. Somehow the diverse and colorful crowd – babies, babes, hipsters, anti-hipsters and aging hippies – gathered for the festival finds a way to co-exist in harmony; with an atmosphere of tolerance and sharing, at least for three days.  There was some serious green action at the festival this year, initiated by members of neighboring Kibbutz Gvulot. A recycling stand was set up very conveniently mid-way between the two main stages, offering coupons for a free beer in exchange for 30 cups, 20 straws or a plastic cupful of cigarette butts. Suffice to say, business was booming, with happy campers bringing on the recyclables. If you wanted to check out the performance list at night, you could hop on a bicycle and pedal your way to the light, with green electricity illuminating the sign.
Israel's indie music scene is vibrant, creative and infinitely varied, its influences are rock, reggae, Middle Eastern, pop, Balkan, electronic, funk, acoustic and its languages are Hebrew, English, Tajik, Serbian, Amharic, and what you will. The festive dilemma is whether to seek out new bands or to revel in three days of immersion in one's favorites. Not to mention, for this writer, the tension between meticulous note-taking and savoring the moment. On the first night, as I stood at the intimate tent stage set up by Ashan Hazman for discussions and acoustic performances, carefully noting the name of a duo I enjoyed hearing (the Nekifot – Aviad Hendel and David Avraham), a man walked up to me and said, "Don't write, just be. You'll remember the important things."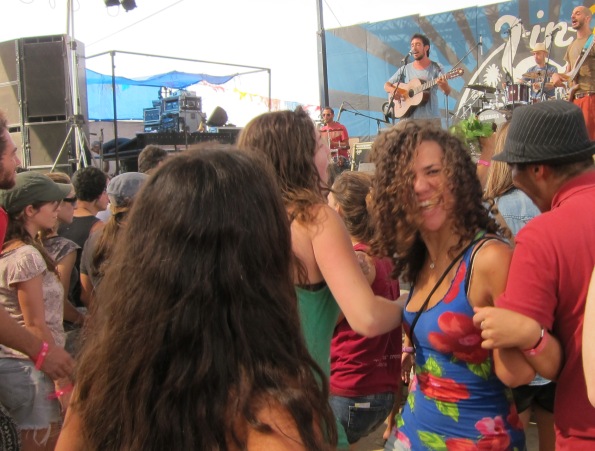 Waking up to feel the sun's heat on my skin, memories of Nikmat HaTraktor still singing in my veins, showering outdoors and drinking my morning coffee with friends old and new, a multitude of people ready to greet the day. My heart and mind opening to new voices – Roy Dahan, who recently launched his debut album, a warm presence with a soulful folk/rock sound – then dancing to the rhythm of the Jali Ensemble wishing that I could wake up this way every morning.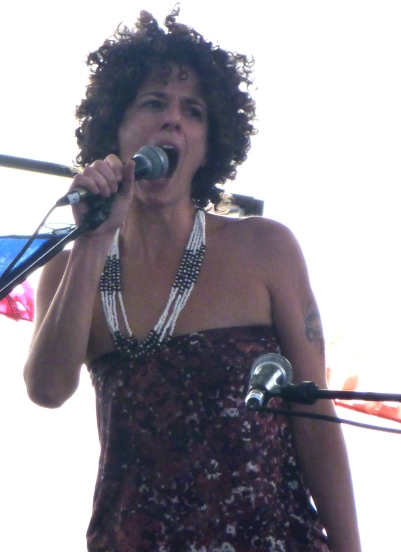 "If you're looking for trouble you came to the right place," Ruth Dolores Weiss sang backed by Yehu Yaron, Stav Ben Shahar and Noam Dorembus, with Raphael Roginski coming on later in the set. The word 'cover' does not begin to describe what Weiss can do with a song. Her interpretations undermine genre, holding centuries of sky in the quiet power of her voice, or letting the volcano burn as she belts it out and the words soar.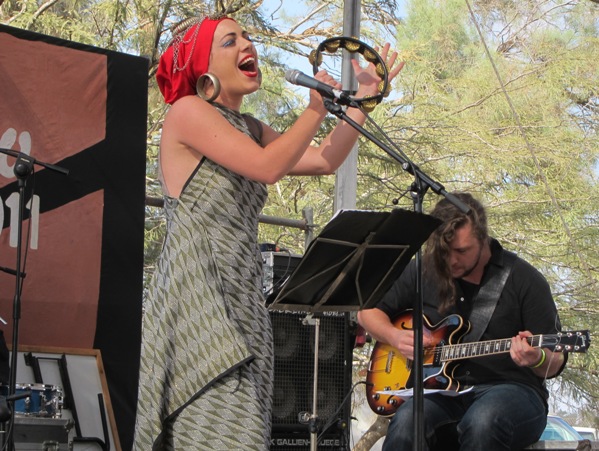 Roginski is launching a new project of his own – Debka Rafiah. Roginski's interest in "lost ideas, lost music and musical traditions" led him to explore the songs of Emanuel Zamir (1925 – 1962), a pioneer of Hebrew song whose melodies were often based on Bedouin folk songs. The Debka Rafiah brings a contemporary feel to Zamir's music, with an emphasis on their inherent Middle Eastern rhythms.
A surprising cover came from Benny Bashan, a cultural cut-up with rough humor and a clever tongue, who in addition to rough gems like Ani Beni Bashan's jubilant announcement "I'm a New Age ziyyun [fuck]," performed a sincerely sweet rendition of Naomi Shemer's children's song Hatiyul Hagadol (The Great Trip – no pun intended).
Past and present merged in the radical Queen of the Bathtub, a political cabaret written by poet/playwright Hanoch Levin, with music composed by Zohar Levy. Banned from the stage in 1970 after only 19 performances, the songs have been revived in new arrangements produced by Stav Ben Shachar and performed at the festival by Ruth Dolores Weiss, Yehu Yaron, and others. Achingly relevant in their harsh beauty, the songs resonated deeply with the festival audience.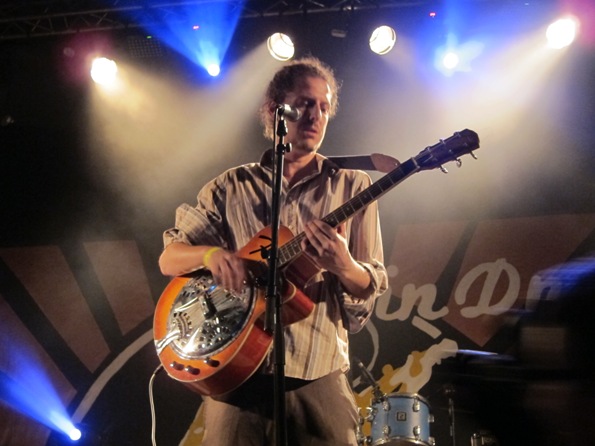 Midnight East was glad to meet The Angelcy once more – a new band that relies on strong and sensitive lyrics, with a complex texture to their eclectic sound that knows how to get a good rhythm going. Speaking of rhythm – how much fun is it to march with the site specific Ohana Brass Band? Then ride on the amazing energy of the Alaev family, which set the desert dancing to a Bukharan groove. The multicultural magic continued with Balkan Bamachsan in a Balkan, Klezmer, Gypsy, Middle Eastern dance party.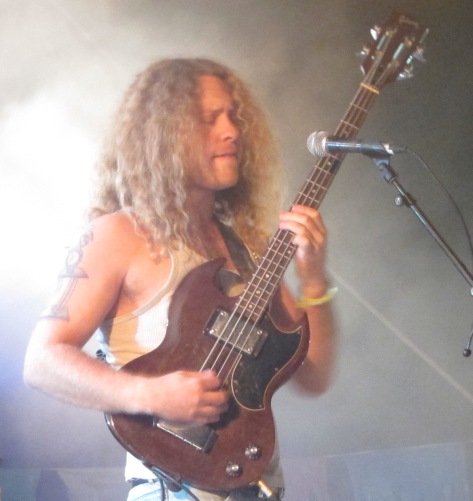 A mix-tape made in heaven, next up was a psychedelic set as Tree shared the stage with Uzi Feinerman, Shahar Ohana and Itai Tamari for a mind-expanding jam. Izabo rocked the night and the end of their set felt like the right time to leave the party and crawl into my tent.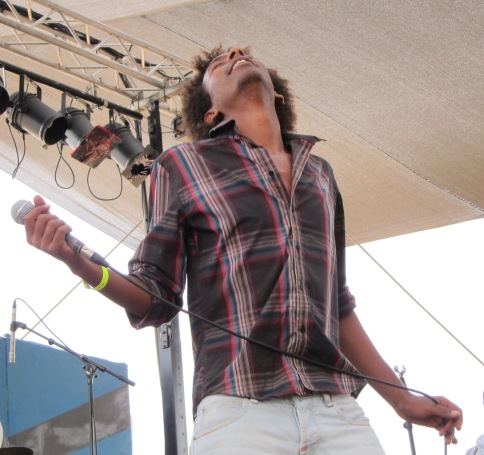 "Smoke the herb/dance all day" – Zvuloon Dub System, with special guest Abate Berihun had everyone feeling good on Saturday morning, dancing to Reggae, African, a Jimi Hendrix cover and songs in Amharic.  Shmemel brought out the zany delirium with Helium for the Masses, Van Gogh and other favorites – if there was a way to harness the energy they generated; it would be an amazing alternative power source. The band was hoping to move the heavens and bring rain. The skies remained obstinately clear despite the joyous dancing of the crowds, perhaps an indication that the heavens can enjoy a good joke too.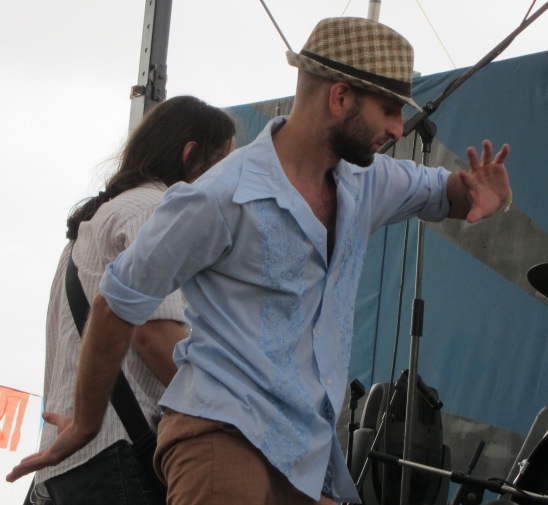 People and place came together as The Raw Men Empire went electric with guests Sharon Kantor and Guy Schecter. A band that somehow merges a tender intimacy with a playful, subversive edge, TRME sang to a crowd of thousands, singing songs like Between You and Me as if they were singing a private message to each individual, and the irreverent resonance of "One Track Mind" reaching anthemic heights, as everyone sang out: "You got a one track mind that leads nowhere." Closing their performance with the song Time to Love, Tsvika Frosh urged the crowd: "Do something with all that love."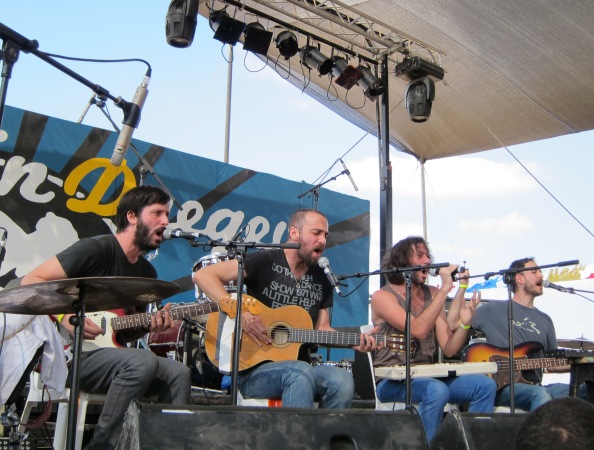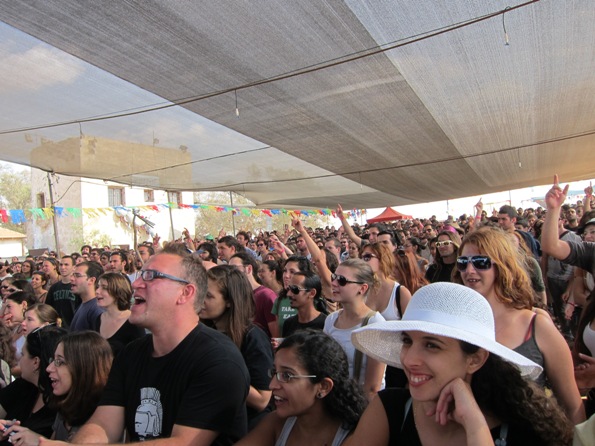 There was tremendous energy and joy at InDNegev, in all the different rhythms, instruments, languages and colors, a sense of being part of a community, and a feeling that there is power in this meeting, in this moment; a recognition of the power inherent in this abundant creativity. Perhaps this was what Ben Gurion had in mind after all.