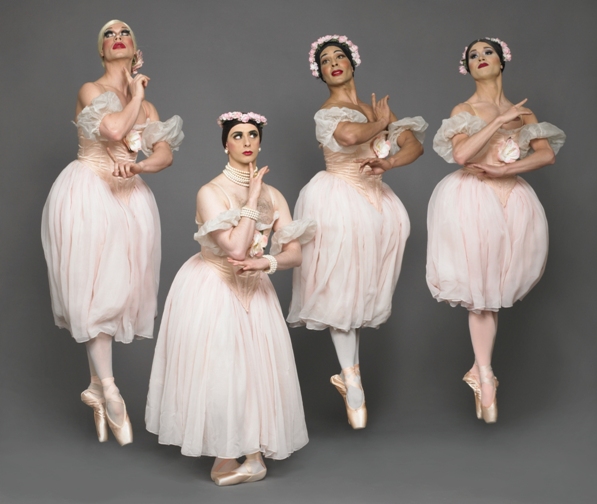 The performance of Les Ballets Trockadero de Monte Carlo at the Israeli Opera in Tel Aviv was not only a delight, but a revelation. I thought I had a fairly good idea of what to expect: an all-male company performing a parody of ballet, en travesti, that is, with the men performing all the female roles. I thought it would be a lark, a fun evening of dance punctuated with laughter, I did not imagine that I would be so moved and exhilarated by the joyous brilliance of their performance.
One might imagine the Trocks, as they are known, as the comic revenge for every little boy who has watched his sister in dance class and thought: I want to do that! Only to discover, if his interest is in classical dance, that he will never dance en pointe, his job requirements include heavy lifting and tulle does not figure very prominently in his future. Having seen Les Ballets Trockadero de Monte Carlo, I say: Why not?
The daring company casts its spell with subtlety, beginning the evening with Act II of Swan Lake, the perfect opening piece. The story of the princess turned into a swan by an evil sorcerer's spell, and Tchaikovsky's music are well known even to those who are not ballet aficionados, Swan Lake and its imagery are emblems of ballet and the world of dance in popular culture. The alluring duality of woman/swan and Odette/Odile, serves as a powerful metaphor for dance with its magical transformation, exacting demands, and fierce struggles behind the scenes, as well as issues of gender.
Matthew Bourne's 1995 version of Swan Lake with an all-male cast takes the ballet into a contemporary, psychological exploration, and has itself become a reference point in the film Billy Elliott (2000) – Billy's performance in Bourne's Swan Lake is the sign that his personal transformation and triumph are complete: he has become a dancer. Hans Christian Anderson plumbed the transformative symbolic depths of the swan, in a critical scene of her novel The Short History of a Prince, Jane Hamilton has the aspiring teenage dancer Walter sneak into the studio wearing one of the girls's costumes to imagine himself as Odette, only to be caught by his stern ballet teacher and forced to do Odile's 32 fouettés as punishment, and I would expect that almost everyone reading this article has seen Natalie Portman in Black Swan.
The Russian accent of the announcer, the humorous names of the ballerinas (Natasha Notgoodenough, who was sadly absent from this performance, and several others drew laughs from the audience), the dazzling white costumes and dark curly chest hairs make it clear from the start that a fun evening is in store. Yet what becomes more and more apparent as the dance progresses is that one is watching a company of excellent dancers who are simply a pleasure to behold. The humor of the performance originates in a deep understanding of dance and its conventions, its foibles, eccentricities and abundant potential for dramatic faux-pas.  For those familiar with Swan Lake, the deviations from the choreography are a riot, and from the overwhelming response of the audience, even those who have not committed the ballet to memory are thoroughly amused.
The dramatic tension maintained between dancing Swan Lake and parodying Swan Lake makes the performance exceptional. The expressive qualities of the dancers are remarkable; they succeed in conveying an image that is just ever so slightly over the top, so that in their dance you see the corps de ballet, and you see the parody emanating from within. This delicate balance is hilariously upset with perfect comic timing as every so often, something really outrageous happens onstage. One never knows quite what to expect – and that is enormously fun.
One dancer that I noted in particular was Guiseppina Zambellini (Davide Marongiu) whose broad muscles and even broader smile imbued her/his dancing with such joyous exuberance that I found myself laughing and yet entirely captivated, swept away by the performance. Guiseppina was often featured in the more comic moments of the choreography – an excellent choice! Not to mention Odette, performed by Lariska Dumbchenko (Raffaele Morra) who moved in and out of character with diva-like speed, pirouetting with the prince, giving Benno an admonishing look of disgust, bawling like an angry child, but only for an instant, before returning with serene sorrowful decorum to her part in the duet. The final image of Odette's fluttering, swan-like arms, her eloquent back, is simply beautiful. Later in the program the solo of the dying swan performed by Ida Nevasayneva (Paul Ghiselin) is poetic, pretentious and playful, the eternally molting diva was eloquently graceful, and jauntily cheeky as she relished the applause.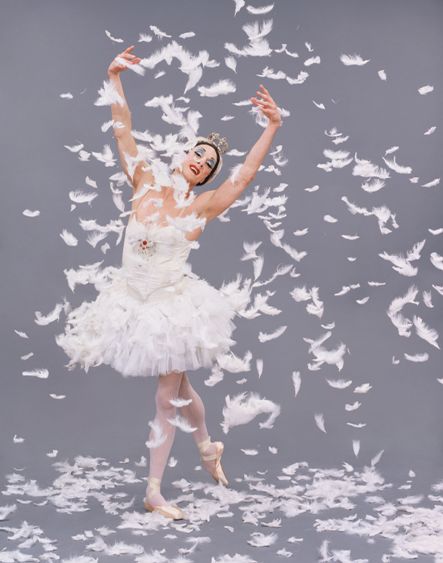 Whether the focus is on Merce Cunningham's modern random angularity or neo classical ballet and its configurations, the company's ability to embody the feel of the choreographers whose work they present and parody is astounding. Conveying the tensile strength and evanescent fragility of the ballerina, watching the company perform their closing piece, Paquita, I was swept away by the thrill of the dance, the composition of sound, movement and color; it felt as exciting as when I first fell in love with ballet as a child.
Les Ballets Trockadero de Monte Carlo will be performing at the Israeli Opera through November 11, 2011. Tickets are 149 – 299 NIS. Order online www.bimot.co.il, or call: 02-6237000 (Bimot) or 03-5215200 (Hadran).