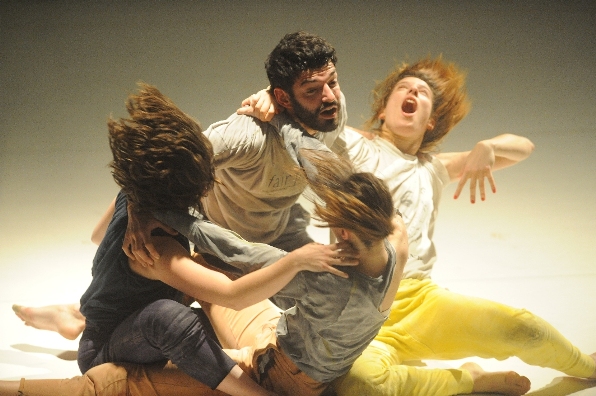 The world will converge on Tel Aviv once more for the International Exposure in Dance taking place at the Suzanne Dellal Centre from November 30 – December 4, 2011. Over 30 Festival Directors, Dancer Center Directors, and members of the foreign press will participate in a marathon presentation of contemporary dance, reflecting the creative energy and diversity of the Israeli dance scene.
An stellar list of choreographers will be showing their work during International Exposure, among them: Inbal Pinto and Avshalom Pollak Dance Company, Maria Kong, Orly Portal and the Andalusian Orchestra, Vertigo, Kolben Dance, Renana Raz and Barak Marshall, Niv Sheinfeld and Oren Laor, Idan Sharabi, Idan Cohen, Sahar Azimi, Tamar Borrer, Lee Meir, Batsheva Dance Company, Kibbutz Contemporary Dance Company, Yasmin Godder, Nimrod Freed, Dafi Eltebeb, Ido Tadmor, Ronit Ziv, Choreographers of Gvanim BeMahol (Shades of Dance): Arthur Astman, Gil Harush, Yuval Goldstein, Lilach Livneh, Moran Yitzhaki Abergil, Merav Cohen, Smadar Goshen, Idan Yoav, Amir Zamir and Ran Ben Dror.
A complete list of performances is available on the Suzanne Dellal site.
Among the international guests expected to arrive are: Herta Straka, Director Impulstanz Festival; Nicole Said, General Manager Ballet Preljocaj; Martin Wechsler, Programming Director Joyce Theater; Mary-Louise Albert, Artistic and Manageing Director Chutzpah! Festival; Wang Jianqi, Chairman of Beijing GeHua Cultural Development Group; Jiang Jianqiu, Chairman of Beijing GeHua Cultural Development Center; Zhang Changcheng, General Manager of China ShiJiTan Contemporary Art Center; Karen Cheung, Executive Director Guangdong Modern Dance Festival; Tim Rushton, Artistic Director Danish Dance Theater; Grace Lang, Producer, Saitama Art Center; Zofia Vitezy, Director, Budapesti Fesztivakozpont; Vera Vadas, Director of the Jewish Summer Festival, Budapest; and Mario Frendo, Artistic Director Malta Arts Festival.
International Exposure is an initiative of the Suzanne Dellal Centre, produced in collaboration with the Ministry of Foreign Affairs – Kashtum (Department of Culture and Science), the Ministry of Culture and Sport Dance Department and with the support of Isracard and Klal Insurance.