It takes something special to conjure up the sensation of intimacy in a 500+ seat auditorium; but Mark Eliyahu and his ensemble pull off the feat almost without trying. It wasn't through any lack of consideration for the audience, mind; rather, wrapped within their performance, one feels almost like an intruder on something special, a performance put for oneself rather than for the world at large. Such was their connection with their music.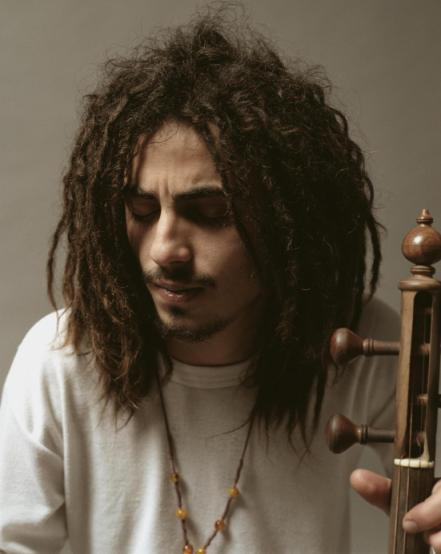 Not yet 30, Eliyahu is already, evidently, a master of his craft. Born in Dagestan, he started to learn the violin at the age of 4. By 16, and with the encouragement of his parents – his father, the composer Piris Eliyahu, plays in his ensemble – he went to Greece to study with the Greek-Irish world musician and Cretan lyra master Ross Daly. This was the start of a continuing adventure with the musical traditions of the Levant and the Middle East.
Musical Fantasy: Circles, a performance at Beit Shmuel in Jerusalem this week – part of the International Oud Festival – was a premiere of new compositions by Eliyahu coupled with new arrangements of work by his father, Piris. The songs were based on an ambitious concept, crafting a musical suite around musical formulas that date back to the ancient Persian and Greek kingdoms. These formulas, in Eliyahu's words, have been passed down from teacher to student for hundreds of years; preserved thus, they have even served as the basis for the music of royal courts and for the songs of the Levites in the Temple.
Eliyahu's instrument of choice for the evening was the Kamanche, a long necked string instrument not dissimilar to the violin, with its origins in the Caucasus and Iran. In his hands, it is a remarkably versatile instrument: alternating between strumming it with his fingers stroking it with a bow, one moment he teases from it a a high pitched wail, the next a sonorous lament.
Eliyahu discovered the Kamanche whilst studying in Greece with Daly, who encouraged him to learn its intricate secrets at the hands of the Azeri Kamanche master Adalat Vazirov.
Circles bears the imprint of his first mentor, one fancies; its lilting melodies combined with the insistent pulse of percussion call the rumbustious, yet sensitive  qualities of celtic. Certainly, the fusion between east and west – aside from Eliyahu Pere et Fils, the ensemble included piano, percussion, contra-bass and guitar – reminded one repeatedly of the world music fusion of the now defunct Afro-Celt Sound system. That said, Circles retained a distinct imprimatur of the Orient.
Underpinning the ensemble's adventurous excursions, Liat Zion's vocals vibrato influenced vocals gave depth and range to the ensemble; how she commanded her range of notes sitting down is to me, something of a wonder. The performance, as a whole, was mesmerizing and assured yet unaffected, almost like having a bunch of friends jamming together for fun.