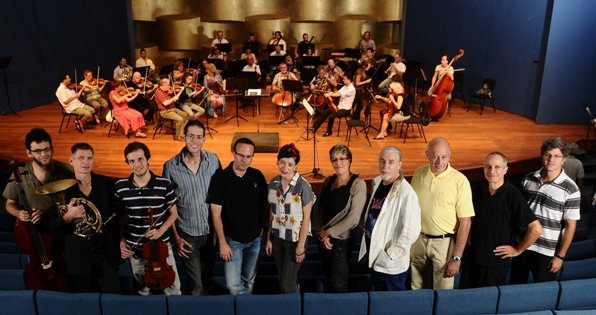 Enjoy a holiday in the desert with Tzlilim BaMidbar, four days of music at Kibbutz Sde Boker from December 22 – 25, 2011. Artistic Director Dr. Michael Wolpe brings together artists of different styles and genres to create a musical dialogue and celebration for all ages.
Each day has something different to offer! Here's the festival schedule:
Thursday, December 22, 2011
17:00 The Revolution Orchestra 2nd Animation Project, conducted by Roy Oppenheim in the Great Hall.
19:30 Coolooloosh free performance in the festival square.
21:00 Symphonic Hadag Nachash – rap goes orchestral as the Revolution Orchestra conducted by Roy Oppenheim performs new arrangements to songs of Hadag Nachash for a rock-rap-symphonic experience. Hadag Nachash will be accompanied by three musicians from the Revolution Orchestra, under the artistic direction of Zohar Sharon.
22:30 The Groovatron will close the evening with a dance party into the night.
Friday, December 23, 2011
11:00 From Here to Beethoven – the Israel Chamber Orchestra, conducted by Dimona born Roy Azulai, in a tribute concert to Gilad Shalit with two new pieces by young Israeli composers Mati Kobler and Tomer Haddadi. In the great hall.
13:00 Symposium – Mutual responsibility and Social Justice: a panel discussion with the participation of festival artists and the audience that will explore the dramatic events of the past year in Israeli society.
17:00 From Here to Brahms – the Meitar Ensemble will perform several chamber works composed by Michael Wolpe, Eyal Adler and Johannes Brahms.
19:30 Born in Israel – A Tribute to Ehud Manor in the festival square. The event will be open to the public free of charge. Yadi Manor and Quinta will perform a selection of Ehud Manor's songs, this special event will be hosted by Ofra Fuchs.
21:00 Gronich Celebrates 40 – Shlomo Gronich and the Meitar Ensemble will celebrate the 40th anniversary of Gronich's first album. In the Great Hall.
22:30 Hayuta – a musical-theatrical fantasy inspired by Hanoch Levin's songs and plays, with Yarden Bar Kochva, Roni Porat, Emmanuel Hanoun and musicians.
Saturday, December 24, 2011
11:00 The Duckling and Cinderella – a performance for the entire family with the Israeli Stage Orchestra conducted by Talia Ilan. Directed and performed by Dani Erlich, an adaptation of two popular children's tales of growing up and overcoming obstacles, with music composed by Anna Segal, alongside selections from classical works. In the Great Hall.
13:00 Song in Four Verses – a meeting with the composer Nachum Heyman. Dr. Michael Wolpe will talk with Heyman about his life and work, a prelude to the evening performance dedicated to Heyman's songs.
17:00 Tzlilim Shluvim, conducted and hosted by Shmuel Elbaz. An encounter between East and West, the Israeli Stage Orchestra with Middle Eastern instruments.
19:15 Songs from Here and For Here – the singer Ofer Callaf and Michael Wolpe in a performance of songs by Chaim Nachman Bialik, with Yaki Reuven – mandolin; Hila Lifshitz and Yuval Hertz – violin; Avital Zeig – viola; Arza Rost – cello; and Meir Levi – percussion.
20:30 Shirim Ad Kan – A Tribute to Nachum Heyman, Israel Prize Recipient. A festive concert of The Israel Sinfonietta Beer Sheva conducted by Doron Salomon with Avi Peretz, Ofer Callaf, Efrat Gosh and C Heyman alongside Roni Ginosar, Neta Nimrodi, Arieh Burstein, Meirav Hazan, Anna Shpitz, Meir Briskman and Einat Azulai. The evening will include new arrangements to Heyman's songs composed by students of the Jerusalem Academy of Music. In the Great Hall.
22:30 Wine and Cheese in the festival square – FREE and open to the public. Warm up with wine and music! Bring a guitar and jam with the performers of the Heyman tribute.
Sunday, December 25, 2011
11:00 A workshop with the Latin American Ensemble of the Negev in the Great Hall.
17:00 The Latin American Ensemble will perform in the Great Hall.
19:15 The Great Jewish Composers of Europe: Henry Hertz, Carl Goldmark, Victor Ullman. An open meeting with the participants of the Weimar-Jerusalem Project, hosted by Michael Wolpe. In the Club.
20:30 The Weimar-Jerusalem Project – the youth orchestra of the Jerusalem Academy of Music and the Liszt School of Music Weimar, conducted by Alexander Marcin, soloist: violinist Roy Shiloh.
Tickets for concerts and other events range from 40 – 100 NIS, to order call: 08-6564161-2. Additional information may be found (in Hebrew) on the festival website: www.tzlilimbamidbar.co.il. Information on places to stay and tours in the area may be found on the regional site: www.rng.org.il.