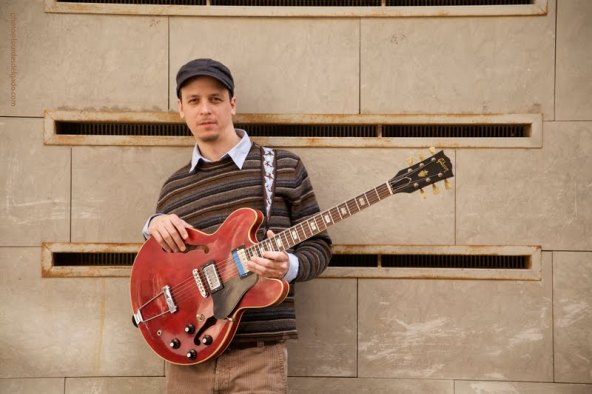 Students being students, it was only a matter of time before the question came up. "So, what do you do to enhance your creativity?" Kurt Rosenwinkel grins. "Yoga, dude!" The workshop erupts with laughter. "I dunno…go to a museum, clean up your room…all the things your mother would tell you to do."
That said, pinning down Kurt Rosenwinkel's impressive versatility with the jazz guitar to any single reason would be something of a task. He shaped his sound with stateside legends like Paul Motian, Joe Henderson and Brian Blade; but his most recent project was with a Portuguese big band, the Orquestra Jazz de Matosinhos (OJM). His interpretations of the standards – his take on Thelonius Monk's Reflections, for example – suggest healthy respect for the songbook; but his repertoire has taken him much further afield, from free jazz/alt rock collective Human Feel to collaborations with Hip Hop legend Q-Tip. One can't help but suggest that if anything, his career seems to be something of a study in contrasts.
"I do have a lot of opposites going on in me," he acknowledges. We're chatting at the Rimon School of Music, after the packed jazz guitar workshop which featured the aforementioned question, along with other stuff that went over this correspondent's head but kept the audience enraptured for two hours. Berlin-based Rosenwinkel is in Israel as a guest of the school, leading a series of workshops as part of the annual Oz Moses Memorial Workshop Series.
Notwithstanding, at the core remains a fidelity to the principles of Jazz. "I prefer structure, the basic elements and the traditional roles of the instruments," he says. "I don't need to be an innovator to express myself…Jazz has a very strong tradition that has developed over the 20th century, it is something that I rejoice in and something that gives me freedom (as a player)."
Rosenwinkel was born in Philadelphia in 1970. He took up music young, and interestingly was even at the beginning interested in shaping his own sound. "I've been writing music since I started," he says. "I started writing songs because I love the piano and I didn't know  anything, so I had to make it up," he laughs.
Rosenwinkel's output – 11 studio albums, and an extensive list of collaborations – suggests that he is as much at home with the standards as he is playing his own compositions.  "Standards are important," he says. "They are huge body of repertoire that we all share, the link that keeps us all talking." Working and re-working the classics keeps his playing dynamic, he suggests. "They're a kind of sounding board that put your style and approach to the music in relief. You can see what kind if attitudes and styles you have in your own playing when you play standards, because there are so many different ways to play them, and when you find yours it may relate to certain parts of the (jazz) tradition that you feel more akin to…"
It is an intuition that Rosenwinkel carries to his parallel profession, as professor of jazz guitar at the Hochschule für Musik Hanns Eisler in Berlin. He doesn't aim to dictate how the student should play, he says, but rather help them in placing their aspirations within the broader context of jazz music in general. "I'm just open to seeing where the student is at, and however I can help in that way. I kind of feel like a doctor in that way; I don't try to impart any stylistic set of rules…"
Another contrast: New York vs Berlin. "I think objectively, New York has much more going on in terms of Jazz. No other city comes close. But Berlin has a thriving jazz scene itself, small but consisting of people who are very serious and at a very high level." Having said that, Berlin opens up other possibilities for Rosenwinkel.
"Berlin is a great place to be in, it has a lot of vibrance, dynamic energy…there is a lot of freedom there that expresses itself just in terms of the people going out and having a good time. They aren't forced into rigid patterns by the state or society." New York in this respect, compares unfavorably. "It's more and more a controlled and legislated lifestyle – no smoking here, no drinking there. I miss New York, my musical foundation is there, but I feel that Berlin is a much more free city. I'm very happy in Berlin."
Freedom opens the pathways to creativity, of course; and jazz, if it is anything at all, is about seeking out creative ways of collaborating with other artists, within the genre and beyond. "I think the creative spark is like…when people meet and get a vibe and they feel the compatability…" Rosenwinkel refers to his work with Q-Tip, which spans a decade and three albums. "He's hip hop, I'm Jazz, we're both open minded and broad minded and we're both fans of each other's music. So there was a lot of common ground, a lot of fertile ground to make some music together."  Which sounds like a bit more fun than tidying up one's room. But then, one can find the creative urge in the most unlikely of places.
Kurt Rosenwinkel will be performing with students and teachers of the Rimon School on Thursday, February 2, 2012 at the Givatayim Theatre at 21:00.