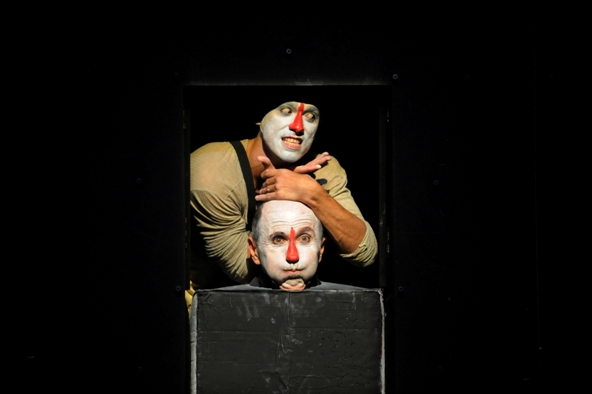 Bombyx Mori, a new dance work by Inbal Pinto and Avshalom Pollak will be performed Friday, February 17th and Saturday, February 18th at the Suzanne Dellal Centre, 21:00.
Dark, allusive, poetic and playful, Bombyx Mori spins its mystery on a black stage. A wall as black and deep as eternity marks a border between two worlds. The dancers appear and disappear like fragments of a dream. Moving between these worlds, their movements spin out threads of narrative from the vast realm of all that is hidden.
Drawing with light, music and movement, Bombyx Mori conjures a fantasy; images vibrate in the imagination, resonant with emotion, punctuated by a staccato of questions and associations. Who are the black-clothed workers who toil in tandem like a living machine? What unseen object are they piecing together? Who is the strange man in the red matador hat, at times leaping and diving about the stage and at times napping profoundly?
A creature clad in a soft casing comes to life, limbs awakening in eloquent wonder. Two men in long johns weave a web around a similarly clad creature. Is she trapped or protected by their actions?  A human puzzle, emerging from her cocoon, she plays out a solemn, intricate cats cradle and time seems to stand still in the fullness of the moment. Three women dance like the Moirae, the three fates; the invisible thread they weave in the darkness might be the thread of life.  In this dark world, there is, perhaps, something to fear and much to be discovered as a seemingly endless process of movement and transformation plays out onstage. There is a childlike joy of discovery in this work; the simplest of actions contain the power of creation. Reveling in illusion, a cardboard box can turn a man into a dog, and string can be almost anything.
What is Bombyx Mori? The dictionary traces one path through this labyrinth, the vibrating strings of sound, dancers and music as one, trace another; an endless line of associations and possibilities, a silken thread of wonder. Bombyx Mori is a world unto itself with all the beauty of an unsolved mystery.
Bombyx Mori
Choreography, Costume Design, Set Design and Soundtrack: Inbal Pinto, Avshalom Pollak; Lighting Design: Avi Yona Bueno (Bambi); Rehearsal Manager: Shay Haramaty; Performers: Talia Beck, Avidan Ben Giat, Einat Betsalel, Zvi Fishzon, Lazaro Godoy, Noga Harmelin, Almog Loven, Ariadna Monfort, Naomi Nissim, Annie Rigney, Ricardo Rus Da Silva, Tom Weksler; Music: Adam Aston-Polskie Tango, Heinrich Ignaz Franz von Biber – Sonaten Uber Misterien Des Rosenkranzes, Karel Goeyvaerts – Aquarius, J. S. Back, Steve Reich, Jonathan Bepler, Art Tatum.
Tickets may be ordered online at the Suzanne Dellal Centre, or call: 03-5105656.