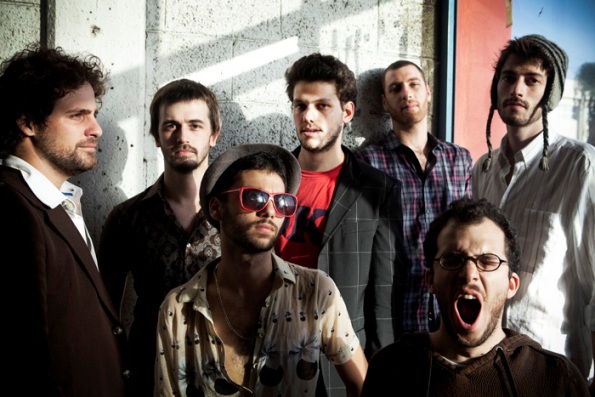 Acollective will be performing three shows at SXSW in March, part of their tour of the Southern U.S. which will include the Savannah Music Festival in Georgia, North Carolina, Mississipi, and Nashville.
The 7 member Israeli band is a delirium of instruments merging to fill your mind with a riot of sound and possess your body with the urge to dance. Fronted by Roy Rieck and Idan Rabinovici, (who co-write the songs) the indie-band includes Daniel Shoham, Joseph E-Shine, Roy Rabinovici, Emanuel Slonim, Nadav Luzia. Each musician brings a different musical background and feel to the mix; together they are a collective – an energetic swirl of shifting colors and rhythms. Their live shows generate energy enough to power a movement, a movement that is constantly changing, a wild and joyous freedom.
At SXSW Acollective will be playing alongside bands such as Kasabian, The Shins, Caveman, Deerhoof and Shearwater. In addition to the festivals, the band will perform at main venues in the different states, as well as colleges and universities along the route. The tour will be a kind of musical homecoming for Roy Reick, who lived in Mississipi, playing in local groups and even opening for B.B. King!
An initiative of the Israeli Consulate in Atlanta, Acollective's tour is made possible through the support of the Israeli Ministry of Foreign Affairs and the ACUM Fund.
We miss them already, but Acollective will be back in Israel for their April 14th concert at the Barby in Tel Aviv. Join a collective – keep up with Acollective on facebook & enjoy their album Onwards.