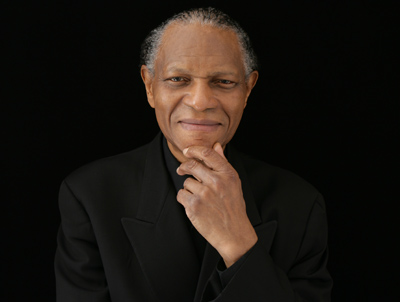 Let's face it: McCoy Tyner is an old man. His albums have honored many a record player; his piano supremacy renowned world wide as one of the greatest these past three generations have encountered. As with all good things, however, at one point they reach their end, and we're urged to rely on memories to strengthen the sweetness of the past. Exhibited by his haphazard performance last night, our legend Tyner is one of those things. It is ample time he sat back, closed the piano case and allowed his fans to continue venerating the recordings of his past.
The concert, barely scraping the hour and a half mark, opened with a
standing ovation at Tyner's slow and steady entrance on the stage. The excitement at being at such close proximity to him was palpable. Older generations sat back with a smile in their eyes and what I imagine are countless memories of Tyner and his Coltrane quartet at their prime. Younger fans waited eagerly for their inspiration, their motivation to study jazz music, to begin to rock their seats. Tyner sat poised, his fingers in their familiar position above the piano keys.
It's heart crushing to admit that one of our favourite musicians of all time has lost it. Wayward, sloppy and painfully out of synch with his drummer and contrabassist, it was as if Tyner had sat down in his living room to play around on the keys before calling it a night. Little communication with the audience gave a distinctly disconnected feel, and at various points the rest of his trio lost the rhythm so fiercely that they abruptly stopped playing. Each piece ended with a drawn out finale, disproportionate to the feel of the preceding tune yet obviously a trademark of the younger Tyner and one he was reluctant to give up. By intermission, the three of them filed off stage looking disheveled and disinclined.
There is something to be said, however, about the unwavering loyalty of fans.
Despite the obvious shortfall, Tyner's crowd was right on cue – cheering and clapping and whooping for the memories of their hero's magnanimous career. When he smiled, we all smiled. When he laughed, we all laughed along with him. We all knew and understood that he was nearing towards the end of his live musical career, but it was evident that simply being on stage and hearing the appreciation in the crowd filled the man with undisputed joy. After all the joy he'd given us over the last sixty years, it was unanimous that he deserved no less in return.
The concert ended tersely and, despite a gracious imploration from the crowd, was not followed by an encore. I imagine I was not the only one who, upon returning home, let Tyner's original pieces float into my ears to remind myself of what he once was. There are no harsh feelings regarding his concert, but simply the closure we all needed to say goodbye and, from now on, let Tyner's music move us from the comfort of our homes.