Wake up from your weekend torpor and whip out your phone – Pecha Kucha #13 is coming to Hangar 11 on May 21, 2012. Tickets go on sale today, May 13th at 18:00, and they sell out FAST!
Hosted and curated by Anat Safran and Itay Mautner, and creatively produced by FAZA Productions, this cultural craze fills the huge hangar at the Port of Tel Aviv twice over – there will be two rounds of Pecha Kucha at 19:30 and 22:15.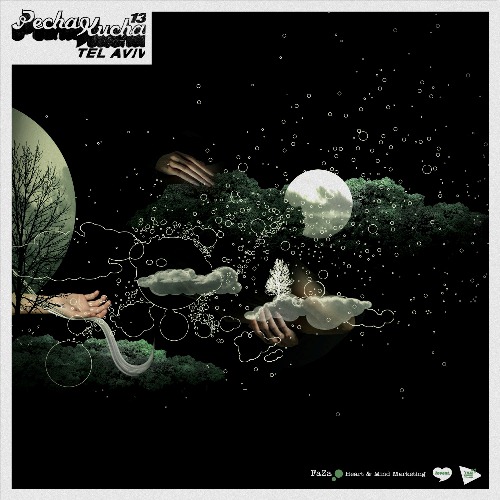 What's it all about? 11 creative individuals from diverse disciplines – graphic designers, musicians, brain surgeons, architects – will each take the stage to present their ideas in 6 minutes and 40 seconds – and not a nanosecond more. It's fast, it's fun – don't miss it!
Pecha Kucha #13 presenters include: Liat Segal merging art & technology, will create a new work onstage as she speaks; Daniel Dover re-envisioning public spaces as art, Dover collaborated with Kutiman to create a video clip interpreting the escalator at the Tel Aviv Municipality as animation; Moshe Zer Aviv (designer & new media artist) and his partner in life Galia Ofri (painter) will present their project "The Illustrated Wikipedia;" Ofer Gringold will talk about the philosophy and passion of Bonsai; Yair Qedar (The Five Houses of Lea Goldberg) will talk about the process of making a documentary on the life of poet Yona Wollach, including animated segments created by Pecha Kucha resident designer Jewboy, and show select scenes; graphic designer Oded Ozer presented his work at the first Pecha Kucha five years ago in a small bar in Jaffa, he's returning to update on current projects including tattoos, flags and other graphic delights; Ohad Zlotnik is a student in the Visual Communications Department at Wizo Haifa who imagines letters as three dimensional architectural constructs and will talk about his design for 3D typography; Rafram Haddad, President of the Slow Food Movement in Israel, artist, chef, writer, will give a quick tour of his roving mind; Moran Saraf will share insights on the human brain, mapping thoughts and feelings.
Opening the evening will be a visual presentation on the artist Victor Enrich. Victor fell in love with Tel Aviv and wandered the streets taking pictures and transforming them into his own visions. After living in Tel Aviv for several months, Victor was deported and forbidden from returning for a period of ten years.
DJ Michal Gefen will get the masses into the mood, with sounds and songs from all times and tribes.
Pecha Kucha tickets are 30 NIS and go on sale May 13th from 18:00 – buy online http://www.pechakuchatlv.com, or at Loveat locations (1 Barzilay, 3 Nahalat Binyamin, 232 Dizengof, Warehouse 1 Jaffa Port). Graphic design for Pecha Kucha #13: Jewboy. Pecha Kucha is sponsored by the Port of Tel Aviv.