Under the title Pension – in the sense of a cheap Continental boarding house- Israeli artist Nahum Tevet and German artist Gregor Schneider, are holding a joint exhibition. To my mind they make strange bedfellows. True, their work has features in common: each creates transient installations that have an architectural dimension, but from this point their paths diverge sharply.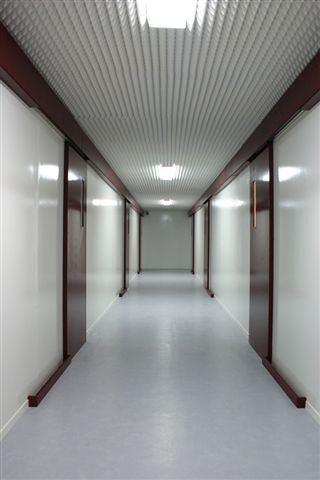 Since the mid 1980s, Gregor Schneider has been building rooms within rooms in museums and galleries, viewing the results as three-dimensional sculptures. These interiors are actually replicas or duplications of rooms where people once lived. But it was disappointing to find in this new exhibition that the only  reference to this line of activity come in the form of a sparse collection of photos showing details of the rooms he has remade in the past.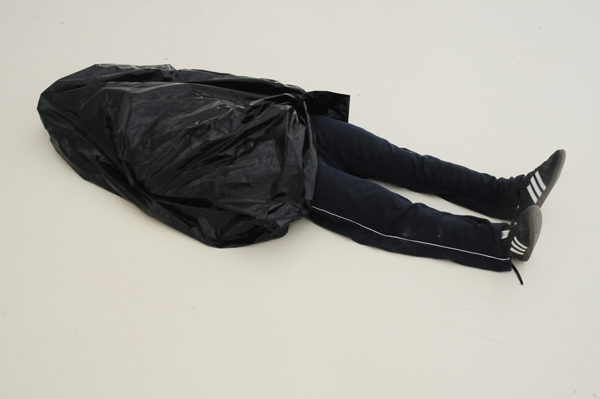 Schneider is an artist who is preoccupied with death. Totes Haus u r – The Dead House – for which he was awarded top honors (a Golden Lion) at the 2001 Art Biennale in Venice, is one of his more sensational works. Another is his Cryo-tank for preserving corpses, featured last year in Second Strike at the Herzliya Art Biennale.
This morbid aspect of his work is represented here by the positioning in an otherwise empty gallery space of three super-realistic bodies partially covered in black bags, lying face down on the floor. One of the two female corpses is dressed in pajamas, the other, a silk dressing gown – suitable night clothing, so it seems, for the dead inhabitants of this gruesome boarding house.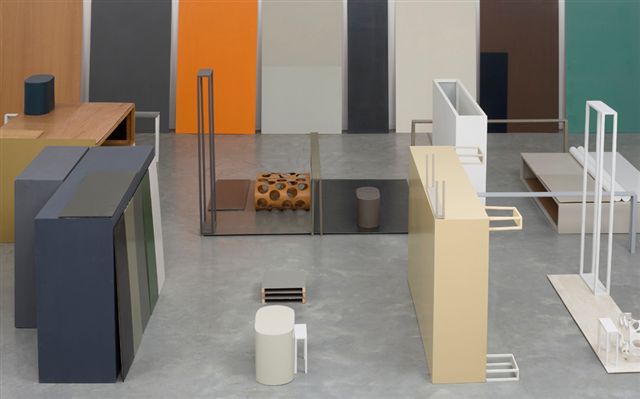 Nahum Tevet's installation sited in a separate walled off space comes as a breath of fresh air. He has given it the title of Diver. This is because its units are only waist high, enabling the viewer to have a bird's eye view of his work, 'diving down' as it were, to examine individual pieces from top to bottom.
The last time that this writer had the occasion to see Tevet's work – quasi-domestic furniture constructed from wood and painted in soft colors – shelves, high-legged tables, as well as dividers, poles and bars – it was at his splendid 2007 retrospective at the Israel Museum. On this occasion, the hand-crafted objects were assembled in close proximity, densely packed. In this instance where the space is so much smaller Tevet has arranged a limited number of similar, carefully positioned units, producing a spacious and elegant environment.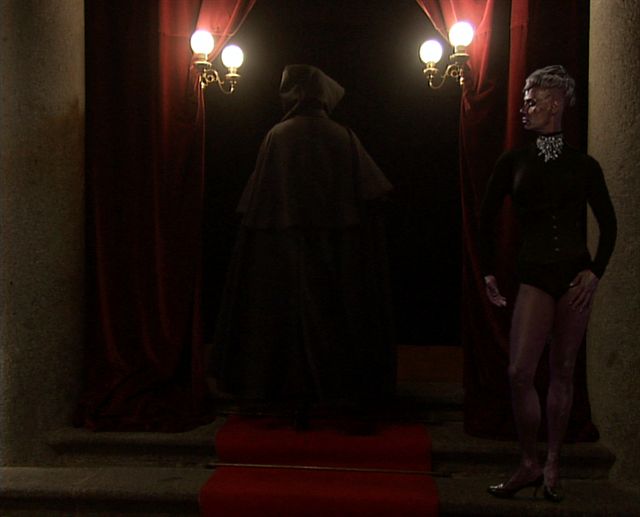 BODY DOUBLE 22, a riveting video by Paris-based filmmaker and visual artist Brice Dellspreger is screening on the upper floor of this gallery. This piece, one of a long video series, is based on the concept of body doubles employed in feature films. In each work Dellspreger remakes an existing movie sequence – in this instance, Stanley Kubrick's 1999 Eyes Wide Shut – replacing the original characters with transvestites. Actually there is only one actor: the talented French artist and performer Jean-Luc Verna who, with the aid of wigs, heavy make-up and prosthetic breasts,   plays all the parts, male and female. The main action takes place in an underground theater where a costumed and hooded cult orgy is in progress. Manipulating the original dialogue, gestures and settings, Dellspreger highlights, as in other videos in this series, the fact that commercial films are riddled with stereotypes and clichés.
Hezi Cohen Gallery, 54 Wolfson St. Tel Aviv. Tel: 03.6398788
All shows till June 9th.