Seventeen-year old Tamir Grinberg is a pretty cool dude. Throw in a piano, a keyboard, a trumpet, a saxophone, a trombone, a bass, a set of drums and a voice that exceeds any realm of expectation, and you've got yourself a seriously awesome ensemble. The Tamir Grinberg Band, composed nearly three years ago when these kids were, well, still kids, is an invigorating musical achievement. Combining blues, rock, jazz and pop, the Band alternates between Grinberg's astonishingly mature vocal range to impressive solos on all instruments, as each musicians brings his own subtle twist into this already eclectic musical cornucopia.
At the Band's recent show at the Tmuna Theatre, the first thing that struck me was the fan base – young, supportive friends of the band that have obviously been supporting these guys since they first hit the stage. Their presence and dynamic gave fluidity to the show that I felt added to the band's already fresh and funky persona. Without the pressure to uphold an image, each musician could let loose to simply play the music they love to play, interspersing each set with winks, inside jokes and enthusiastic waves to people in the crowd. On the audience's part, their unstoppable gusto provided a whole new realm within the band itself – a groovy group of teenage boys who really, really know how to put on a show.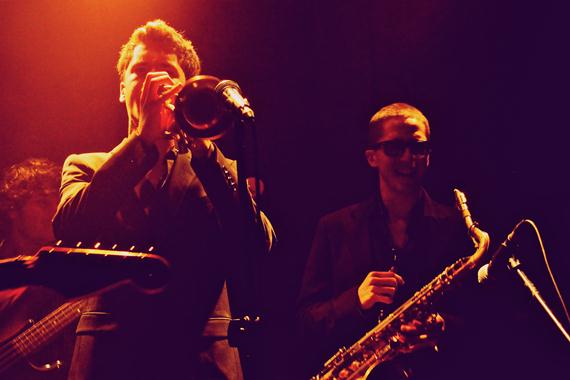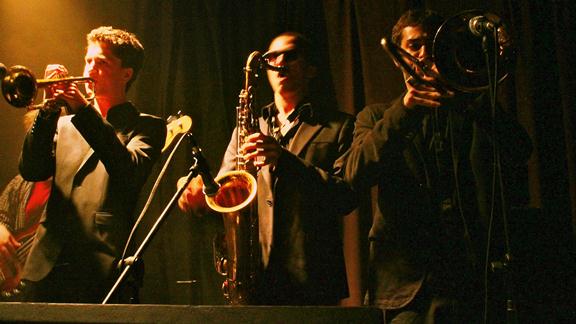 Without a doubt, the highlights of the ensemble were the three wind instrument players in suits and sunglasses dominating the left side of the stage. Ron Warburg on the trumpet, Yonatan Peled on the trombone and Ofir Segdan on sax were the image of the classic blues scene; crisp, emphatic and perfectly in tune with the emotional and musical atmosphere being produced. Both their stage presence and their musical sensibility were right on the mark, the distinctly jazzy feel a significant addition to the band's all-around experience. My partiality towards wind instruments led me to feel like these guys deserved a little more stage for improvisation and generally grooviness, but that aside – all-in-all, the show was a picture of merriment and solid good times.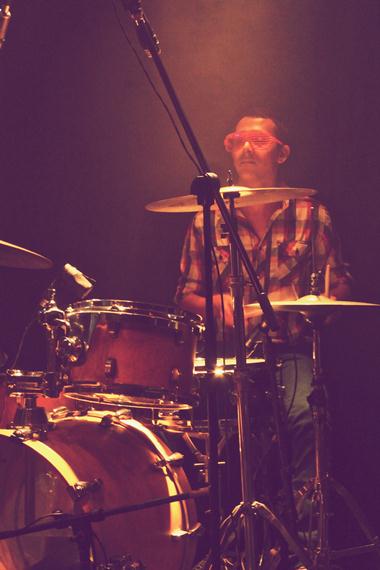 The show closed with what I later learned was one of Grinberg's original covers, and one he has been performing effortlessly and wholeheartedly since the beginning of his musical obsession: Eric Clapton's Have You Ever Loved a Woman. Pulling the crowd in with a timeless classic, both the audience and the band finished off with generous smiles and good cheer.
The Ensemble: Tamir Grinberg on piano and vocals, Ron Warburg on trumpet, Yonatan Peled on trombone, Ofir Segdan on Saxophone, Lior Zemach on guitar, Tomer Bar on keyboard, Nadav Shapira on bass, and Itai Morchai on drums.