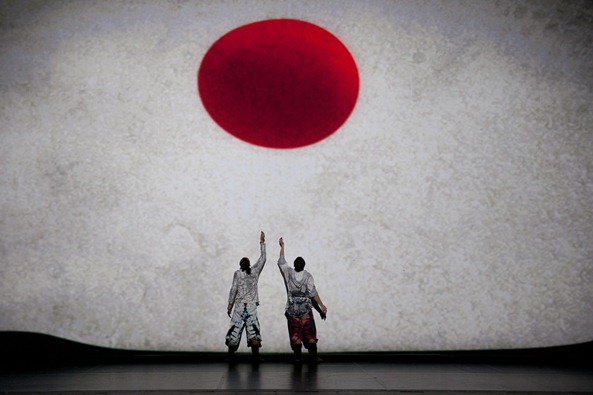 Manga fans take note – ultra-exciting choreographer Sidi Larbi Cherkaoui will open the 2012 – 2013 Dance Season at the Israeli Opera in September, with the Sadler Wells production of TeZukA. Cherkaoui was last here  in 2010 with Sutra, a work created in collaboration with British artist, Antony Gormley who created the sculptural, architectural moveable set in and on which 17 Shaolin monks perform a mesmerizing dance of cultures, martial arts meets contemporary dance.
The eclectic Flemish-Moroccan choreographer found his way to dance through TV and MTV, and in TeZukA continues his tradition of breaking up the boundaries between disciplines, creating dialogues between pop culture and high art, East and West. Dedicated to the "God of Manga" Osamu Tezuka (1928 – 1989), creator of Astro Boy, Kimba the White Lion and Black Jack, TeZukA features 9 dancers, 3 musicians (onstage), two martial artists and a calligrapher. A selection of Tezuka's original works will be projected as part of this multimedia paen to manga, with Astro Boy figuring prominently in the performance.
Performances will take place: September 20th at 20:00; September 21st at 13:00; September 22nd at 21:00; September 23 at 20:00; September 24th at 20:00. Tickets may be ordered via the Israeli Opera www.israel-opera.co.il, 03-6927777; or www.bimot.co.il, 02-6237000, or *6226.
TeZukA – Choreographer: Sidi Larbi Cherkaoui; Music: Nitin Sawhney; Visual Designer: Willy Cessa; Costume Designer: Sasa Kovacevic; Video Artist: Taiki Ueda; Calligraphist: Tosui Suzuki.