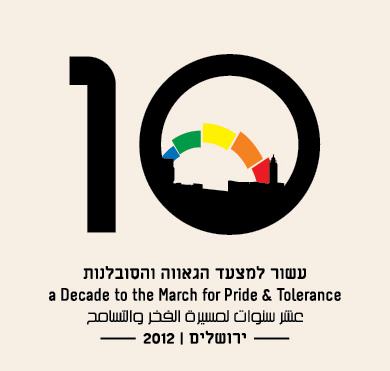 Thursday, August 2, 2012 will mark the 10th anniversary of the first Jerusalem March for Pride and Tolerance. The march has known its share of controversy and hardship through the years, including the violent attack on marchers in the 2005 parade. Yet pride and hope are stronger than fear and hate and Midnight East hopes that open hearts and minds will prevail this Thursday as Jerusalem Gay Pride marches through the city center.
Here are the details:
17:00 Meet at Gan Haatzmaut (Independence Park). The march is scheduled to begin at 18:00, on this route: King George Street, Paris Square and Keren Hayesod to Gan HaPaamon (Liberty Bell Park). The march will conclude with an assembly.
Some downtown streets on the route will close starting 17:30, so marchers should plan on early arrival. Directions: Light rail to downtown (Jaffa Center Station), then walk for 5 minutes towards Independence Park; OR Egged Bus – Lines 8, 21, 32 – get off at the "Hamashbir" stop, walk for 4 minutes towards Independence Park.
Links: facebook event page; A Decade to the March for Pride and Tolerance Jerusalem 2012