Testing Tools is an experimental arts festival that takes a unique approach – offering creative artists in different fields the opportunity to initiate a project and develop it with support of the festival, presenting it to audiences at a later stage of the creative process. Over 100 artists participating in Testing Tools 2012 will present their work from August 7 – 9 at the Beit Tami Community Center in the Shenkin Garden, taking advantage of every possible space in and around the building.
It's a wonderful opportunity for audiences to encounter the new and unexpected, with dance, theatre, visual art, music, installations, street theatre, shows for the whole family and more. Each performance is about 30 minutes long, enabling viewers to sample a large selection of different works.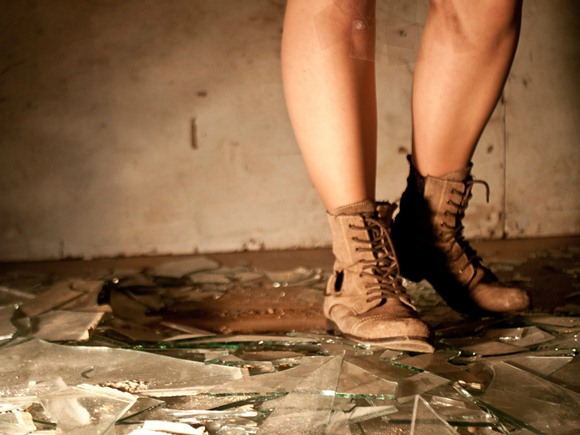 Some of the projects featured in Testing Tools #9:
Clarity – a dance for broken glass and electric guitar will be performed by Eden Wiseman and Ori Dvir on August 7th at 17:30 and 19:30; August 8th at 17:30, 19:30 and 22:30; August 9th at 18:30, 20:30.
Awakening – In Her Savior's Arms – an art performance piece by Yasmin Bergner, a mechanical sculpture that draws on the body, will be performed on August 7th at 18:30, 21:00, 22:30; August 8th at 18:30, 21:00; August 9th at 17:30, 19:30, 22:00. Sculture: Yasmin Bergner; Assistance in building the mechanical sculpture: Nimrod Reuveni; Performance: Zohar Bejerano-Bergner and Yasmin Bergner; Video and editing: Yehudit Burmad; Idea and video art: Zohar Bejerano-Bergner and Yasmin Bergner.
Metamorphosis – Dan Birenboim's wall installation will be displayed on all three floors of the building throughout the festival
The Museum of Lost Confessions – created by Shimrit Golan. This installation will take place in all the building's bathrooms, confessions to an anonymous listener…
Cell Culture – an ongoing collaborative project by artists Hila Amram and Nivi Alroy, a site-specific installation on the 3rd floor. Both artists base their creative process in scientific research but reflect on it in a different manner. In the framework of this collaboration, they will develop a new visual language based on mutual exchange of ideas, materials and objects.
Uncle Max's Journey – an operetta based on Hanoch Levin's book – composed by Kobi Lilian and directed by Sivan Handelsman, will be a performance for the whole family, recommended for ages 7+. Original music & piano: Kobi Lilian; Director: Sivan Handelsman; Actors/creators: Roni Dotan, Avi Hadash, Alexei Tushiev, Vered Regev. Performances will take place: August 7th at 18:00, 19:30, 22:00; August 8th at 19:00, 21:00, 22:30; August 9th at 17:30, 20:30, 22:00.
Diggin' Classics – rock arrangements of classical compositions. Concept, arrangements, production & Bass: Alon Azizi; Keyboards: Uri Weinstock; Guitars: Lidor Levi; Drums: Asaf Dagan. Performances: August 8th at 20:00, 22:00; August 9th at 20:00, 21:30.
Be3 – Dance inspired by Tai Chi. Choreography: Michal Hover-Rothschild; Dancers/creators: Mirit Bergman, Dana Hamburger, Tal Hara; Vocals: Tal Haran. Performances: August 7th 19:30, 22:30; August 8th 19:00, 22:30; August 9th 19:30, 22:00.
The festival will also travel north, to the Zikit Theatre (Artistic Director – Pablo Ariel) in Tefen on weekends during the months of September and October.
The festival is the initiative of the Tel Aviv –Yafo Municipality, Department of Community, Youth & Sport. Testing Tools Artistic Director: Gil Alon; Curator: Karmit Bloomson; Beit Tami Director: Orit Arbeli.
Tickets are 20/15 NIS for a single performance; 30/25 for 2 performances, 100/90 for 8 performances. Discounts for seniors, students and Time Out subscribers. Tickets may be purchased in advance via Beit Tami: 03-5288827/9. Check out the Testing Tools #9 Facebook page for updates.