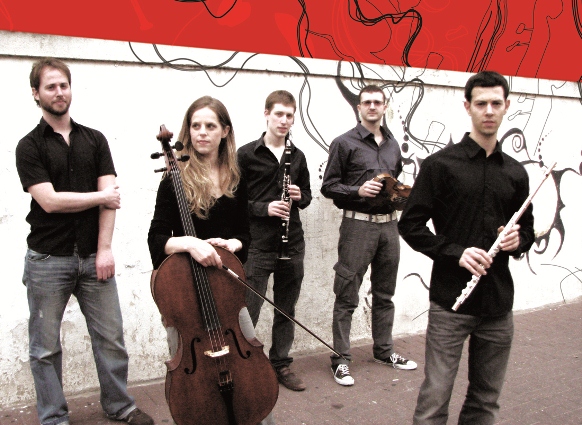 The Israeli Music Celebration will take place from September 19 – 23, 2012 with concerts in Jerusalem, Haifa, Tel Aviv, Nazareth and Beer Sheva. Read more about it here.  Admission to all concerts is free, but requires advance registration. The full program, venue and registration details below:
Wednesday, September 19, 2012
Jerusalem Theatre, 20 Marcus Street, Jerusalem. To reserve places, call: 02-5605755
16:00 Rebecca Crown Auditorium. ISRAELI POETRY. Oded Zehavi: Old Poet's Songs for flute, string quartet, electric guitar and percussion (Meron Isaacson) / Chaya Czernowin: Seed 1 for string quartet / Arik Shapira: Partita for violin and cello / Yinam Leef: Eloges des Choses Ephermes – selections from a song cycle for tenor and piano (Israel Eliraz).
Gabi Sadeh – tenor, Amit Dolberg – piano. Ensemble Meitar.
Conductor: Ziv Cojocaru
Gabi Sadeh, one of Israel's finest dramatic tenors, performs works written expressly for him by two composers, whose affinity with Hebrew poetry forms major aspect of their oeuvre. Between these are works for instrumental ensemble by Chaya Czernowin and Arik Shapira.
18:00 Rebecca Crown Auditorium. Homage to the Winners of the 2012 Prime Minister's Award for Composers
Hadas Goldschmidt-Halfon: Two movements from String Quartet No. 1 / Marina Geller: Hybrid for violin and piano / Menacheme Wiesenberg: Monodialogue – fantasia for cello solo /  Jonathan Keren: Passacaglia for violin, cello and piano / Rami Shuler: The Wind Dance from the jazz suite The Unforgettable Wind / Zohar Sharon: The Ice Palace for chamber ensemble (commissioned for Israel Chamber Project by the John and Adel Gray Fund for a 2012 concert tour)
Ensemble Paul Ben-Haim
Conductor and Music Director:
Gaddiel Dombrowner
As in previous years, the moving presentation of the Prime Minister's Awards for Composers is incorporated into the Israeli Music Celebration. In this concert, we will hear selected works by the recipients.
19:30 Rebecca Crown Auditorium. The 2012 Prime Minister's Award for Composers Ceremony. Immediately after the concert, we will gather to attend the award ceremony, in the presence of the Minister of Culture and Sports, Ms. Limor Livnat.
21:00 Henry Crown Auditorium. Transitions Gala opening
Yaron Gottfried: Transitions for orchestra / Benjamin Yusupov: Images of the Soul – Concerto for two clarinets and orchestra / Mordecai Seter: Midnight Vigil – Rhapsody on Yemenite Themes / Menachem Zur: At Dawn (WP)
Daniel and Alexander Gurfinkel – clarinets
Jerusalem Symphony Orchestra, IBA
Conductor: Guy Feder
Compositions by four composers, reflecting the multi-faceted aesthetics of Israeli music.
Thursday, September 20, 2012
Rappaport Hall, Merkaz Hakarmel, 138 Hanasi Blvd. Haifa. To reserve places, call: 04-8330625
15:30 Rappaport Hall. Israeli Swing – World Premieres
Arnon Palti: A Moroccan Medley / Dubi Seltzer: I Put in the Desert Cedar (arr. Arnon Palti) / Shai Cohen: She who Resides in the Fields / John Bostock: Mr. Gong / Guri Agmon: The Music Knows; Horizontal / Sivan Shenhav: Symphony for 'big band' (1st movement)
Esti Keinan Ofri – voice; Wissam Gibran – Ud
The Thalamus Quartet
The Hod Hasharon Big Band Orchestra
Conductor: Gury Agmon
Israeli composers, with one foot firmly planted in Israeli concert music and the other in the world of jazz, were commissioned to compose works for 'big band' – Jazz's unique orchestral ensemble.
17:30 Rappaport Hall. Women's Singing
Eyal Bat: Open the Gates for Us (after Sasha Argov); My Consciousness Melts Away (Yona Wallach) / Hagar Kadima: Three Glances (Sh. Shifra) / Tsippi Fleischer: Avram – An Oratorio Portraying the Birth of Monotheism (WP) / Yael Tai: Songs by Hamutal Bar-Yosef / Moshe Zorman: Was It or Wasn't It (Nathan Alterman, Alexander Pen, Avraham Shlonsky) / Moshe Rasiuk: I Wish (O. Hillel)
Yael Tai – soprano; Revital Raviv – soprano
Vinokour Viaceslav – piano, Yonatan Niv – cello
The Hemiola Choir
Piano: Eyal Bat
Conductor: Ron Zarhi
At the heart of this concert stands the world premiere of Tsippi Fleischer's Avram, an
oratorio for a unique ensemble of women's choir, three harps and five violins. Alongside
this oratorio, we will hear various works, sharing one common thread – Hebrew poetry.
21:00 Rappaport Hall. Composer of the Year
Paul Ben-Haim: Symphony No. 1 / Mordecai Seter: Sabbath Cantata / Lotem Asner: Prayer for Peace / Mark Lavry: Song of the Valley; Shepherd's Song
Hadas Faran – soprano, Avital Deri – mezzo-soprano, Doron Florentin – tenor,
Yair Polishuk – baritone
The Kibbutz Artzi Choir
Haifa Symphony Orchestra
Conductors: Yuval Ben-Ozer, Roi Oppenheim
This concert will serve, both as a culmination of the first season of the Composer of the
Year project, which was dedicated to Paul Ben-Haim – and as a festive opening for
the project's second season, dedicated to Mordecai Seter. Alongside two of the most
important works composed by the founders of Israeli art music, this event will also feature
three works for a-cappella choir.
Friday, September 21, 2012
Tel Aviv Museum, 27 Shaul Hamelech Blvd. Tel Aviv. To reserve places, call: 03-6961593.
11:00 Recanati Hall. "Beyond all this"
Shimon Cohen: Concerto for saxophone and orchestra / Mordecai Seter: Jephtah's Daughter / Amos Elkana: Hommage à Ligeti / Mark Kopytman: "Beyond all this…"
Amit Dubester – saxophone
The Israel Netanya Kibbutz Orchestra
Conductor: Yi-An Xu
A homage to Mark Kopytman, one of Israel's foremost composers, who died earlier this
year; another piece by the Composer of the Year, Mordecai Seter, originally composed for dance; and two additional works.
13:30 Recanati Hall. Israeli Lyricism
Nitzan Leibovitz: Ornaments for piano / Mordecai Seter: Sonata for piano / Stella Lerner: Five Songs for soprano, narrator, clarinet and piano (Leah Goldberg) / Ayal Adler: Allegretto Misterioso for two pianos / Yehezkel Braun: Six Bagatelles for two pianos
Sharon Rostorf-Zamir – soprano, Jonathan Hadas – clarinet, Michal Bat-Adam – actress,
Victor Stanislavky – piano, Ofra Yitzhaki – piano, Yuval Admoni and Tami Kanazawa
– piano duo
Lyrical Israeli music for piano, and at the heart of the concert – Stella Lerner's lyrical
settings of poems by Leah Goldberg.
15:00 Assia Pavilion. Freedom of Choice
A special project in collaboration with the Musica Nova Consort Leon Schidlowsky: Chanson, Am Grabe Kafkas (in collaboration with Opera Camera, director: Dani Ehrlich) / Dan Handelsman:
Groove Canon / Adaya Godlesvky: Created in Time / Assif Tsahar: Schlafstunde
A concert presenting works which combine visual elements, graphic scores and video art with musical composition.
Saturday, September 22, 2012
Berkovich Community Center Auditorium, 4 Maale Yitshak St. Upper Nazareth. To reserve places, call: 03-6961593.
21:00 Arab Music
Nizar Radwan: Haifa; Nisan; Samaii hijaz kar / Franswa Elkhel: Amal; Samaii Rahat
Elarwah / Yusef Assad Matar: Rawan; Juman / Waseem Odey: Samarqand; Longa
Nakreez / Sukayna Darawshi: Tamannaytu
The Arab Music Orchestra
Conductor: Nizar Radwan
A concert of Arab-Israeli music, featuring classically-oriented works (Samaii) alongside modern works and songs. This is the first collaboration between the Israeli Music Celebration and this orchestra, appearing in its hometown, Nazareth.
Sunday, September 23, 2012
Beer Sheva Centre for the Performing Arts, 41 Reger St. Beer Sheva. To reserve places, call: 08-6266422.
17:00 Beer Sheva Conservatory Hall. Composers Writing for the Youth
This unique project of the Israel Composers' League is now successfully reaching its fourth year. At its heart is the connection between active Israeli composers and aspiring singers and players and their teachers in conservatories across Israel.
The 2012 Israeli Music Celebration hosts this project in a concert featuring students from various conservatories performing works emanating from this project.
19:00 The Great Hall. Encounters
Gil Aldema (arr. Sergei Abir): in Hassidic Mood – a suite in five movements / Peter
Breiner and Enrique Ugarte (arrangers): Klezmer Rhapsody / Aryeh Levanon: Israel Rhapsody for clarinet and strings / Aviya Kopelman: Once Upon a Time (Kan Ya Makan) – concerto for ud,  violin and strings / Yair Dalal: Jethro
Giora Feidman – clarinet, Yair Dalal – ud,
Yaron Prensky – violin
The Israel Sinfonietta Beer Sheba
Conductor: Amos Boasson
The final concert in the Israeli Music Celebration hosts two performers composers who have disseminated Israeli music far across the country's boundaries.
Aviya Kopelman's work introduces the sounds of the ud into the concert hall in the most natural way imaginable.
* The right to change the program is reserved
Israeli Music Celebration. Artistic Director: Dr. Boaz Ben-Moshe; Producer: Paul Landau – Israeli Music Institute; Line Producer: Rosalia Hefetz Productions.