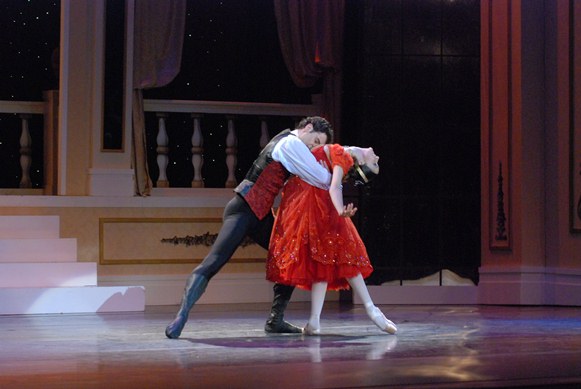 La Traviata, the ballet inspired by Giuseppe Verdi's opera, will be performed at the Israeli Opera from October 22 – 27, 2012. Argentine dancer/choreographer  Iñaki Urlezaga presents a new interpretation of the classic story of the "fallen woman" who sacrifices her own happiness for the sake of her lover.
Originating with Alexander Dumas' novel La Dame aux Camellias (1848), the story has enjoyed many versions and adaptations over the years, from the first stage production in Paris in 1852, to Verdi's opera in 1853 (changing the name of the heroine from Marguerite Gautier to Violetta Valéry) and several stage and film adaptations. A pantheon of actresses have played the role of the virtuous demi-mondaine, among them: Sarah Bernhardt, Lillian Gish, Eleonora Duse, Tallulah Bankhead, Isabelle Adjani, Isabelle Huppert, and one of my favorites – Greta Garbo in the George Cukor film Camille (1936).
If the story alone were not romantic enough, Verdi's score is certain to sweep you off your feet in Louis Gorelik's symphonic. Urlezaga's company, Ballet Concierto, will perform the neo-classical ballet, a work in two acts, with a large cast and lavish, specially designed costumes. Enjoy!

Urlezaga's La Traviata will be performed at the Israeli Opera: October 22 at 20:00; October 23 at 20:00; October 25 at 20:00; October 26 at 13:00; and October 27 at 20:00. Israeli Opera, 19 Sderot Shaul Hamelech, 03-6927777.