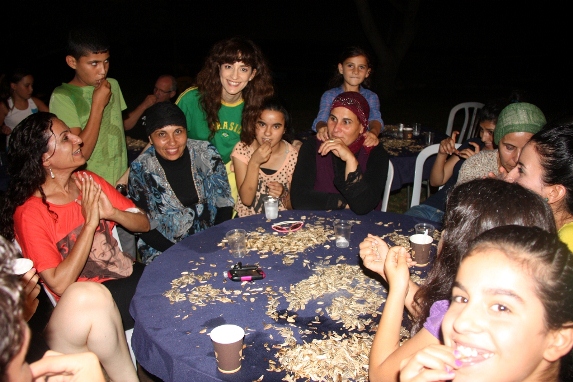 Noam Edry's project Seeds of Bliss will come to Haifa on October 3, 4 & 5, as part of the "Art and Street Culture" Festival, commissioned by the Haifa Museum of Art. A Middle Eastern spin on Ai Wei Wei's famous Sunflower Seeds exhibition at the Tate Modern in 2010, Edry has been connecting people in a sunflower seed cracking adventure, bringing people together to take part in a local pastime common to all: cracking sunflower seeds.
Edry intends to create an installation composed of 10 tonnes of sunflower seed shells, testimony to time spent together in a friendly, non-political way by people living in an area rife with politics and conflict. Once complete, the mound of shells will be exhibited in London. The first event took place at the artist's birthplace, Kibbutz Ramat Yohanan, on August 23 2012, with Kibbutz members and their neighbors from Khawaled, Ibtin, Ras-Ali, Zarzir and Shfaram. On September 9, a group of Jewish and Arab Israelis spent five days in Aqaba, cracking and chewing sunflower seeds with the Jordanians at Al Firdous Café (Paradise Café) owned by Hasan Selmi in the city center.
Edry's project – "The Big Chew" – will take place on Yaffo Street in downtown Haifa, with the participation of a ten person team arriving from Nablus, and everyone else who wants to join in. The event hours are: Wednesday, October 3 & Thursday, October 4 from 17:00 – 24:00; Friday, October 5 from 10:00 – 17:00. See the event page for updates.
Members of the Jordanian team are awaiting visas to travel to Eilat for another cracking session, and future events are planned in Nablus, Jenin and Afula. SEEDS OF BLISS –  גרעינים – بذر is a project by Noam Edry in collaboration with the Haifa Museum of Art and Artis Contemporary. Curator: Ruth Direktor.