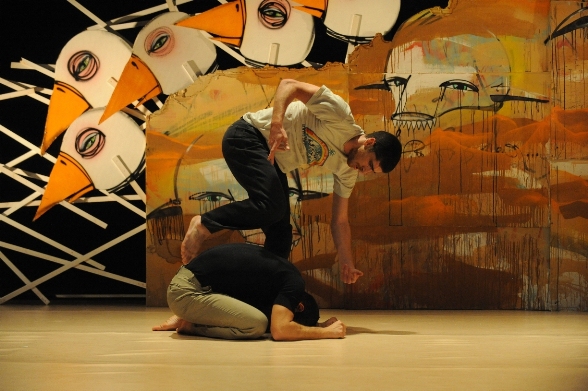 Israeli choreographer Arkadi Zaides will be presenting his work Quiet at the Theatre National De Chaillot with eight performances on October 17 – 20, and 23 – 26, 2012. This follows performances of Quiet at the Montréal Arts Interculturels in Canada on October 12 and 13, and a recent tour in Japan.
In Quiet, Zaides dealt directly with the Arab-Israeli conflict within the artistic process, working with an ensemble of two Jewish-Israeli performers and two Arab performers to create a work that expresses the desires, dreams, personalities, conflicts and interactions among the four men.
The performers are: actor/rapper Muhammed Mugrabi, dancer Ofir Yudilevitch, dancer Yuval Goldstein (replacing the original performer, actor Rabie Khoury) and dancer/choreographer Zaides.
On Quiet:
There are no conclusions to this narrative. The contact between the men is intense at times, tender at others, about to erupt into violence at other moments. Their movement often takes place at the edge of touch, the space between them replete with emotional tension as if what must be said is almost too much to bear. At times one is intensely aware of the representation of Arab and Jew onstage. At other times they are just four guys hanging out -friends.
There are no conclusions to this narrative. The effort at communication always seems to end up at the wall: a physical expression of frustration and hopelessness. Yet it begins again. Perhaps that is a message of hope.
Read the full Midnight East review here.
The performances of Quiet at the Theatre National De Chaillot represent a significant landmark in Zaides' international career. The prestigious theatre is one of the most important European cultural institutions, and is not only presenting Zaides' work Quiet, but was one of the main sponsors for his most  recent work Land Research, which premiered in Israel this past summer. Land Research will be performed in Paris in April 2013.
On Land Research:
In a movement language that is abstract, intensely physical and articulated in gestural detail, each gives voice to his or her personal relationship to the land and landscape – internal, external, conceptual, symbolic, physical, historical, textual, and emotional. Each presence is distinct, and deeply felt. The stage, free of objects, creates a space in which one can let things happen, and time itself seems to open up.
Read the full Midnight East review here.
Israeli audiences can look forward to seeing this new work even sooner, upon his return to Israel, Zaides will present Land Research at the Suzanne Dellal Centre in Tel Aviv on November 1, 2012.