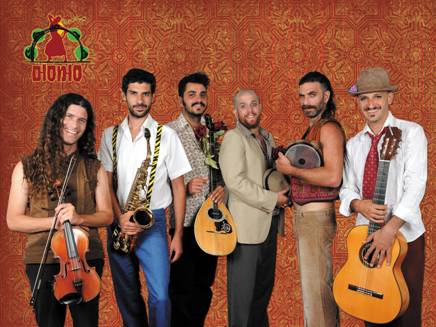 Follow the Jewish gypsies to Jerusalem and dance with Sumsum (the name means sesame in Hebrew) on Saturday, December 1, 2012 at Beit Avi Chai.
Sumsum are: Zeev Yaniv – percussion, Shlomi Mor – bass and flamenco guitar, Michael Ben Shimon – saxophone, Nimrod Nol – violin, and Tai Nikritin – buzuki.

Beit Avi Chai's Saturday Night Party Line Concerts, under the artistic direction of Monocrave, present original Israeli music with a dancing beat every Saturday night all winter long. Concerts take place on Saturdays at 22:00, at Beit Avi Chai, 44 King George Street, Jerusalem, 02-621-5900. All concerts are standing room only – this is a dance party! Tickets for each performance are a friendly 50 NIS (40 NIS Jerusalem residents/30 NIS for students), and include a free drink. Very friendly.