There is an enduring quality to the works of Inbal Pinto and Avshalom Pollak. Their repertoire of past works, such as Oyster, created in 1999, returns to the stage time and again. Yet they celebrate the ephemeral; recognize the impact and importance of the transient moment, remaining open to the unexpected and willing to embrace change in the works themselves and in their work process, none more so than Trout, which will be performed in Israel for one week only, December 5 – 12 at the Yaron Yerushalmi Theatre in the Suzanne Dellal Centre in Tel Aviv.
"Something in our initial primal instinct throws us into the water in more ways than one," said Avshalom Pollak, commenting at once on the way they approach any new project and, with a smile, more specifically with regard to Trout, a work performed entirely in a pool of water with live music performed by The Kitchen Orchestra. Trout was created when Pinto and Pollak were commissioned as one of four main artists in residence to Stavanger, Norway, which was designated by the EU as cultural capital of Europe for 2008. Program director Mary Miller commented at the time that she chose to invite the company because "they are so open. Their generosity and openness are incredible, they are willing to take risks, to work with different people…They don't have the arrogance of some companies that only want to perform their works but don't want to get involved. We wanted to bring people together for new experiences and openness, [to encourage] innovation, tolerance, curiosity."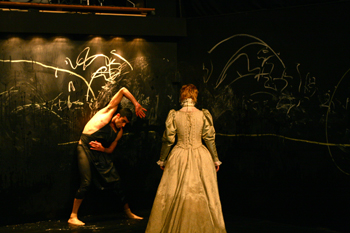 In an interview conducted with Pinto and Pollak in their studio office at the Suzanne Dellal Centre, they discussed their thoughts on Trout, Norway, and their work process to the accompaniment of ringing telephones, the intermittent coos, smiles and cries of their child and the occasional blaring crescendo of the leaf-blower outside the window. 
Inbal Pinto: We were thinking of doing some kind of dance/music installation to create an unconventional connection. We didn't know where our energy and desires would be. We visited the place [Stavanger] several times. We considered all sorts of spaces including thinking of doing something outdoors, a work that takes its inspiration from, or takes place in the local landscape. [Conducting a site search] We had seen 10 different sites that day and experienced the Norweigian landscape. Arriving at Tou Scene – it was a brewery from the beginning of the 19th century that has been converted into an arts center and is very free and open to ideas and change. When I entered the space I felt that there was no limit to what could be created there. It had infinite spaces – if we wanted to present moving scenes, a performance, installation, an exhibit.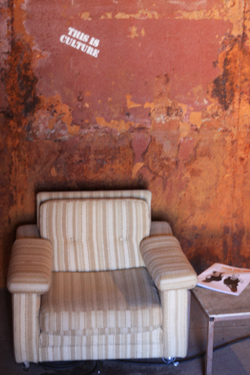 Avshalom Pollak: I don't remember necessarily knowing what we were going to do…a year or two previously we had been thinking of collaboration with the Tel Aviv Museum. We had been thinking about doing something with a room full of water but there were logistic problems …[eventually] the energy dissipated. During that rather long period of the Stavanger 2008 we spent time there, met people and came to know the place. When we entered Tou Scene within a moment we said – we'll do it here. Then we thought of our idea of working with water and thought it might work there, but it was by then something altogether different. Our encounter with the place, nature, the architecture, the people – all this interaction concocted the tincture that contained Trout.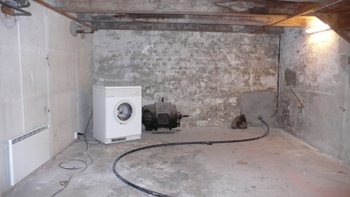 There something in the last few years that takes us to different places more exposed, unfamiliar, a little dangerous for us –leaving the standard stage where we feel comfortable, creating worlds on a black stage. I don't know what came first all the collaborations we did with other dancers, choreographers, places…We began a period of collaborations, these kinds of experiments, going to an unknown place, seductive, fascinating. Something that without a doubt changed and is changing the way we work in the studio. How do we work, do we have a method? It's something that we discover anew each time, with the people we are working with and we try to create from it [the process] the right thing. It's not called a "process" for nothing. These are processes we go through each alone and with one another, but beyond that it is us and our environment, interacting with the place – all the elements influence the work.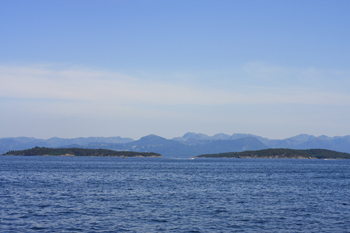 There is something about Norway and I am still overwhelmed… Nature has a powerful impact on many things, of course on the people. This nature – dramatic, alive. We often drove from the sea to the fjords, mountains and plains. Everything is very strong with a strong dramatic force. It is even somewhat menacing. [Trout in relation to other works] It's something completely different, the feeling is very claustrophic. Within these three walls— everything takes place there.
Ayelet Dekel: Seeing a segment of Trout I had a sense of the destructive power of water, how does this connect to the fjords, which I remember as being very beautiful?
IP: The oil.
AP: The petroleum. This transformation that Norway experienced… It's a wild dramatic place, the most innocent place of fisherman, the poorest in Scandinavia, a world that was turned on its head – that became such a wealthy place because of the oil – this black water. This is the black water that we have [in Trout], this black water that somehow has the feeling of the petroleum. The wealth of the water, but not just the water, as if there is something different in the water…But its not just the wealth, because within that wealth are many dangers, difficulties, loneliness and more… things that are difficult for me to contain and express.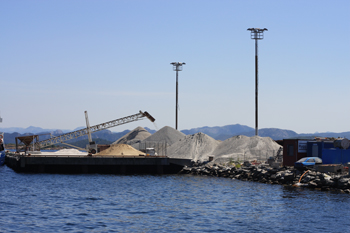 I remember we'd come to the set, and even though there is no life on the stage, but there are the traces, the markers of the set. We'd come and look at this pool full of water. It's something you can look at and dive into and be hypnotized by it – This mirror, this black hole that draws you in, and on the other hand that seductive pull to come and play in the water.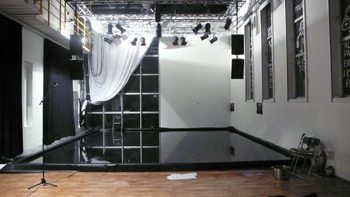 This craziness – each time adding another element – there are the actors, dancers, musicians and this [the water] ….everything ultimately is tied together into something in which each element supports one another, the different elements hold each other up.
AD: Can you discuss the process of working with water as an element in Trout?
AP: We go to Norway and there is the sea and all the water and from our perspective it is an obstacle because to come and translate something – that's something from which we always wanted to distance ourselves and avoid. To surrender to working with water, not to say what can we do in the water, what tricks can we do in the water? This is a world, this is a space, and you can find in it things that you can do in the water but at the same time to try to ignore them.
IP: The space creates, not just how but where the plot takes place, if I can call it a plot, where things happen, and what is the effect of the place on the work or the experience of the characters. When you work with water as a raw material [we asked] what is the quality of the material and the movement – is it slippery, does it splash, is it wet? What material will they wear – perhaps it will cling to the body [when wet], perhaps it will drip. 
When going to stores to choose fabric [for the costumes], my first question was – do you have a sink? So that I could wet and wring the fabric to see how it reacts. What texture will it have on the body, [looking for] the right feel so that they can move with it, so that it won't limit their movement, or perhaps that it will limit them, creating a certain tension. We were working with it [the water] but not FOR it.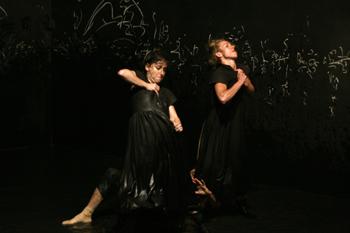 AP: The musical aspect [was also a] walk into the unknown, working with musicians whom we really…
 
IP: Whom we did not really know.
AP: They themselves, within their own organism also have elements that change all the time.
IP: The Kitchen Orchestra are 25 musicians who perform in different combinations.
AP: In the atmosphere they bring something chaotic, and we try to do something more structured. There is an interaction between the noise and quiet. There are many moments in Trout that are quiet but very strong – the sound of water dripping from the clothes.
There are five musicians: three acoustic musicians, two electronic that are working with complex computer software connected to the walls, responding to certain triggers. There is an obsessive character that writes on the walls –  the sound of the movement, water or a body hitting the wall that is controlled by the musicians.
IP: And a vocal artist who interacts on the stage.
AP: One of the dominant members of The Kitchen Orchestra is one of the founders of Tou Scene – the place brought them to us and it felt right. Even if these were musical directions that we would not have chosen automatically, we said – let's go forward. After we created Trout we said: We don't know if we will ever be able to perform this again, [but we] felt that we have to somehow bring it here [to Israel] too.
When you re-enter a work you create changes and it will go through more changes
And the different space demands additional changes.  We looked for the right space for a long time. Yaron Yerushalmi is different; it's somehow available, as if it was waiting for this work.
IP: I always say that the work exists in the space, between the people, within the walls.
That is why collaboration is a very strong thing because the minute you bring in more elements that are foreign to you, unfamiliar, it is surprising, it will change you and it will change those around you and will change the text that you…of course here [Trout] there are so many elements that affect and changes the work, things that are new to us here, so of course this work is very different from our previous work.
The water [with it's] connotations that are fun and not… [there is] something so pleasurable in entering the water, but there were times when it was simply cold. You find yourself contending with difficulty while at the same time having fun despite the difficulty. The dancers yearned to return to this work, longing for that feeling, even the slight physical torture of it…The physicality is internalized in the body, [it's] something total. You cannot remain indifferent to it.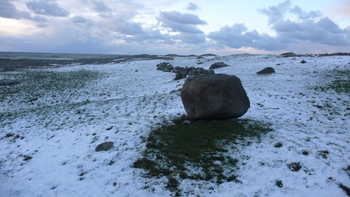 We are looking to change and discover …it's like entering a room and we don't know if we can get out of it. But when you finally find an opening, you walk through a place that is a discovery and you discover yourself anew.
Performances: December 5 – 12
Yaron Yerushalmi Theatre, Suzanne Dellal Centre, 5 Yechieli Street, Tel AvivDecember 5, 6, 7 & 11 at 21:00, December 8 & 10 at 20:00, December 9 at 22:00, December 12 at 14:00 & 20:00
Special performance of The Kitchen Orchestra December 8 at 22:00
Tickets: 03-5105656