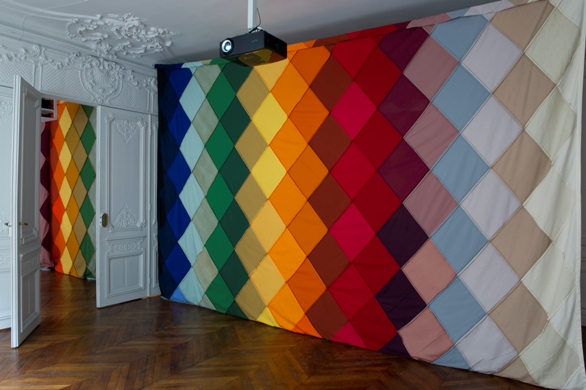 The curtain has risen on a solo exhibition by Ulla von Brandenburg. Bringing together performance art, painting, video, set design, music, playwriting and poetry, her mixed-media installations are a perfect introduction to Theatrical Gestures, a large theme show opened at the same venue.
Brandenburg, whose show is curated by Noam Segal, is showing three of her best known video installations. Two of them, Mirrorsong; and The Letter are curtained off by brilliantly colored drapes, a means of emphasizing the divide between real life and the artist's fantasy world.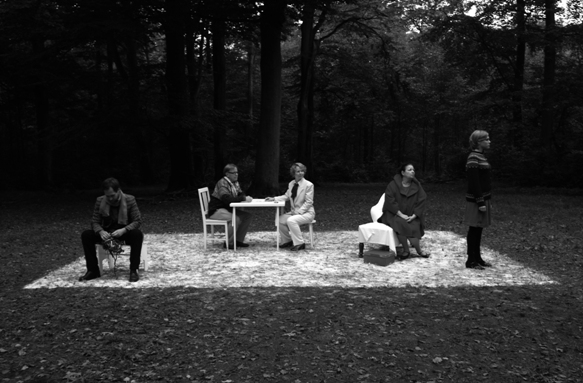 All three installations have an aura of mystery and tension about them. . Part-opera, part- performance, Chorspiel, the third piece, is the most dramatically presented. A   spiral walkway bounded by black and white paintings representing a forest lead into a central space where the video is being screened. In Germany, where Von Brandenburg was born, forests are part of the folklore and deemed to be places of refuge and magic. These facts fit in well with the storyline of this video piece.
In the film, a family of four – an elderly man, and three women –appear to be living in a forest clearing. They sit, stand and converse in a sluggish fashion. Or else, intermittently, try to untangle a twist of rope. A young man – 'The Wanderer' – suddenly appears disturbing their tranquil existence. He carries a box which he doesn't open. And it is never made clear what is inside. Or, if by opening it there might be some change in the family's situation. Break a magic spell, and set them free from the forest, perhaps.
The participants in this drama converse in disjointed sentences, but their words are taken up by an elegiac chorus that cancels out individual opinions, and becomes a collective voice, a role associated with the ancient Greek theatre.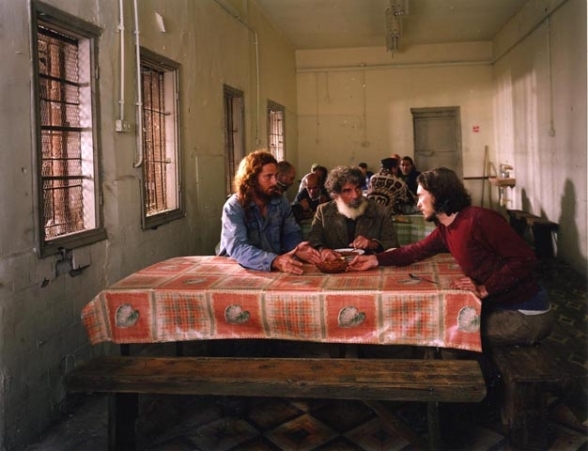 From Chorspeil, one moves on to Theatrical Gestures:, a lavish group show comprising paintings, sculptural installations, photos and prints by more than 30 international artists (including a few Israelis). Selected from the Angel Collection of Contemporary Art by curators Dalia Levin and Tal Bechler, its aim is to illustrate that theatricality has become a prominent feature of 21st century art.
Spectacle is a strong feature of many exhibits. It is, for example, a constant element in the staged photos based on biblical stories by Israeli artist Adi Nes. While in composition and lighting his scenes recall Baroque paintings, they also possess a contemporary (Israeli) message. Take the photo of Jacob and Esau, for instance, showing Esau selling his birthright to his brother for a mess of pottage. With the actors seated at a table covered with a cheap plastic cloth, Ness chooses as backdrop the run-down interior of a communal soup kitchen. Surely, this is a reminder that hunger and poverty exists, even in Nes' home town of Tel Aviv.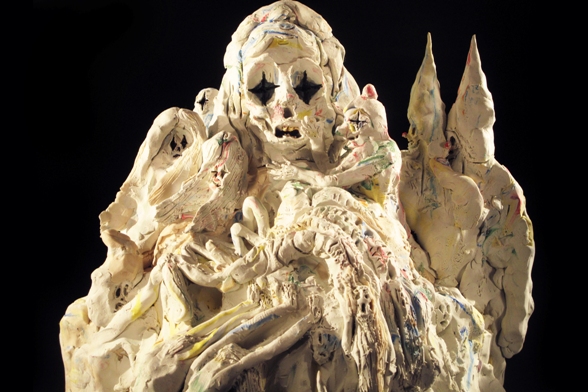 Recalling the art of costuming and disguise is Mound, a short animated film by Los Angeles-based Allison Schulnik,  set to the haunting melody of Scott Walker's "Its Raining Today." This video features the 'adventures' of white shapes molded from clay, partially daubed in pastel colors. In constant flux, these creatures bend and sway, evolving at one moment into monsters, or become part of a creepy-crawly universe. Later they reappear as witches, first dancing and then collapsing. In the opinion of this writer this is the cleverest work in the exhibition.  (The complete video can be seen here )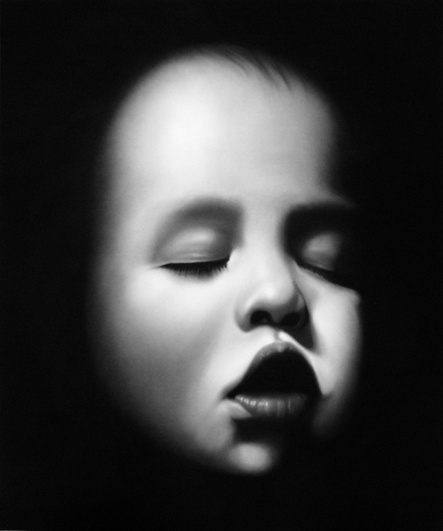 Some exhibits might be mistaken as artifacts used in a horror movie. Canadian-born David Altemjd's bronze sculpture Hand Bird 1 (2007), for example, that artfully combines parts of a human hand with the features of an eagle. And then there is the head of a shark, a superb charcoal drawing by New York artist Robert Longo. His second exhibit, a depiction of a baby's face from his Beginning of the World series,  can be interpreted in several ways. Setting aside this title, the spectator cannot really be sure if the baby's eyes are closed because he is sleeping, or that he will, in fact, never open them up again. Life and death brought together in one image.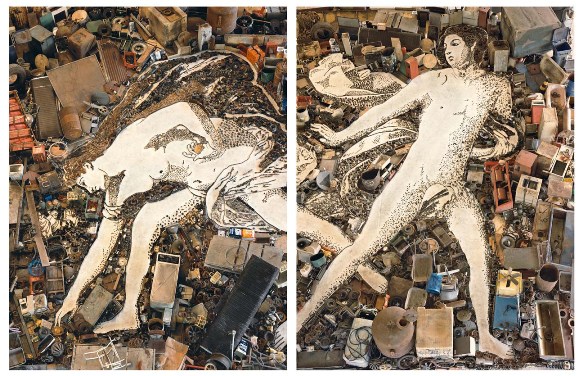 Photographs by Vic Muniz (who lives and works in San Paolo and New York) also allude to the cycle of life. In one instance his main imagery derives from a 17th century painting by Baroque artist Guido Reni in which Atlanta stoops to reach an apple on the ground, while Hippomenes darts by to win a race. In Muniz's fabricated photo, the background in the Reni painting has been replaced by a floor covered with industrial junk. By contrasting the grace of the mythological figures with these waste materials, Muniz gives his interpretation of the theme of Vanitas, intimating that all that is beautiful will inevitably become base and worthless.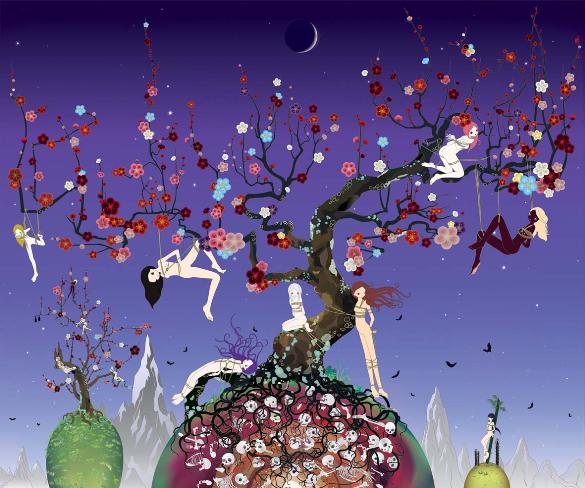 As in Klimt's painting Death and Life, beauty and horror co-exist in other striking exhibits, among them glossy color photos devised by Tokyo Pop artist Chiho Aoshima.  From far off, she appears to have created some entrancing landscapes.   But come close and one finds that there is an erotic, sadistic quality to her work. In  Sinking in a World of Blue, for example, young girls, hands bound behind their backs, hang or swing from the branches of a tree whose roots spread out between a burial place of skulls.
Drama, spectacle, beauty, horror, these are some of the elements highlighted in a show that is full of interest, but may prove visually overwhelming. All the artists are well-known and all have something important to contribute. But since the 'guest list' is so large, the spectator has to be continually shifting his /her mind-set in order to absorb such a huge variety of approaches and styles.  Not an easy task.
.
Till April 20th 2013. Herzliya Museum for Contemporary Art, 4 Ha'banim St.,Herzliya.