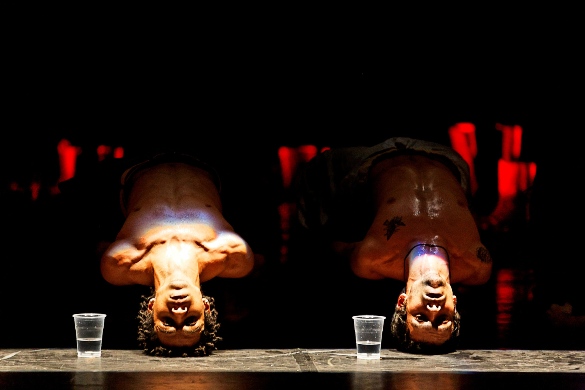 Water has never been so wild! High energy Agwa, French hip-hop choreographer Mourad Merzouki's mix of samba, hip-hop, capoeira, bossa nova and baroque will be coming to the Herzliya Performing Arts Center as part of its festive 10th anniversary season, with additional performances in Beer Sheva, Haifa and Jerusalem.
Agwa is an evening of contemporary dance in two parts. The first, Agwa, premiered in 2008, is a collaboration that evolved from a chance encounter during a street performance at the Lyon Biennale  between Mourad Merzouki's Compagnie Käfig and dancers from Brazil. The personal stories of these 11 young dancers who grew up in the favela of Rio de Janeiro inspired Merzouki to create this work, reflecting their burning passion for dance.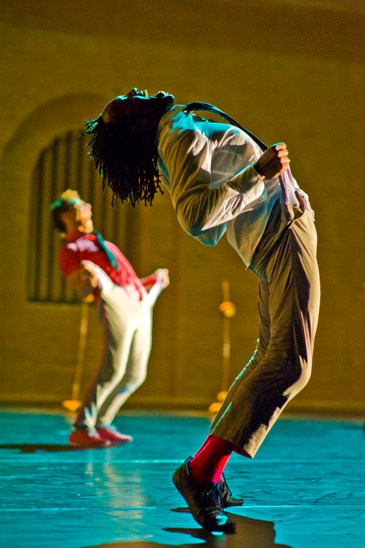 The second part, Käfig/Brasil, was commissioned for the Montpelier Festival in 2012, and incorporates the work of four innovative French choreographers – Anthony Egea, Céline Lefèvre, Octávio Nassur, and Denis Plassard – in collaboration with the Brazilian dancers. Käfig/Brasil is composed of short scenes performed to a soundtrack incorporating diverse musical styles from Baroque to hip-hop and electronic music.
The prolific Merzouki has created 21 works since founding Compagnie Käfig in 1996. Käfig means "cage" in German and Arabic, yet the energetic choreographer's style is anything but confined. French-Algerian Merzouki studied circus arts and martial arts before turning to hip-hop and dance, this openness and versatility continues to characterize his work as a choreographer. He has received numerous awards and accolades, including the Prix SACD in 2006, Officer of the Order of Arts and Letters in 2012 and Knight of the Order of the Legion of Honor in 2012. Coming to Israel for the first time in celebration of the Herzliya Performing Arts Center's 10th anniversary, Merzouki's visit is sponsored by the French Institute and the French Embassy in Israel.
Accompanying the performances of Agwa, there will be an exhibition of graffiti created by students and graduates of Beit Berl College in the foyer of the Herzliya Performing Arts Center – Street Art.

Performance dates and venues:
Herzliya Performing Arts Center, 15 Jabotinsky Street, Herzliya
February 26, 27, 28 at 21:00, and March 2 at 21:00. Tickets are 169/269 NIS, and may be ordered online or call 1-700-70-2929.
Beer Sheva Performing Arts Center, 41 Riger Blvd.
March 4th at 20:30. Tickets are 169/269 NIS and may be ordered online or call: 08-6266400.
Haifa Auditorium, 13 Hanassi Blvd, Carmel Center.
March 5th at 20:30. Tickets are 169/269 NIS and may be ordered online or call: 04-8384777.
Jerusalem Theatre, 20 Marcus Street.
March 6th at 20:30. Tickets are 169/269 and may be ordered online from the Jerusalem Theatre or call:  02-5605755; or via Bimot, call: 02-6237000, *6226.