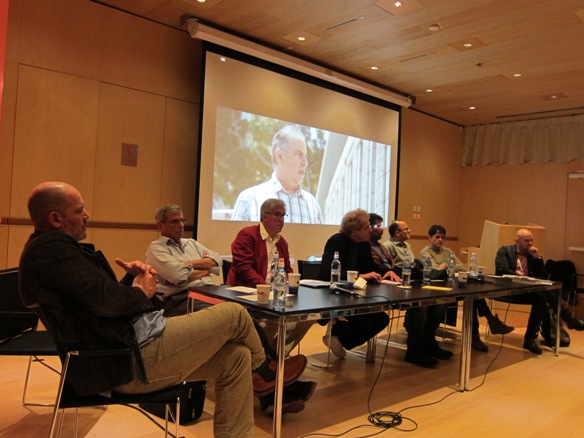 "Pitching is a ruthless process," said Stephen Davis at the EPOS 4 awards ceremony that took place on Saturday, March 2, 2013 at the Tel Aviv Museum of Art. Davis knows whereof he speaks – a glance at the prolific British screenwriter's website reveals, in addition to his many accomplishments  (credits include the film Ruby (USA, 1992, 110 min) starring Danny Aiello, an exploration of the Kennedy assassination from the perspective of Jack Ruby; and episodes of  television series Waking the Dead, Silent Witness and Casualty), a not-negligible list of projects in development.
Davis was one of three international guests invited to participate in the unique workshop offered by EPOS – the Dramatic Arena  by curator Ruth Lev Ari. The workshop enables filmmakers to learn from a diverse panel of experts and present their nascent projects in a supportive environment. The salient aspect of this workshop was succinctly expressed by Davis, "Ruth takes the curse and pain out of pitching with a simple trick, putting a writer in the room instead of a producer."
This year's theme was "Inspiration and Adaptation" with a focus on films whose artistic source is in another format. Adaptations from novels or plays are frequently seen on the screen, yet the transformation from written text to a visual, kinetic medium is not at all simple or formulaic. Less common are films inspired by paintings (such as Lech Majewski's The Mill and the Cross,  inspired by Pieter Bruegel the Elder's 1564 painting The Procession to Calvary, shown at EPOS 3. Majewski participated in  The Dramatic Arena 2013), music or sculpture. Investigating the concept of adaptation and its process were international panel members Davis,  Piotr Gruszczynski (dramaturge of the Nowy Teatr in Warsaw), and Florian Boesch (baritone singer), joined by Israeli creative artists Elie Cohen (Summer of Aviya 1988, Under the Domim Tree 1994), Gudis Schneider (Babylon Blues/Reach Poalim 2011), Yaron Seelig (Waiting for Capa), Alon Hilu (The House of Rajani 2008), and Yariv Horowitz (Rock the Casbah 2012).
The intensive six hour workshop opened with presentations by the panelists, discussing inspiration and adaptation in relation to their own creative work. As an opera singer, Florian Boesch is always actively engaged in the process of adaptation, and in considering the many different artistic fields that compose an opera production. The versatile baritone, who, among his other pursuits, studied design with Ron Arad, said, "I don't think opera is interesting, I like musical theatre…I'm happy to lie on my belly and start singing."

Boesch spoke of the challenges, saying, "my discipline is about re-creation, it [any given piece he performs] has been done many times before," and of the connection he aims to achieve, even in the vast spaces of an opera hall, those moments when "the audience leans forward five centimeters, I sometimes see it from the stage, then you can whisper to them…"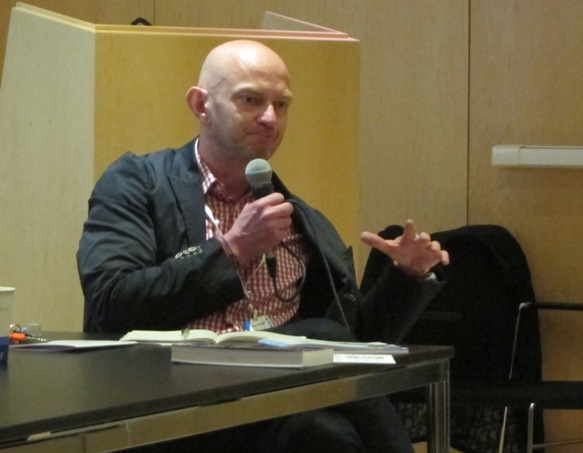 Piotr Gruszczynski works as a dramaturge with Krzysztof Warlikowski at the Nowy  Teatr in Warsaw. Their work on the production of (A)pollonia was documented by director Manuelle Blank in Krzysztof Warlikowski, or the Legacy of Sacrifice, screened at EPOS. Speaking of the Polish director's artistic process, Gruszczynski said, "Warlikowski reached a kind of extreme in the theatre, he works only with adaptations… Warlikowski says he doesn't want to serve any author, he loves to use classical texts as a reference to our contemporary thinking…it's not that obvious how to do it, create a new script with existing texts, like found footage in film."
In their approach to text and theatre, which he describes as, with (A)pollonia as "trying to approach the impossible and visualize it in the theatre," Gruszczynksi  related that "every actor has to agree on every single word he says on stage – for the dramaturge, it's a night mare."

Listening to the panel members sharing their experiences in this informal atmosphere, heightens the awareness that one learns as much (if not more) from questions than answers.  Elie Cohen described his work on The Hora '79, a feature film inspired by the Israeli folkdance, for Gudis Schneider, his film about Meir Ariel was intensely personal, reflecting the way that he had been impacted by the music at different times in his life, saying "it's about how art can change lives."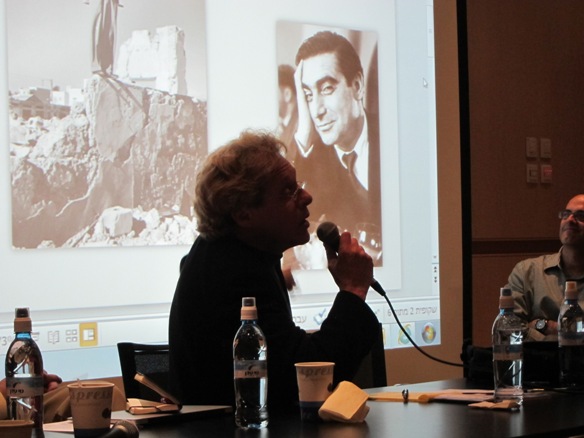 Yaron Seelig talked about his eight year long involvement with his 'passion project' – a film about war photographer Robert Capa, saying that one of the crucial questions for him is "When it's also a visual medium [in this case – Capa's photographs] how do you incorporate someone else's work into your film?"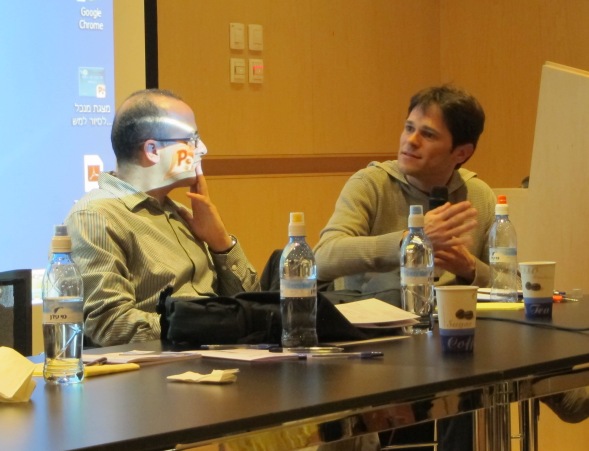 Alon Hilu and Yariv Horowitz demonstrated creative collaboration in progress, as Horowitz is working on a screenplay based on Hilu's novel, a dual diary set in 1895 Jaffa, presenting the thoughts of twelve year old Salah Rajani, who foresees the future Jewish state, and a young Jewish settler, recently arrived from Europe. Horowitz, drawn to the novel – "the language amazed me" – said that one of his paths into the narrative came about because it made him "think about my grandfather, running from Europe [to Israel] in the 20s, who realized this is not an empty country…I hope with my background I can bring something to this." Hilu said, that initially, he felt, "this is my baby, don't change anything," now, further into the project, he is comfortable giving Horowitz the freedom: "they can do anything they want."
Israeli filmmakers presenting their projects were: Moran Ovadia and Tal Almog – Green House, inspired by Gregory Crewdson, Dina Riklis and Orna Akad – Waki Milech, inspired by Orna Akad's novel, Mati Harari and Yoav Katz – Terminal, inspired by Yoav Katz's novel, Tamar Yarom and Daniella Carmi – Summer Honey, inspired by Daniella Carmi's novel, Shay Gabso – Night Birds, inspired by Yehudit Handel and Edward Hopper, and Amikam Shossberger – Possession, inspired by S. Ansky.
Each project was discussed in detail, with lively dialogue between the filmmakers and panel members Boesch, Davis and Gruszczynski, whose questions and comments were illuminating, incisive, thoughtful and thought-provoking. The experience was reward enough for any aspiring filmmaker, it is a rare opportunity for a project to receive such valuable feedback at this early stage of development, but EPOS was also offering more goodies.
The main prize, a development assistance grant sponsored by the Israel Film Fund, was awarded to Yoav Katz and Mati Harari for their project Terminal. Presenting the award was Stephen Davis, who said that the project was "funny, original, beguiling" and had "a quality of immediate originality" in its airport setting (and fear of shut-down), referring to Katz's comment during the workshop on the special relationship Israelis have to airports: "the hope they all share, that of fleeing abroad…Israelis cannot stand the thought that we are stuck here."
A second development was awarded to Shay Gabso for his project Night Birds, which Davis said was "the most mysterious, elusive, and probably the one that needs the most work. We were intrigued by the idea [as expressed in Gabso's presentation] that strangers can be closer to us than anyone. It's such a difficult idea the least we can do is encourage it."