A tantalizing selection of Outsider Art, also know as Raw Art or Art Brut, has opened at the Haifa Museum of Art with 27 artists from Israel and abroad participating.  Outsider art, intuitive and spontaneous in character, encompasses two categories of people: those who lead normal lives (and often take up painting late in life); and eccentric or disturbed personalities, for whom art, in many cases, became a reason for living. Both groups are well represented in this exhibition.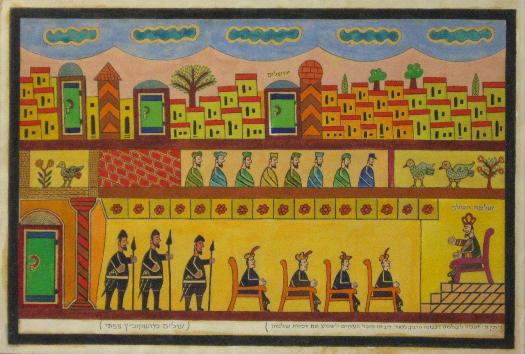 The wall texts are particularly informative. They provide a photo of each artist, a short biography and description of his/her work, and end with a paragraph headed 'Discovery'. This section emphasizes the fact that all these artists were brought to public attention by 'insiders' in the art world (artists, curators, collectors etc). The potential of Shalom Moscovitz (Shalom of Safed) (1882-1980), for instance, the most famous of the 12 local artists represented here, was first recognized by the artist Yosl Bergner. Passing through the Central Bus Station in Tel Aviv he saw some little wooden toys for sale and enquired as to the identity of the artist. An elderly religious man living in Safed, they said. Bergner, who was living in the same city, asked the milkman to introduce him. Supplying Moscovitz with paints and paper, Bergner encouraged him to try his hand at painting. The rest is history.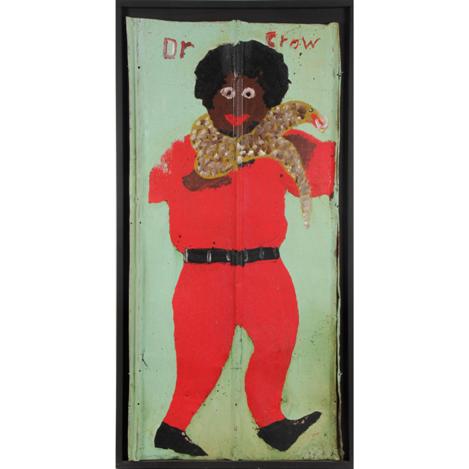 Amongst the famous Outsider artists represented, the works of five African-Americans make a powerful impression. Most of them were the descendants of slaves, like Sam Doyle (1906-1985), who came from the Gullah, Creole speaking, community on an island off the South Carolina Coast. As noted here, his basic materials were of the simplest; either corrugated metal or tin roofing. On top of these surfaces he painted jovial portraits of people from his community, one of them depicting a well nourished black lady in a bikini, another, a certain Dr Crow, dressed in red, with a snake curled round his neck.
Illustrating Doyle's intentions to interweave Gullah traditions with his devout Christian faith is a scene that features a moment in the life of his community. Silhouetted in black and red, figures follow a hearse drawn by a bullock to a funeral ground where the graves are marked with a cross.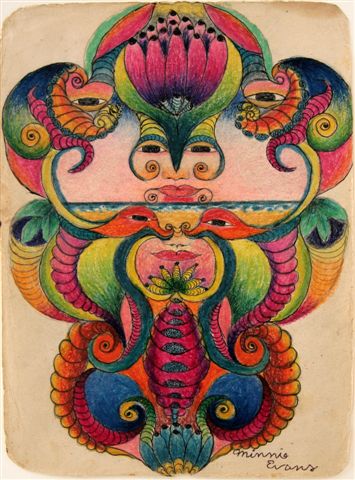 Minnie Evans (1892-1987), like many Outsider artists was a visionary. According to the author Gilbert Coker there were times when she couldn't distinguish between dreams, hallucinations and real experiences. Born in South Carolina to a family with roots in Trinidad, she was employed on the estate of an affluent white man, first as a domestic, later as the gate-keeper.
Evans started painting compulsively in 1935, when she was 43, as a result of hearing voices that told her she must draw or die. Eventually she put her work on sale at the gatehouse for 50 cents a piece, half her daily wage. Her paintings, produced with wax crayons or gouache paint, are in vivid color combinations. Symmetrically organized, they combine flowers and plants (which she may have seen on the grounds of the estate) with faces and objects from her dream world.

Henry Darger (1892-1973), one of the most celebrated names in the history of Outsider Art, worked in Chicago as a hospital janitor until retirement. Reclusive by nature, it was only after his death that his landlord discovered 15 volumes of typed material and hand painted illustrations for "The Story of the Vivian Girls in What is Known as the Realms of the Unreal.", a fantasy work, describing struggles between good and evil.
Darger's illustrations painted in delicate pastel colors are in a scroll-like format. From far off, the impression is of a peaceful outdoor scene. But look close, and one finds cruel and violent details involving clothed and naked children.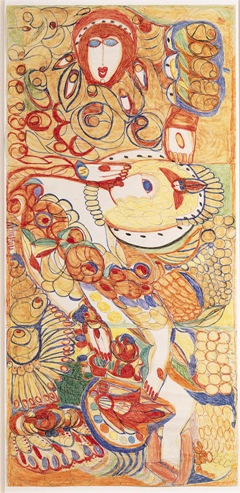 A number of famous Outsider artists spent part of their lives in an asylum. Swiss artist Adolf Wölfi (1864-1930), for example, who is represented here by paintings filled to horror vacui with images, ornament and musical notations; and Aloise Corbaz, (1886-1964), another Swiss artist. Employed as a teacher in the household of German Kaiser Wihelm 11, Corbaz developed an obsessive crush on this ruler that led to a diagnosis of schizophrenia.  Confined to a psychiatric hospital she started drawing, at first on scraps of paper using toothpaste and juices from plants, before being provided with   colored pencils. Some of the images in her tightly packed compositions cannot be identified, but, in general, voluptuous women and their uniformed admirers form her main subject-matter.
It is interesting to note that Corbaz was visited regularly by Jean Dubuffet, the French artist who coined the phrase Art Brut. (and perceived in the art of the mentally ill an "immediacy and power" lacking in academic art.). Paintings by her and Wölfi formed part of his private collection of Outsider Art. They are now housed in Lausanne's Museum for Art Brut.
This exhibition not only offers a rare opportunity to see works by renowned Outsider artists under one roof; but also a chance to view a  cross-selection of naïve art in this country, from the turn of the 20th century till the present day. Missing, however, are examplar works by Yosef Zvi Geiger and Moshe Mizrachi (both born in 1890), the earliest local practioners in this genre, for whom the bible, as for Shalom of Safed, was their sole source of inspiration.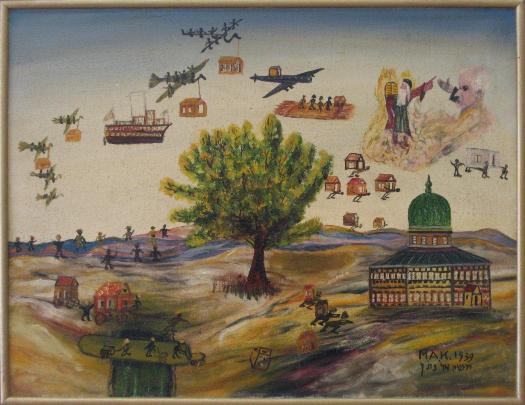 Touchingly conjured up through the paintings of Natan Heber and Shimon Lemberger is the vanished world of the East European shtetl. But quite different subject matter attracted another 20th century naïve, the Persian born Moshe El Natan Khodod. An eccentric, he travelled widely before immigrating to Israel in 1937. Settling in the city, he opened an oriental restaurant, becoming known as the "King of Falafel". His futuristic scenes envisaged happenings that had not yet come to pass: Jews leaving Russia, rockets menacing the world, and space capsules reaching the moon – an event that took place the year he died.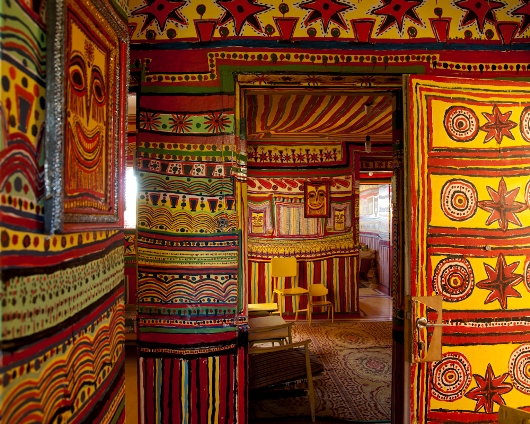 A review of this exhibition, however brief, would not be complete without mention of two extraordinary projects presented here through photos. Firstly, Afia Zecharia's efforts to turn the interior of her home in the Northern town of Shlomi into a total work of art. Zecharia (b. 1905? – 2OOO), who emigrated in 1950 from Yemen to Israel, only began to decorate her apartment after her husband died, and was living alone. Using car paint in black, saturated reds, blues and yellows, she covered the walls and ceilings, and part of the floor with intricate abstract and geometric motifs, dots and stars. Self-portraits are interspersed between (see the face at upper left in the illustration above).
Another set of photos and a short video piece take us to Herzliya, to the cliff and sands below Sidne Ali. Here Nissim Kahalon (b.Tel Aviv 1945) has been living and working for 40 years to create a captivating dwelling place: a maze of tunnels and paths, sculptures and mosaics. Naïve art at its strangest and most exciting.
This show, curated by Haifa Museum of Art's chief curator Ruti Direktor, assisted by Natalie Smith, is open until June 15, 2013.
Haifa Museum of Art, 26 Shabbetai Levi Street, Haifa