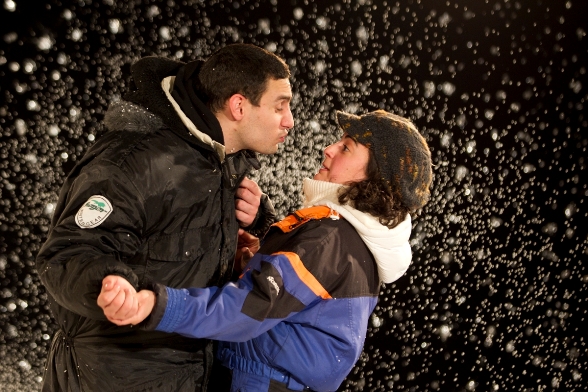 Almost Maine is a small town that doesn't appear on any map, and exists only on the stage. One snowy night, when the Northern Lights blaze across the sky, the townspeople encounter love in unexpected places. A woman who makes her way through the world with her heart in a bag, a young man who discovers that life is not what his older brother said it would be. A man who is no longer the same man, meets a woman who returns to a place that no longer exists.
Rotem Kenan translated and directed John Cariani's romantic comedy, a play composed of nine short scenes. The students of Nissan Nativ Acting Studio will take us into the backyards, sidewalks, homes and hearts of these denizens of a mythical town, into the funny, surprising and poignant moments of their lives.
Tickets are 50 NIS.
Performances: April 2 – 9, 2013 at 20:30, Nissan Nativ Acting Studio, 158 Herzl Street, Tel Aviv, 03-5182410.