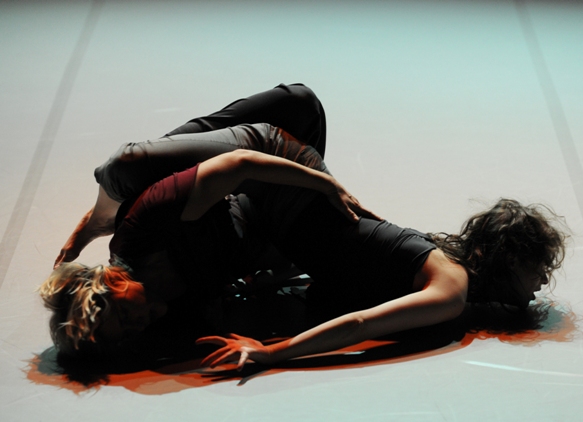 Tmuna Theatre will present an international evening of dance with Underground Winds by Swiss choreographer Anna Röthlisberger Co., and OFF Line by Israeli choreographer Nadar Rosano on April 9th at 20:00.
Anna Röthlisberger's Underground winds – Vents Souterrains is the first part of a trilogy. A collaboration with Israeli dancer Ayala Frenkel, the duet presents an intimate encounter between two individuals. The duet is accompanied by live music, performed by Swiss guitarist Marc Rossier, with lighting design by Brigitte Dubach.

Completing the evening's intimate tone is OFF Line, Nadar Rosano's duet with Adi Weinberg. The work presents two individuals in search of love and warmth.

The performance will take place on April 9, 2013 at 20:00 at Tmuna Theatre, 8 Soncino Street. Tickets for the performance are 70 NIS, to order, call: 03-5611211
UNDERGROUND WINDS
Choreography: Anna Röthlisberger; Dancing: Ayala Frenkel, Anna Röthlisberger; Light design: Brigitte Dubach; Costume: Stromline- Christina Muller; Dramaturgy: Klaus Jensen; Choreographic Assistance: Sonia Rocha; Live Music: Marc Rossier; Production: Anna Röthlisberger Co; Israeli production: Yael Cohen.
OFF Line
Choreography: Nadar Rosano; Performers: Nadar Rosano, Adi Weinberg; Sound Design: Yair Leo Sugarman, Noam Hefler; Music: Arvo Pärt, Kouhei Matsunaga Hatakeyama; Dramaturge: Solomo Plessner; Costume design: F-F-F B; Lighting design: Shahar Bareket.