Brash, brilliantly conceived and the most fascinating bit of cardboard I've ever met, Moses is the star of Blind Summit Theatre's The Table. As the performers so cunningly observed, describing this theatrical event, one of the highlights of my experiences at the Israel Festival so far, confronts the critic with a daunting challenge, because it is precisely what it claims to be: a puppet on a table.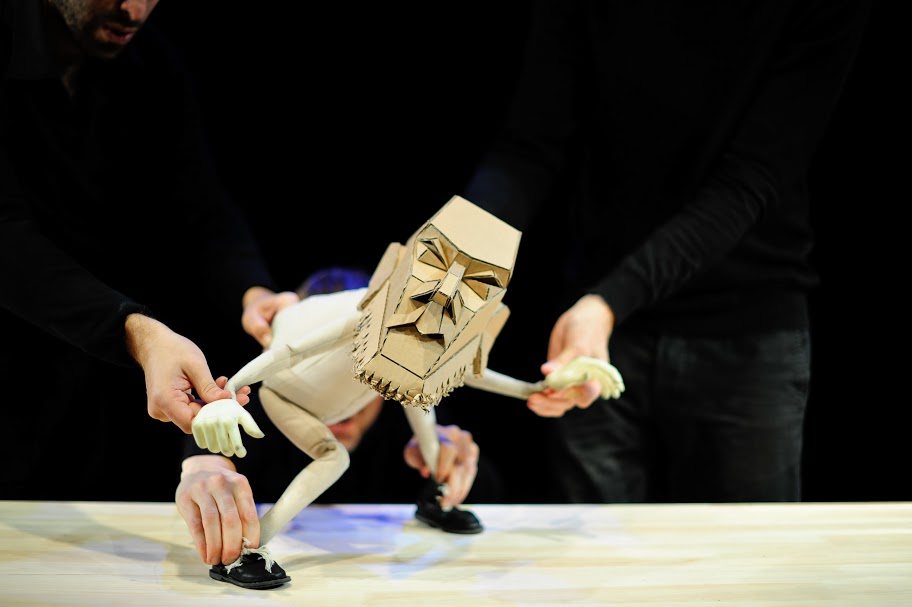 A dandy deconstruction of illusion and a very funny investigation of belief, The Table takes a Japanese-Bunraku style puppet, designed with wonderfully expressive features and operated by three men, to enact the last 12 hours in the life of Moses in real time. Really? of course not, and that's the point. Blind Summit play skillfully with the concepts of seeing and believing, life, theatre and truth, while revealing the hidden comic depths of Midrash.
Bringing Moses to vivid, cantankerous life, while exposing the art and artifice of his being, Blind Summit gave one of the most imaginative, fun, and – dare I say – intelligent shows I've seen in a long time, it almost restores my belief in theatre. Performing in English, the three puppeteers had a terrific rapport with the audience from the start, and even interjected chosen bits of Hebrew to their text, strategically stumbling over the correct pronunciation of Dvarim (Deuteronomy) in Hebrew, and lamenting an over-indulgence in hummus.
Moses manages to convey every possible expression with his fixed features: querulous, curious and lavishly lustful, he delights in stating the obvious – "can't see a damn thing out of these cardboard eyes," imbuing his character with, well… character and life, in his exposition of his manufactured, manipulated state: "my back story – I was a box."
Blind Summit are certainly doing their part for "puppet love," – the audience eagerly embraced this witty, warm and wildly entertaining performance with applause and lots and lots of laughter.
Music: Lemez and Friedel; Lighting: Richard Howell; Artistic consultant: Andrew Dawson; Performed by: Mark Down, Nick Barnes, Sean Garratt.