Hansen House is a star, Sharon Eyal and Gai Behar know how to put on a great show, and their ensemble of dancers is simply spectacular! The duo have created a special adaptation of their dance work House for the Israel Festival, designed for performance in an unusual location: Hansen House, also known as the Lepers Hospital.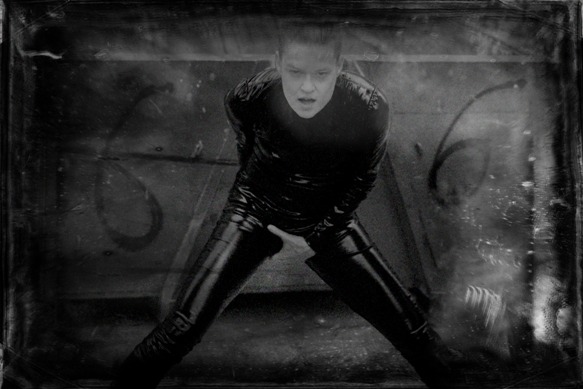 Walking up the tree-lined path in the darkness, one approaches the historic building (designed by German architect Conrad Schick in the 1880s) lit in lurid shade of magenta red. Upon entering, the eerie atmosphere is enhanced with sound, lighting, and video installations by Ran Slavin, glimpsed through the dark doorways of empty rooms. A performance area was constructed in the building's inner courtyard with a tribune of seats facing the stage, which was on level with the lowest row of seats. Surrounding this courtyard was a gallery, and standing room tickets admitted viewers to this area, where one could see the stage from above. Higher still was an additional floor whose windows looked out on the courtyard, lights flickering in the time honored tradition of haunted mansions.
Housen opens with a solo scene, dancer/choreographer Sharon Eyal clad in a shining black bodysuit; angular, mysterious, sexy, with a hint of malevolence.  An ominous soundtrack by Ori Lichtik accompanied a circle of  six dancers who demonstrated some smooth android action in nude colored body suits with flesh-toned leather-like touches. The attire reveals every curve and detail of the body, yet conveys a uniform androgyny on the ensemble, augmented by blood red nail polish and coiffeurs ornamented with Bride of Frankenstein streaks of white.
I can't say enough about the abilities of these dancers, it's not just about physique or technique – though both are delectable and impeccable. In their dance company  L-E-V, Eyal and Behar have assembled a troupe of some of the best dancers I've seen, imbuing any and every move with depth and expression. The cast list for Housen: Rachel Osborne, Olivia Ancona, Leo Lerus, Gon Biran, Douglas Letheren, Yaara Hen-Moses, Keren Lurie-Pardes, and actor Hen Yanni (Melting Away 2011).
The work conjures cinematic associations of genre films, immersed in mystery and imagery, yet not without humor. Gon Biran's wild eyes and red lips, grimacing in horror tinged with ecstasy, were the wonderful stuff of nightmares. Vincent Price would be proud.
Housen is cinematic in structure as well, with scenes separated by black outs. In what might be called the second half, Eyal appears onto the stage from amid the audience, a queen of the night in dialogue with the stage lights, curving into her groove. Yet I felt that the final scene did not lend itself to gallery viewing, my own vantage point for this performance. Much of the movement involved approach and retreat, it's a staging that does not translate well to a viewing from the side, and much of the impact is diminished.