Brazilian born, Brooklyn-based artist Vik Muniz comes to Tel Aviv with an enviable reputation for art that is both playful and amusing. He is also known for an extraordinary social project that was documented in the film Wasteland, (produced by Lucy Walker and nominated in 2011 for an Academy Award as Best Documentary Feature.)  This film  followed his work at one of the world's largest landfills: Jardim Gramocho, outside Rio Janeiro. There, he created large scale photos of the catadores – the trash pickers who earn a livelihood from scavenging for recyclable materials – posing them against quantities of garbage. These pictures were sold at auction, the benefits going directly to improve the conditions of this needy community.
Wasteland, screened at the opening of this show, whetted one's appetite for what turned out to be an intriguing mini-retrospective, containing some dozen examples of the large format photos that Muniz produced between 1997 -2008. In each instance, the images and scenes he photographed were first fashioned by him from extraordinary materials. It is worth noting that, aside from those substances featured in this show, he has also used chocolate beans, syrup, jelly, sugar, and peanut butter as 'raw materials.'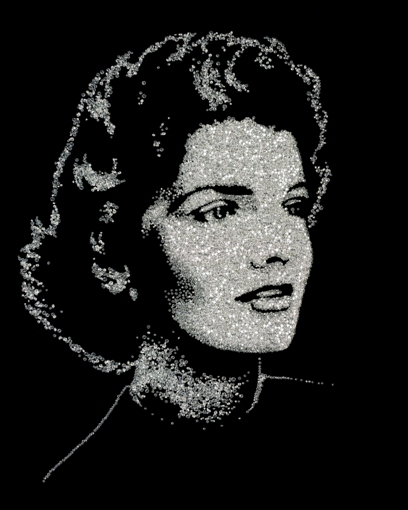 The works on display are drawn from a number of different series. From Diamond Divas – that included photos of such celebrities as  Elizabeth Taylor, Grace Kelly and Marilyn Monroe – comes a literally sparkling portrait of Jackie Onassis fashioned from more than 550 Kwiat diamonds.(A special edition of this image was auctioned off for children's' charities).
But the majority of the exhibits referenced iconic works of art which reproduced by Muniz, created illusions of the real thing.  Seeing is not Believing,. The scenes he creates may make one smile but their prime aim is to impel the spectator to ask questions about reality, the effectiveness of reproductions and the possibility of translating an image from one medium to another.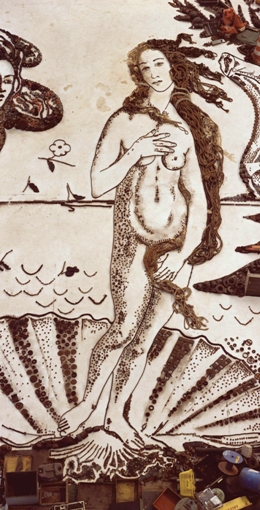 Facing the gallery entrance is Muniz' take on Botticelli's Rites of Spring, showing the nude Venus emerging from the sea on a cockleshell, blown by wind gods.  Confused for a moment? Has the Uffizi, Florence loaned this masterpiece? Don't make me laugh! Come closer, and Muniz' deception is fully revealed, starting with Venus' flowing locks made from coils of string; and the large and small items of junk that outline the figures and fill in the scene.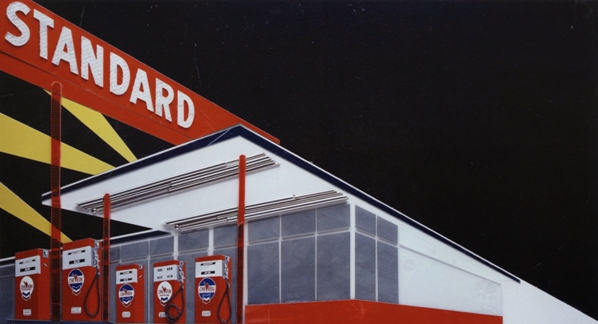 Several prints by Munz pay tribute to American Pop artist Ed Ruscha who, incidentally, like Muniz, on occasion employed unusual materials in his work, in his case, baked beans and caviar. In 1962, Ruscha produced a series of photos – followed by hard-edged paintings – of the petrol stations he saw while driving on Route 66 between Oklahoma City and Los Angeles.  Among the locations effectively recreated by Muniz is Standard Station. Here, car paint in strong colors applied to the steel surfaces of old car parts give an almost 3-dimensional appearance. Both artists are apparently alluding to the Car Culture associated with Los Angeles, the city's love affair with the automobile that began early last century.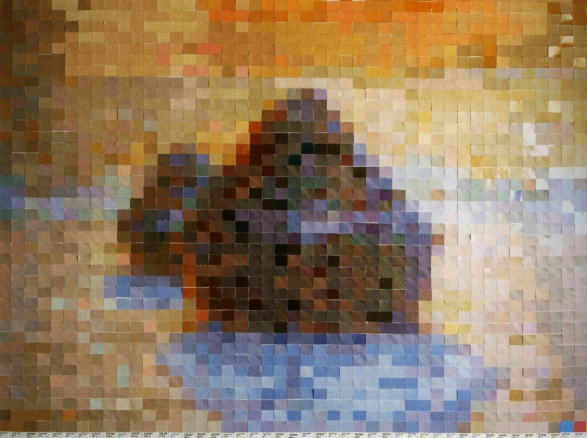 Muniz pays homage to French Impressionist Claude Monet, by recreating several pieces from his Haystacks series, a landscape painted in different lights and weather.  In this case, he replaces the master's paintwork with color chips placed in a grid formation. Although the result is visually appealing, something is missing. It seems that Muniz has all but neutralized the very features for which Monet is known: his immediacy of his touch, his gift for capturing fleeting effects of light, texture and atmosphere.
This show curated by Leore Yahel Ohad is open until 31st July 2013
Zemack Gallery, 68 Hey Beiyar St. Tel Aviv. Tel: 03 6915060