Some of the best music can be heard in the basements of Tel Aviv-Yafo. Last night at Hateiva, three musicians – Yael Barolsky, Shmil Frankel and Daniel Davidovsky – presented an evening program centered on Georg Philipp Telemann's 12 Fantasias for Solo Violin.
Opening with Fantasia no. 10 in D major (Presto – Largo – Allegro), Yael filled the space with music that stirs body and spirit as one, heart and breath attuned to the strings, vibrating, mind releasing images to the air. Listening, I thought: why would anyone ever need to write anything new? Diving into the Fantasias, flying with them; I would set out on this adventure again and again, each time discovering the music once more.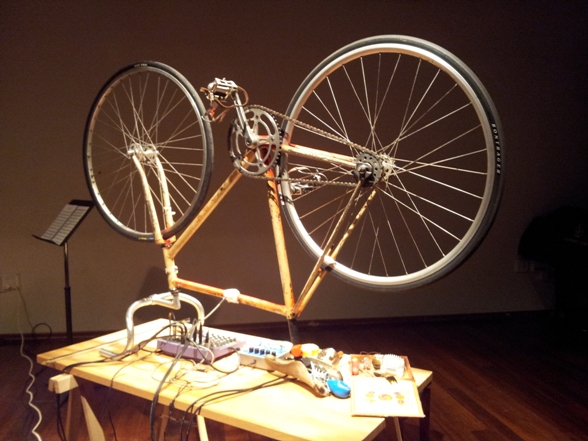 Fantasia no. 10 was followed by Fantasia no. 7  in E-flat major (Dolce – Allegro – Largo – Presto), then as the last vibrations of the violin shimmered in the air, the lights became brighter over the two musicians at Barolsky's sides: Shmil Frankel on electric bass bow and Daniel Davidovsky on amplified bicycle. Without a visible look or gesture, each musician appeared to be enclosed in a separate world, creating sound. The instruments themselves were beautiful. Frankel on the delicate, slender wood bass would at times use the bow or a soft mallet, inserting what appeared to be a thin piece of wood in the strings, the bow interacting with it, creating a chain of vibration and sound.
Davidovsky stood before an upside-down bicycle, formerly painted neon red, now scratched and battered, mounted on a table and connected to a mic on the bar that runs between the seat and handle bars. Rubbing a steel brush on the bar, turning the wheels of the bike, holding a sponge to the spokes, then using a small black plastic comb on the bar to create other-worldly sounds. Frankel elicited sounds from the small bass that filled the room, sounding like a huge, living machine. Later, striking the strings with the bow and mallet then drawing the bow slowly across the strings, he looked up, across the space to Davidovsky, a long, deep look. Davidovsky returned the gaze with his hands on an egg slicer, touching the wires to produce sound. The sound faded as the lights dimmed above them, and the violin was in the center once more.
Moving between Telemann and improvisation, discovering the deep connection between the two, it was a beautifully structured evening. The different sections were delicately layered and augmented by the lighting design, building up to the finale: all three musicians improvising together, the rapport between them and the listening in the room creating a joyous experience.