Kasade has come from afar and endured much hardship, but his story is situated in a fairy-tale environment, a magical reality displaced from everyday life. In this play, the set and costumes are all in shades of pink, inviting the viewer to see things as Kasade views life and his surroundings, from a rose-colored perspective.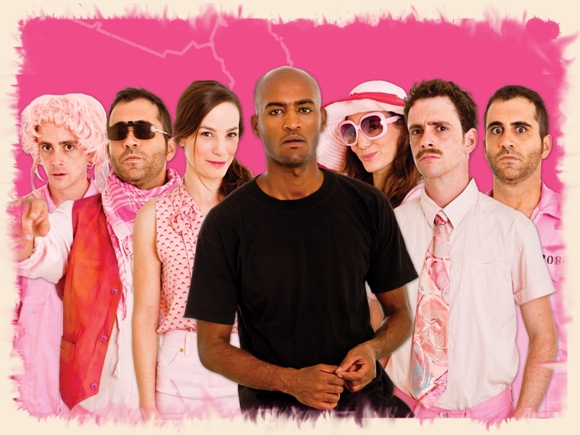 Written by Yoav Bartel and co-directed by Bartel and Abigail Rubin (Tozeret Bayit Ensemble, producers of the award-winning The Dance Instructor), Kasade depicts the struggles of a refugee in Israel with poetic symbolism, captivating imagery, humor and empathy. The live theatre performance is framed by animation created by Mysh, and the symbolic motif of migratory birds, drawing on the shared geographic reality to create a poetic connection between the refugees who cross the border on foot, seeking sanctuary, and the many birds soaring through the Israeli skies, some on their way to warmer climes, some staying the winter, some even nesting and raising their fledglings, and some, just passing through.
Maor Zabar, one of most delightful visual wizards of set and costume design, establishes a playful mood with a simple, yet striking set. A three-paneled pink partition redesigns the space as needed, and provides a screen for the animation. Two benches adjust and open up possibilities, becoming lounge chairs and quite a credible kayak; a trash can opens up to become a small outdoor grill. Best of all – everything is pink!   Except Kasade, who is black.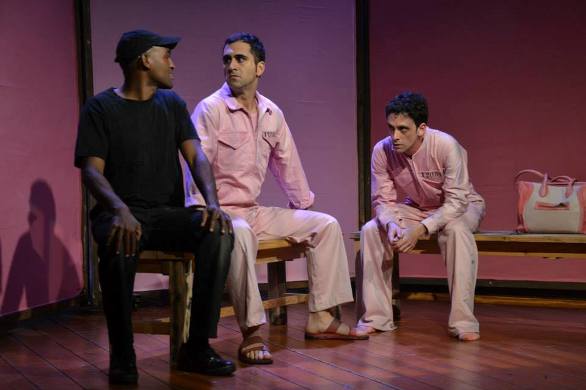 Kasade is a refugee from Eritrea, trying to making his way day by day in a foreign land, where his looks and language mark him as an outsider just as obviously as the costuming in the play. The issue of refugees is complex and has baffled many a country, including those far more organized than Israel. Bartel and Rubin have made a wise choice here not to attempt to present or analyze the reality, but rather to tell a story in human scale. One meets Kasade on the construction site where he works, and follow him on his adventures and mishaps, getting to know Kasade and the people he meets along the way.
At the heart of the story is Kasade himself, and Emos Ayeno imbues Kasade with warmth and wits, creating a portrait of a man in trying circumstances, trying to makes the best of whatever comes his way. The ensemble cast takes on several roles in turn, presenting ordinary people, each with his or her own problems and desires. Drawn in broad strokes, like the characters in a fairy tale, and deftly portrayed with comic skill, they elicit laughter throughout this entertaining play, until the laughter dies down, and  music fills the silence.
A refugee's tale can never be a simple one. References from nature, geography, poetry and the Bible create layers of association within the space of the stage. Bartel and Rubin draw on all the arts to tell this tale, not the least is the music by Nadav Barnea, with Chen Rotem's etching an ache into every listening heart.
Kasade
Written by Yoav Bartel; directed by Abigail Rubin and Yoav Bartel; performers: Emos Ayeno, Riki Blich, Guy Mesika and Yuli Seker; set and costume design: Maor Zabar; animation design and direction: Mysh; music: Nadav Barnea; lighting design: Nir Lahav; artistic consultation: Ofer Ein Gal; narration: Rami Hoyberger; vocals: Khen Rotem; rehearsal manager: Yael Zigdon; still photography: Kfir Bolotin; poster design: Ben Gad.