Art and intrigue abound in The Best Offer, Giuseppe Tornatore's film starring Geoffrey Rush as the director of a leading auction house, renowned for his expertise in assessing art and identifying fakes.  Rush is utterly captivating as Virgil Oldman, the scrupulously groomed eccentric who leads the life of a sybaritic monk, sparing no expense or even a momentary moral qualm in the indulgence of almost every whim and desire.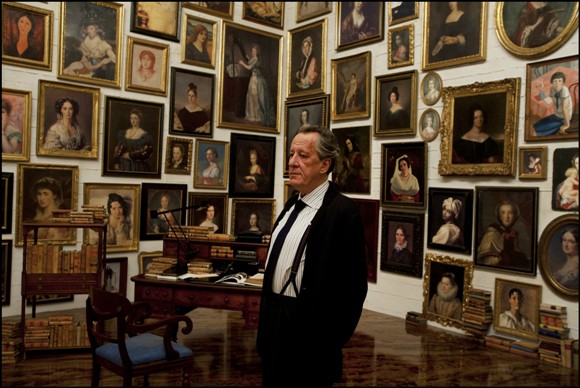 Rush's ability to immerse himself in character is a pleasure. The first glimpse of this modern-day dandy is quite telling, the careful look of consideration in his eye as he picks up a musty old piece of wood, gives it a delicate sniff and proclaims, "It may look like a piece of moldy wood but centuries ago, beneath the mold, there must have been a painting." Oldman gets his thrills in the excitement of discovery, the irresistible lure of being the one to find treasure where others, less observant, less knowing and cunning, might remain empty-handed.
The alliance of art and commerce creates a realm of beauty and craftsmanship replete with ruthless competition and duplicity. The Best Offer revels in luscious cinematography, lingering on eloquent frames, the fading daylight illuminating Oldman's face as he stands outside the fateful villa, the sensual frisson as he touches a painting with his fingertips, the precise level of bubbles in a glass of champagne.
Rush's stellar performance is the best this frothy thriller has to offer, the intricacies of the plot are somewhat too predictable to satisfy the tastes of the more serious thrill-seeker, although Donald Sutherland is quite fun as Billy, Oldman's partner in art-crime.
The Best Offer (Italy, 2012, 131 min, English with Hebrew subtitles)
Directed by Giuseppe Tomatore; starring: Geoffrey Rush, Jim Sturgess, Sylvia Hoeks, Donald Sutherland.