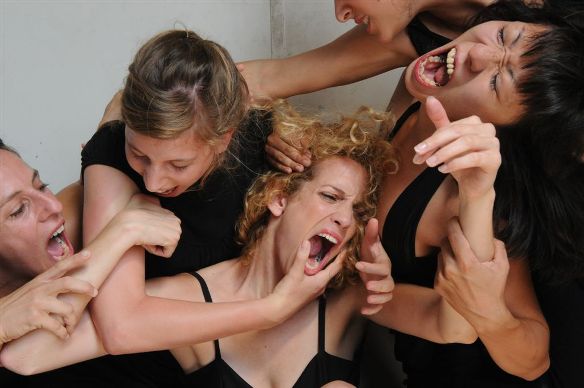 Gvanim BeMahol (Shades of Dance) opens tomorrow night, Wednesday, August 28th with an evening of contemporary ritual and ceremony in dance, celebrating the 100th anniversary of The Rite of Spring. The competition for promising young choreographers will open with a festive evening featuring Hillel Kogan's "Rite of Spring," a theatrical dance performance with an intimate relationship to Stravinsky's score, daring contemporary interpretations, fascinating and moving performance with wild sparks of humor.  The evening's second part will be a collective ceremony, with 11 dancers improvising to Stravinsky's iconic composition, under the guidance of Gvanim artistic director Idit Herman.
Gvanim BeMahol competition performances will take place from August 29 – August 31, 2013 at the Suzanne Dellal Centre. Six choreographers will present their works in two programs, each work reflecting an individual response to creating a contemporary ritual or ceremony.
A first look at the artistic diversity of Gvanim BeMahol 2013:
Polianot by Adi Paz

En Moon by Nitsan Margaliot

Charlie by Omer Uziel

Ma She Be'emet Margiz Oti (What Really Makes Me Mad) by Adi Boutrous

Ani Roah Otam Mitkarvim (I See Them Coming Closer) by Merav Dagan

Pirurei Predot BeMishkal Kaved (Heavy Weight Fragments of Separation ) by Smadar Goshen

Gvanim BeMahol 2013:
Program Aleph: Nitsan Margaliot, Adi Paz, Omer Uziel. Performances will take place on August 29th at 20:00, August 30th at 22:00, and August 31st at 18:00.
Program Bet: Smadar Goshen, Adi Boutrous, Merav Dagan. Performances will take place on August 29th at 22:00, August 30th at 14:00, and August 31 at 21:00.
Tickets are 65 NIS for each program, a combined ticket for program Aleph + Bet may be purchased for 110 NIS. Tickets for opening night, August 28th, are 95 NIS. Tickets may be reserved online, or call: 03-5105656.