Canadian photographer Jeff Wall's first exhibition in Israel, Jeff Wall: Visibility, opening at the Tel Aviv Museum of Art, offers the visitor an intriguing view that encompasses several decades of the artist's work, from 1978 to the present. A preview tour of the exhibition with the artist, known for his role in establishing photography as a contemporary art form, provided insights to the artist's perspective on his own work, photography as an art form and the arts.
The large, open space of the gallery in the museum's new wing is a wonderful space in which to explore these large-scale works. Entering one sees some of Wall's earliest works, which reflect the different paths that the artist pursues in his work. According to Wall, a work can originate "in something I've witnessed, something I read, something I heard, something I daydreamed… So everything, in a way, is potentially a picture."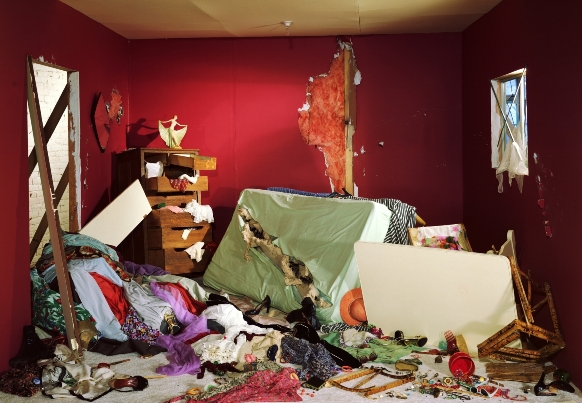 Jeff Wall said of The Destroyed Room (1978): "One of the very first light boxes I made, it has  become identified with one aspect of what I do which is the employment of artifice – working with photography not to present the real immediately, but to make visible something that otherwise would not be visible. That impulse to create something that wouldn't exist otherwise wasn't really the dominant idea in photography in the 70s, but it has been the dominant idea all time in other arts since the beginning of time: music, poetry, painting… not to show you again what the world looks like, but something that changes your relationship …to what seeing is about."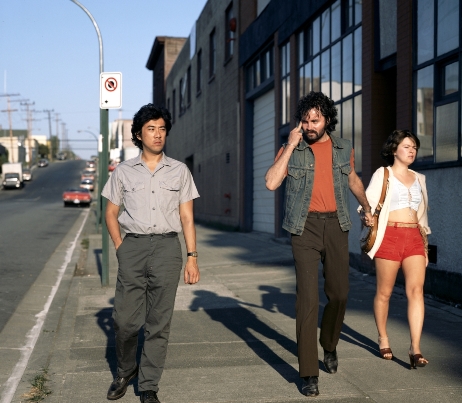 Mimic (1982) represents a different process, one that Wall described as "witnessing, not photographing, and then reconstructing." One sees three people walking on the sidewalk, a couple and another man. The other man is using his finger to stretch his eyelid, making his eye slant in mimicry of the appearance of the other man. This is not a photograph that was taken 'in the moment.' Rather, it was an event that Jeff Walls saw on the street that inspired the photograph, which was then constructed, as Walls explained, "the same construction process led to a very different kind of picture, one that could almost be mistaken for a street photograph. Of course the people there have been rehearsed. The aim at the time was to imitate, replicate, or at least create a relationship with what we usually called at the time reportage or street photography."
A third photograph in this room, Insomnia (1994), illuminates a different path. Walls describes this as "a middle ground between the previous two. This is not something directly witnessed, that is, not witnessed in the outside world but emerged from some feeling of my own and was constructed to create the appearance of something very actual. It didn't have a starting point in anything I actually witnessed."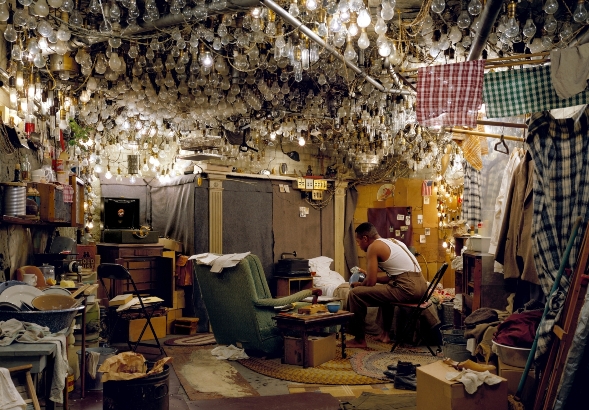 Yet another starting point for a photograph, one that recurs in Wall's work, is literature. Adjacent to The Destroyed Room is another room that was entirely constructed for the photograph: After "'Invisible Man" by Ralph Ellison, the Prologue (1999-2000).
Wall said: "The starting point was my reading of Ralph Ellison's The Invisible Man. It's the story of a young black man who comes from the American South in the 1940s, who comes north to New York and has many adventures and misadventures and ends up living in a cellar through a series of accidental circumstances Occupying the cellar as his secret home, he's not living there legally, he finds a way to tap into the electric supply of the building and puts a few light bulbs in, and slowly, over time, keeps adding light bulbs and adding light bulbs until he's covered the entire place with light bulbs. He says it has something to do with his invisibility, he needs endless light because he's socially invisible."
In composing his photographs Wall eschews film industry and theatre professionals, saying, "If I used professionals it would look like a movie set." Instead he works to create the image he has in mind, in the case of the 'Invisible Man,' (which took half a year to create) Wall said, "This is built very, very, slowly by very few people and we lived in the place. We ate there, we did all sorts of things… to get the patina of having lived there and also the pattern of where things are. You know if you go into your room things are in a certain place because of how you live in the room – that has to be lived… If you see a play in a theatre you know you're in the theatre, but if it feels real it becomes real that's what art is about."
It is interesting to note several photographs that present acts of caring or nurturing. In A Woman with a Covered Tray (2003) one sees just that, and can imagine her bringing something warm and tasty to a friend or social gathering, in View from an Apartment (2004 – 5) a woman is ironing cloth napkins. When viewed in proximity to a photograph of boys boxing, a boy falling from a tree, and a man in the pose of a knife throw, it is tempting to ascribe a certain traditional view of gender roles to the artist, yet regarding images such as Volunteer (1996) which shows a man mopping the floor, or another photograph of the excavation of a dwelling I would tend more to identify the focus as an affinity to acts of nurturing and caring, a connection to history, a desire to preserve and conserve.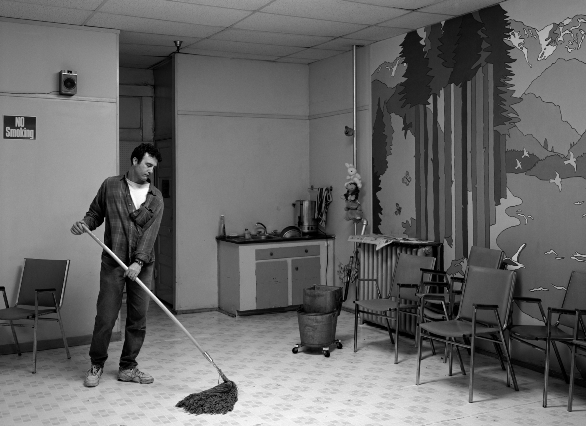 These feelings were supported for me by Wall's comment on his use of film which relates to similar domestic imagery: "I use film only. I think that film is something we are rushing away from without thinking. It is such a magnificent capturing medium for images that we should slow down and recover it even if it costs a little bit more, even if it takes a little bit more time. It takes more time to iron your sheets in your bed then it does to throw them on not ironed but when you go to sleep it feels better."
Yet, given the opportunity, I couldn't resist exploring the question of these traditional-appearing images with the artist, and asked Wall whether he was aware of this as a presence in his work and whether it reflects his way of seeing the world. Wall replied with humor, grace, and artistic integrity:
" I don't know that I can answer. I'm aware of it, but I'm not sure what my attitude is. In other words I'm not even sure that traditional roles are something that I can even identify: is ironing table clothes a traditional role? … I guess I do believe that the practice of virtues or all virtuous activities, as I said, virtue is an end in itself, it creates you as a person. So it seems to me that's a perfectly valid starting point for an image."
"As I said, I'm really interested in pictures and I'll take anything that gives me one and if it turns out that by being fascinated by that I'm revealing some part of my character – and someone can say 'Oh you're being very traditional' – I guess I'll just let that happen, because I want that picture and I don't care if it identifies me in a certain way, because I think that my identity as an artist is not single. So why couldn't I be somehow neurotically attached to traditional female roles and unable to break that? why can't it? That's how I make my art, I'd have to let that show."
"If it is a fault, I'm not saying it is, but if it is,  to be authentic you have to be who you are, and when you are who you are you create something that has some depth or dimension because you're not just that. Even if it was shameful I would let it show if I could get a good picture out of it."
Jeff Wall: Visibility
Curator: Nili Goren, Tel Aviv Museum of Art, Lilly & Yoel Moshe Elstein Multi-Purpose Gallery, Herta and Paul Amir Building. Research for the catalogue and its publication in cooperation with the Shpilman Institute for Photography. The exhibition was made possible through the generous support of Sidney Simchowitz and the Simchowitz family; with the assistance of UBS and Marian Goodman Gallery, New York and Paris. Opening date: Monday, September 16, 2013, closing date: Saturday, January 25, 2014.