Other worlds come to us through the arts, revealing possibilities we had not imagined, igniting thoughts and illuminating the vast tenebrous realm of all that is unknown. Shen Wei is one of the most fascinating creative artists whose work I've encountered. Choreographer, visual artist and director, his works are "more than a dance… a vision and experience that leaves a lasting imprint on the mind and imagination."
The choreographer and his company, Shen Wei Dance Arts, return to Israel with two works: Rite of Spring and Folding. Performances will take place from September 25 – 28, 2013 as part of the Israeli Opera Dance Season.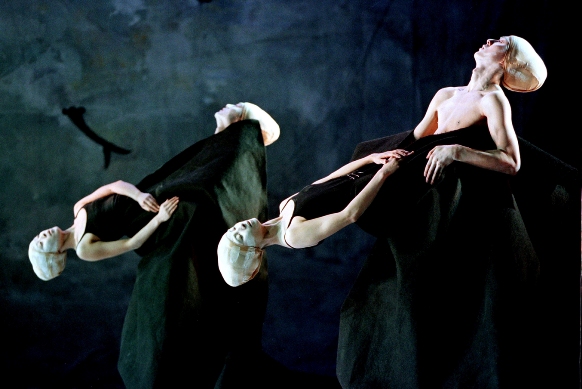 Shen Wei's artistic vision has developed through the merging of cultures and artistic disciplines. Born in China, he began studying Chinese opera at age of nine, training in voice, dance and theatre performance at the Hunan Art School (today the Hunan Vocational College of the Arts) from 1978 – 1984 and was a member of the Hunan State Xian Opera Company from 1984 – 1989. During this time he pursued independent studies in Chinese traditional painting and calligraphy. When China opened a gateway to the Western world in the 1980s, he began to study Modern Dance, and became a founding dancer and choreographer of the Guandong Modern Dance Company in 1991. Moving to New York in 1991, he founded Shen Wei Dance Arts in 2001. His work has been received with enthusiastic critical acclaim and prestigious awards, including a MacArthur 'Genius' Fellowship, the U.S. Artists Fellow award, the John Simon Guggenheim Fellowship and a Nijinsky award.
Rite of Spring (2003), choreographed to the four hands piano version of Igor Stravinsky's work recorded by Fazil Say, is an intense exploration of movement. In the Artist Statement on this work, Shen Wei has said: "together with my dancers, I explored suspension, center-shifting, momentum, spirals, rotations and joint, muscle, and nerve initiations…The piece in its final form is a set structure within which there is a balance between movement exactitude and movement initiation. As in unstaged life, alongside that which is definite, there will always exist the coincidental, the uncontrollable, the chance happening."

Folding (2000) was created by Shen Wei on the invitation of the Guandong Modern Dance Company. Viewing a short selection from this work, the impression is other-worldly, an alluring world in which pale creatures with elongated skulls move in the draped folds of their costumes. The soundscape combines traditional Tibetan Mahakala Buddhist chants with the music of John Tavener, while the hand-painted backdrop references an 18th century Chinese ink painting by Bada Shanren. Choreography and visual design of both Rite of Spring and Folding is by Shen Wei, with lighting design by David Ferri.

Performances: Sept 25th at 13:00; Sept 26th at 21:00; Sept 27th at 13:00; Sept 28th at 21:00. Tickets prices range from 169 – 299 NIS and may be ordered via Bimot online or call *6226 or 02-5605755, or via the Israeli Opera/TAPAC online, or call 03-6927777.