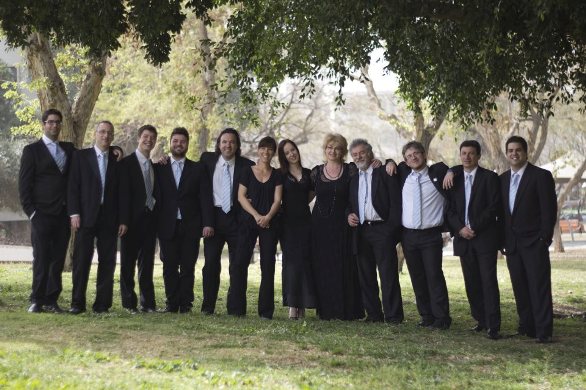 The Israel Chamber Orchestra is back for its 2013-14 season, which will open next week at the Tel Aviv Museum of Art. The unique season opener will feature Cherubini's Requiem and two "concerti grossi" – one by Handel and one by Israel's own Avner Dorman. Come early and enjoy a pre-performance lecture by musicologist Anat Sharon (free of charge for ticketholders).
Today Luigi Cherubini is mostly known for his operas, such as Médée, but in his day his liturgical music was greatly admired, especially by one contemporary – Ludwig van Beethoven, who wrote: "Cherubini is, in my opinion, of all the living composers the most admirable. Moreover, as regards his conception of the Requiem, my ideas are in perfect accordance with his, and some time or other, if I can but once set about it, I mean to profit by the hints to be found in that work."
The Requiem was written to commemorate the executions of Louis XVI and Marie Antoinette. The newly-restored French crown commissioned the work from Cherubini, a longtime resident of France, who had actually been presented to the late Queen in 1785. It became an oft-performed piece in churches and concert halls alike, with the popularization of the requiem as a concert piece.
Despite Cherubini's experience with opera, this is not the traditional requiem of the earlier Mozart and the later Verdi, with their thunderous choruses and emotional arias. Cherubini wrote no solo parts in his Requiem, focusing the mode of expression entirely on the power of the orchestra and chorus. The result is a haunting piece that is at once serene and stirring.
Preceding the Requiem will be two very different versions of the "concerto grosso" ("big concerto"), a baroque-era form which is written for a small ensemble of soloists together with a larger orchestral ensemble. The first will be Handel's Concerto Grosso Opus 6 No. 4 in A minor, written in 1740. At the time, London was a hub of artistic activity, and Handel's concertos were immeasurably successful. He wrote Opus 6, a set of twelve concerti grossi, in less than two months. As was the custom, he borrowed from other composers of the time, but also included some innovations of his own. The resulting work gives us a fascinating look into the styles of the period.
In 2003, over two centuries after it was composed, Handel's Concerto Grosso provided the inspiration for Israeli composer Avner Dorman's Concerto Grosso. Dorman is a Julliard-trained composer, and enjoys a thriving career in Israel and abroad. His works have been performed by the world's most famous conductors, including Zubin Mehta. Dorman's music, and his baroque-style Concerto Grosso in particular, are living proof that classical music lives on.
The concert will take place at the Tel Aviv Museum of Arts, October 2-3, at 20:30, and also on October 1 in Kibbutz Yifat. An introductory lecture by Anat Sharon will begin at 19:30 in the concert hall. Order tickets by phone at 03-5188845 (special discount code – 1313). Check out the Israel Chamber orchestra's website or their Facebook page for more details.