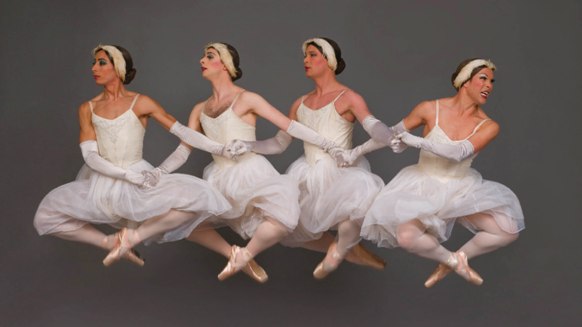 They're back!!! Men en pointe and in tulle – it just doesn't get any better. I fell in love with Les Ballets Trockadero de Monte Carlo the first time I saw them years ago on video. Seeing The Trocks performing live at the Israeli Opera in 2011 was an unforgettable experience – not only hilarious, but a thrilling ballet epiphany. Now the exceedingly talented and entertaining dance company is returning to the Israeli Opera, with performances taking place from October 23 – 26, 2013.
Who are The Trocks? An all-male dance company who perform classical ballet with a subversive twist: all roles, male and female, are performed with exquisite silliness, grace and beauty by the male dancers of the company. It sounds funny – and it is. Les Ballet Trockadero de Monte Carlo deliver a humorous rendition of well known classical and modern works, to the original choreography, with a few artistic touches of their own. Watching them perform on their previous tour, I found myself rolling with laughter and at the same time, surprisingly moved by the beauty of the performances: "The company's ability to embody the feel of the choreographers whose work they present and parody is astounding. Conveying the tensile strength and evanescent fragility of the ballerina, watching the company perform their closing piece, Paquita, I was swept away by the thrill of the dance, the composition of sound, movement and color; it felt as exciting as when I first fell in love with ballet as a child." (read the full review here)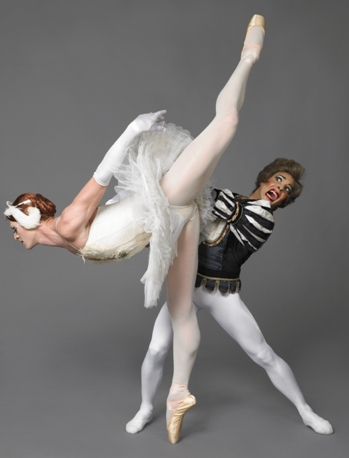 Now they're back!!! On the program will be:
Raymonda's Wedding
Choreography after Marius Petipa
Music: Alexander Glazunov
The Trocks will be focusing on the happy end of this ballet: the wedding scene – let the joyous dancing begin!
Le Grand Pas de Quatre
Choreography after Jules Perrot
Music: Cesare Pugni
Evoking the essence (and nonsense) of the Romantic era, Pas de Quatre (1845) brought the four divas of its day onstage together: Lucie Grahn, Carlotta Grisi, Fanny Cerrito and Marie Taglioni. One can only imagine the emotions backstage!
Swan Lake Act II
Choreography after Lev Ivanovich Ivanov
Music: Piotr Illich Tchaikovsky
The Trocks have made this classic scene their own – enjoy!
I consider Les Ballets Trockadero de Monte Carlo a gateway dance company: whether you are a dance enthusiast or utterly indifferent, once you've seen them, you'll want to see more and more! You may discover that you love ballet, you may remember how much you enjoy parody, or you may realize that you love men…
Their technique is impeccable, their comic gifts undeniable, and, for those who care, the true devotees, they keep the history of ballet alive and kicking.
Les Ballets Trockadero de Monte Carlo
General director: Eugene McDougle; Artistic Director Tory Dobrin. Israeli production: Bimot
Performances:
Israeli Opera/Tel Aviv Performing Arts Center (TAPAC): October 23 – 26, 2013.
Beer Sheva Performing Arts Center: October 28, 2013
Jerusalem Theatre: October 29, 2013
Tickets may be ordered online via The Israeli Opera or Bimot, or call:
Israeli Opera 03-6927777; Bimot 02-6237000; Hadran: 03-5215200.