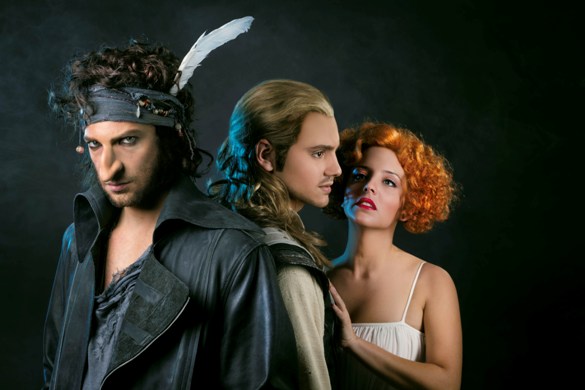 Cyrano de Bergerac (1619–1655) was a writer and duelist who made his mark on history not so much through his own writing, but through the romantic fictional Cyrano penned by Edmond Rostand in 1897. Although the historical Bergerac can claim his own place in literature with works of science fiction (Comical History of the States and Empires of the Moon – 1657 and The States and Empires of the Sun – 1662) said to have inspired future authors such as Jonathan Swift and Edgar Allan Poe, he cannot compete with the romantic image. Dashing, eloquent, courageous, and with the comic-tragic prominent proboscis festooning  his fine features, Cyrano de Bergerac has become an emblem of courtly love.
The Cameri Theatre is currently presenting their production of Rostand's play, in the able hands of these three musketeers: director and choreographer Gilad Kimchi, translator Dori Parnes and Itay Tiran in the role of Cyrano. Kimchi brings a magical touch to every production, imbuing it with imagination, fantasy and a sense of comedy that illuminates even the darkest narrative. His style as a director is perfectly matched with translator Dori Parnes' combination of scholarship and playfulness, to create a Hebrew version of the play that feels timeless and fun. Itay Tiran is a star, but he is a star because he is an actor's actor, immersing himself entirely in every role, and he further stands out as one of the few attentive to diction . Tiran's Cyrano is larger than life, commanding the stage with his eloquence and bravado. It is a delight to hear the drama's word play (take note of the adherence to the rhyme, preserving the spirit of the original), each syllable clear as silver, as Tiran plays with tone and timbre while cavorting on the stage.
Having viewed the play in its first showing, I look forward to its run at the Cameri, beginning on October 17, 2013. Consult the website (currently only in Hebrew) for dates, times and tickets.