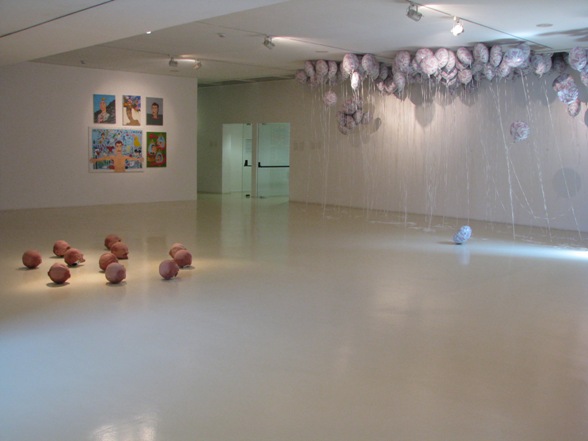 PINK BALLOONS decorated with drawings of torture by Iranian born artist Parastou Forouhar; footballs covered with latex masks of the Russian supremo Lenin by South African born Kendell Geers; a reconstruction of Suprematist artist Kazimir Malevich's coffin complete with wax corpse by Slovenian art cooperative IRWIN. These are some of the more scary images in Herzliya Museum's disturbing exhibition, Other Peoples Problems: Conflicts and Paradoxes. But let's make it clear, this is nevertheless a rare opportunity to see representative exhibits – painting, drawing, installations, prints and video – by some 20 internationally regarded artists whose work, in most instances, is unknown in this country. So do see this show, but leave the kids at home.
While all the exhibits have a political or social agenda, most of them can be described as works of art. There are two exceptions, both documentary in character: Adar Aviam's recordings of the testimonies of IDF soldiers who served in the West Bank; and a Forensic Oceanography project. This includes a videoed interview with one of the few survivors who were on a small boat that left Tripoli in 2011 to cross the Mediterranean, but got into difficulties. Despite sending out distress signals, no one wanted to come to their aid. As a result, only nine out of the 72 people on board survived.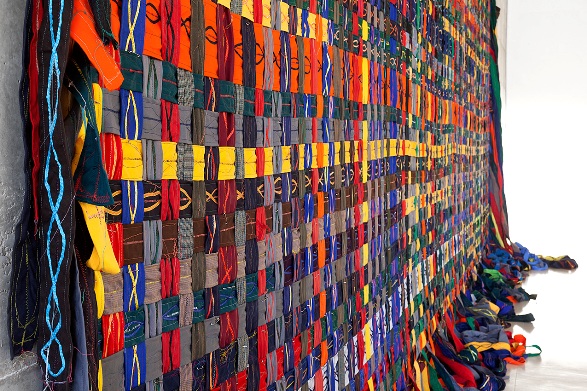 Gili Avissar's carpet, created from multi-colored ribbons hanging at the entrance to the Museum also refers to the inhumane treatment of needy people. Firstly, one is struck by the sheer splendor of this wall hanging, and only then does one notice that it is incomplete. As the catalog text points out (we wouldn't know this otherwise), Avissar is making reference to craftspeople in third-world countries who work long hours for minimal wages and in poor conditions, only to benefit the richer nations.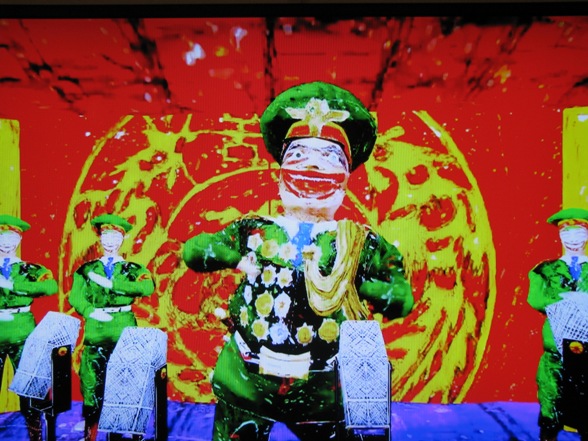 A number of lively pieces are linked to concepts of power and its misuse. Lampooning societies ruled by corrupt and evil men is New York based Federico Solmi's satirical video Chinese Democracy and the Last Day on Earth that tells the story of a crazy fictitious leader who brings the entire world under his control. Created in cooperation with New Zealand artist Russell Lowe, it is conceived in a childlike style that combines hand -drawn animation with elements taken from computer games.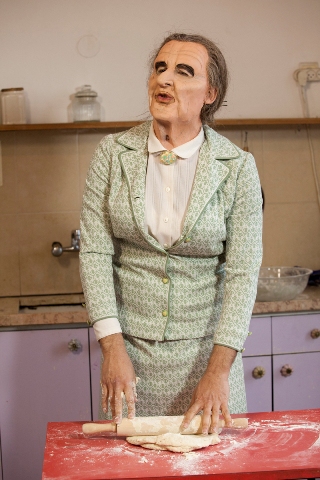 Illustrating a local characteristic of power, Shachar Marcus has comes up with another of his highly entertaining videos (a previous effort, shown in 2011 at the Petach Tikva Museum, charted the rise and fall of a super-star Art Curator)  In tune with the theme of the present show, this new video makes fun of the intertwining of public and domestic life in Israel where its leaders and citizens consider themselves equals, part of one large family.
In Hebrew the phrase' Kitchen Cabinet' first became famous in the 1970s when Golda Meir, then prime-minister, regularly convened meetings with her political advisers in her kitchen at home. We see Marcus impersonating Golda baking a cake in her austerity kitchen, all the while declaiming phrases from one of her best known speeches "Peace among Equals."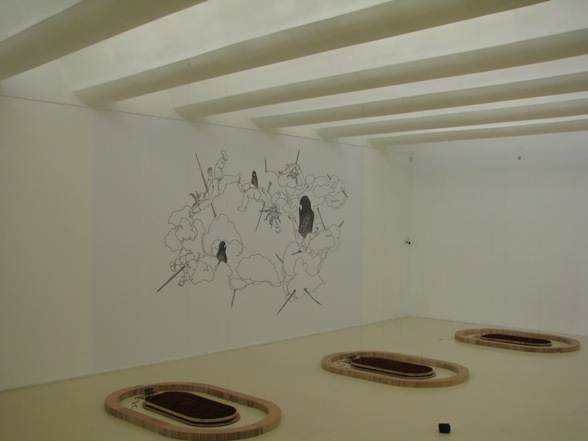 States of instability – which might be viewed as metaphors for social and political situations – are given original expression in an installation devised by Canadian born artist Aharon Ozery and Roee Ozeri from the Weizmann Institute's Department of Complex Systems. It consists of six large trays suspended from the ceiling, each filled with powdered iron. These trays are activated by a mechanical system that causes them to pass across a set of magnetic bricks, in doing so, the structure of the powder is destabilized forming spikes and ridges.
While these contraptions demonstrating the multiple effect of fields of magnetic force might have been more at home in a science museum, they nevertheless make a strong impression in the gallery where they are presently located, flanked on one wall by the convoluted line drawings of German artist Ronald Stratman.  Based on the story of the sorceress Medea, Stratman's images also suggest turbulent movement.
States of conflict and territorial claims are given expression in Guy Goldstein's ingenious, two-part installation titled No Questions. This first part consists of dozens of floor-based amplifiers from which drumming noises emanate, interspersed by voices repeating the words 'yes' and 'no' in different languages. The second part comprising arbitrarily created ink stains on fragments of cotton. Embroidered to become well defined shapes, these are then held captive in frames.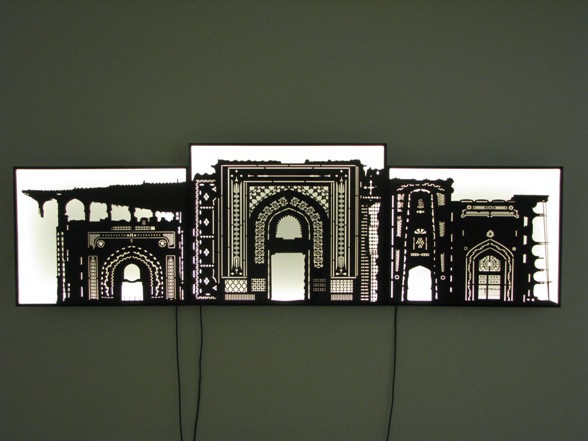 Mention of Nir Adoni's poetic installations – lazer-cut silhouettes of religious sanctuaries or abandoned building sites, lit from behind  – serve as a fitting conclusion to this review since they evoke a paradox of conflicting emotions: awe at the sheer beauty of the facades he constructs, but, also, noting their frailty, a sense of sadness and loss.
Curated by Doreet Levitte Harten, Dalia Levin, this exhibition is open until 14th Dec. 2013.
Herzliya Museum for Contemporary Art, 4 Ha'banim St. Herzliya