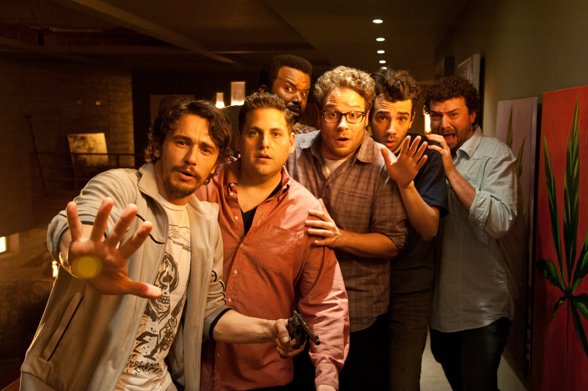 Seth Rogen and Evan Goldberg's This Is The End is the kind of movie that makes me wish movie theatres sold beer at the concession stand. It's the kind of movie you want to see with friends, because ultimately, it is a feel-good movie made by friends, the kind of film that is meant to be entertaining fun and forgotten by the next morning.  The premise is simple: they are having fun so we should too; and we do, at least, I did. And yet…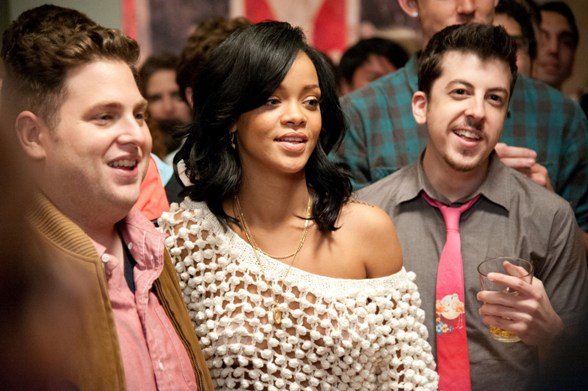 Seth Rogen, Jay Baruchel, James Franco, Jonah Hill, Craig Robinson, Michael Cera, Danny McBride and a slew of other celebrities all play themselves, in what is essentially a film about men and friendship. Yes, it is very funny and it is also about the Apocalypse, it has action and effects gloriously run amuck, and Rihanna is also there for a minute or two, not to mention an axe-wielding Emma Watson, but for an apocalyptic comedy film there is a lot of talk about relationships. This particular group of men may conduct their relationships, with all the subterranean jealousies and shifting alliances, much like a gaggle of junior high school kids, but then again, so do we all (at least sometimes, come one, admit it).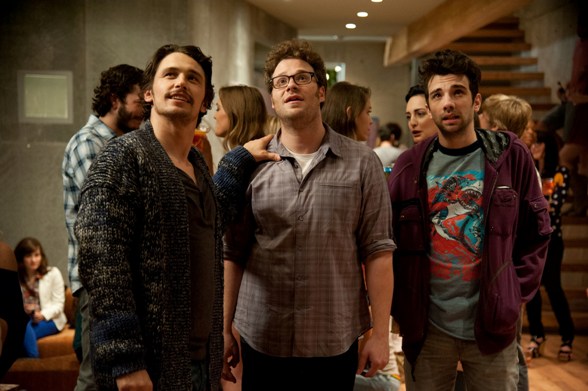 The film strikes a nice balance between exposing and exploiting celebrity: mocking Hollywood, where money and fame are the social lubricants and glue that bind friendships, and relying on that celeb vibe to carry the movie. In the first scene, as Seth Rogen leaves the airport with Jay Baruchel who has finally come to LA to hang out, he is accosted by the media. One hardcore entertainment journalist has the temerity to say, "So, you like always play the same guy in every movie." Uh huh, yeah, and audiences like that guy, after all, that's why we're here, to see that guy, because he's pretty funny.  So it all works. I laughed, I giggled, I had fun. And yet…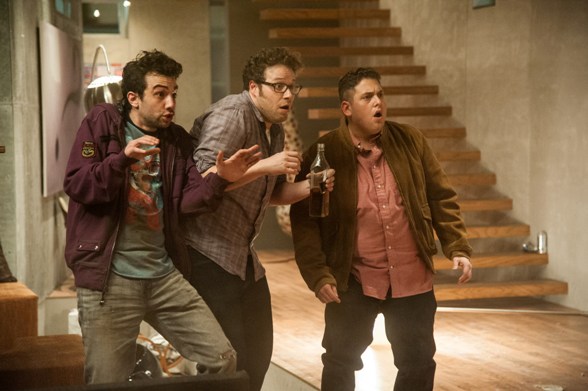 Here's what truly surprised me about This Is The End: its conformity to the Christian paradigm of heaven and hell, and the Apocalypse as described in the book of Revelations. After all, this is a work of fiction guys, and with what I am assuming must have been a fairly decent budget, is it too much to expect a bit more imagination?
This Is The End (USA, 2013, 107 min, English with Hebrew subtitles)
Written and directed by Seth Rogen and Evan Goldberg; based on the short film Jay and Seth vs. The Apocalypse by Jason Stone; music: Henry Jackman; cinematography: Brandon Trost; Editing: Zene Baker; cast: James Franco, Jonah Hill, Seth Rogen, Jay Baruchel, Danny McBride, Craig Robinson, Michael Cera, Emma Watson, Mindy Kaling, David Krumholtz, Christopher Mintz-Plasse, Rihanna, Martin Starr, Paul Rudd, Channing Tatum, Kevin Hart, Aziz Ansari, and many more…