And they lived happily ever after – that is the fairy tale. Two Room Apartment begins where the fairy tale ends, the story is far from over, and it's fascinating.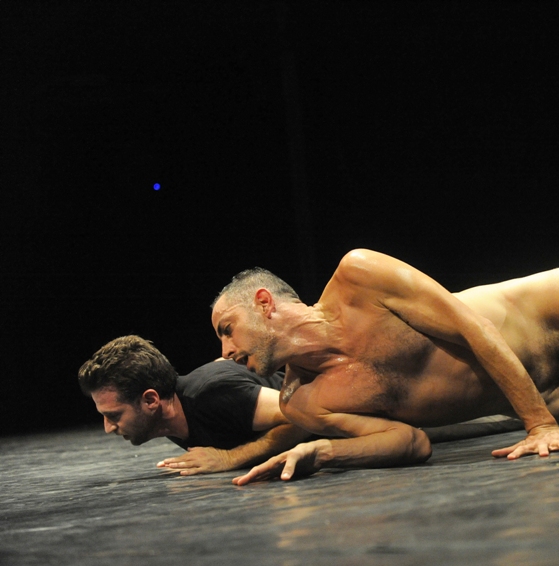 Dancers and choreographers, partners in life and onstage, Niv Sheinfeld and Oren Laor reach back to a moment in time, to Liat Dror and Nir Ben Gal who created the dance work Two Room Apartment in 1987. With the permission of the choreographers, Sheinfeld and Laor create their own mood and moment, their version of Two Room Apartment. There is a conversation one might begin, comparing the two works, yet that is for another time. Now I am in this moment, with Niv and Oren.
Art and life touch and move one another in ways often hidden from view, Niv and Oren make this enigmatic narrative visible.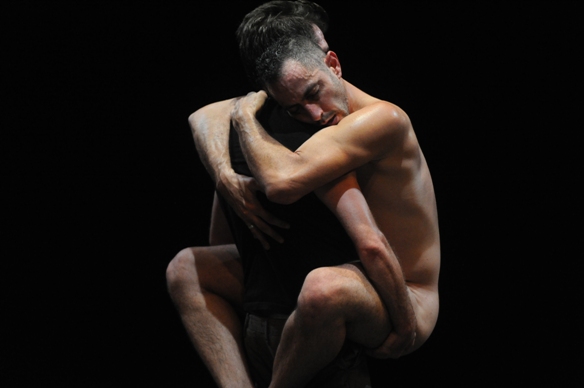 Sometimes when I walk down the street in Tel Aviv, I look up, just above the rows of shops and cafes, where people live, imagining the life inside. Row upon row of apartments, many in that typical Israeli urban construct: the two room apartment. Not an abundance, but just enough: a living room, a bed room, and usually something that might be called a kitchen. Even this, in Tel Aviv, is for many, beyond reach. The city draws its life from art, and artists of all disciplines are drawn to the city. Making art, making love, making up a life within those walls. In Two Room Apartment, Niv and Oren make those walls invisible, opening up the intimate space of a relationship, and the inevitable ways in which we are connected, not only to one another, but to the inner spaces and limitations of our body and mind, and to the geography and history of our moment in time.
Setting the work with the audience seated at the same level on all four sides of the stage, Two Room Apartment is entirely exposed. Mischievous, with an almost hypnotic minimalism, the enticing physicality of this work maps out the relationship of a couple living and creating together. Defining and testing borders, the viewer as well is challenged to confront and engage with this intimacy.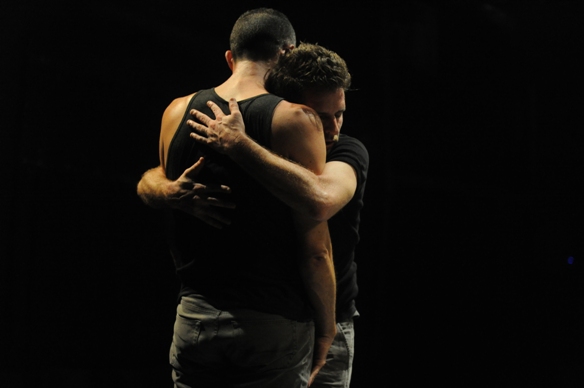 Niv and Oren understand the seduction of rhythm, the musicality of their movement is mesmerizing, even in the simplest of gestures. Their soundtrack penetrates the deep recesses of my imagination, igniting sparks of images and associations between Elton John and Vains of Jenna, and original music by Ori Vidislavski. How a song can remain the same, yet become something else, arranged in a new key, or different timing, altering the emotional landscape. The composition of this work plumbs every possibility – conceptual and practical – of space with dazzling precision.
It is a work that touches on myriad questions. Creating art is often such a solitary, individual pursuit, what does it mean to create together? Questions that accompany any relationship are intensified: How to give one another space? How to give support? What are the adjustments, hesitations, struggles within this situation?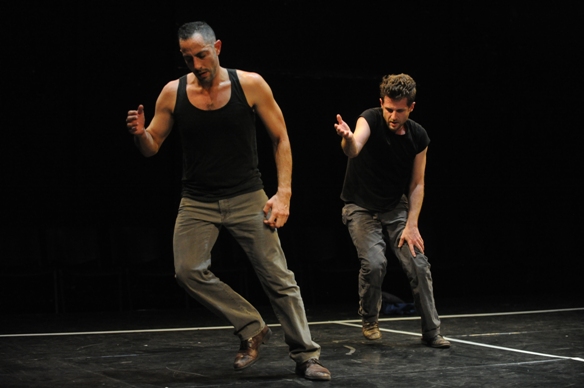 Measuring and marking out lines on the floor, borders are created and walls are erected according to the conventions of the stage. Yet sometimes the most powerful walls are those that are invisible, the walls between people. The walls we create around ourselves, the walls of perception, and of convention. In this work, all boundaries are challenged, the borders ever shifting. There are instances when that most impervious of borders, the wall between performer and audience, is penetrated by a gaze, the meeting of eyes unmediated, naked.
Change is not always dramatic. Sometimes change takes place right before our eyes, and yet is not noticed, the most radical change may originate in the smallest, barely perceptible moments. Replete with such moments, a movement that appears to be moving in one direction then shifts and goes the other way, a sequence repeated, yet in the repetition a small difference that alters the mood. With a look, with the simplest of movements – often recalling everyday gestures, and the most extravagant, Niv and Oren immerse the viewer in the physicality, tensions, playfulness and sensuality – a world of feeling within a two room apartment.

Two Room Apartment
Based on the 1987 dance work by Liat Dror and Nir Ben Gal.
Creation and performance: Niv Sheinfeld and Oren Laor
Music: Ori Vidislavski, Elton John, Vains of Jenna
Artistic advising: Keren Levi
Rehearsal management: Karmit Buryan, Yael Venecia
Light design: Netta Koren
Premiere: Tmuna festival, Tel-Aviv, October 2012