"Who are you calling a refugee?" is a celebration of African music and food that will take place on Sunday, January 19, 2014. Initiated by restaurant, bar and coffee shop owners in support of their many refugee employees, the evening's events are intended to raise awareness and support through a celebration of culture.
The main event will be an evening of freedom songs at Levontin 7, starting at 22:00. Entrance is Free! Performers include:
Bilaka – a mixed group of refugees from Congo and Israeli musicians playing West African Music mixed with Reggae and Gospel.

Groove Ambassadors – a mixed group of refugees and Israelis performing local arrangements of West African music.

More music from Darfur Star playing rhythmic and upbeat traditional music and the theatre collective "One Strong Black." Guest musicians include: Alma Zohar, Quami, HaGirafot, Noam Inbar, Maya Dunietz, Ravid Kahalani, Gil Rom Shama, Uri Brauner Kinrot, Ran Dankner and D.J. Bush Beats.
Many more events will be taking place throughout the evening at different Tel Aviv venues:
Shafa Bar in Jaffa – Traditional drumming and dance of the Masalit tribe from South Sudan, starting at 18:00. Karolina will perform at 20:00.
2 Nahman Sreet, Flea Market, Jaffa.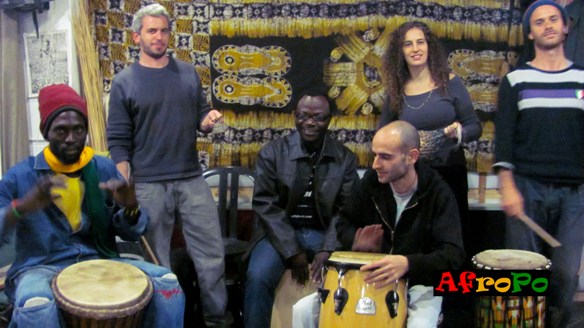 Pasáž – Sabbo and guests in an Afro-beat party and live shows, starting at 20:00. Guest ensembles: AFRO PO, a mixed group of Musicians from Congo and Darfur; PRINCE AMOAH, a rising pop star in Ghana will perform original songs and covers; KELIFA MAHMOUD, a rising star in the local Eritrean music scene, will perform traditional music. 97 Alenby Street.
Miznon – Eyal Shani will cook up some African dishes. 30 King George Street.
Casino San Remo – Rigba, the wife of the beloved cook Takala, will cook traditional Eritrean dishes. The soundtrack for this event will be provided by Rejoicer, from the label Raw Tapes, who will cook beats spiced up with African elements. 2 Nehama Street, Jaffa.
Margoza Bar – An exhibition of works inspired by Africa and the refugee struggle. The art work will be available for purchase. Local variations to Eritrean dishes will be served by the chefs of the restaurant, Tespai and Pikara. 3 Rabi Yohanan Street, Jaffa.
Yahaloma: – Dishes from Asmara, the capital city of Eritrea will be cooked by Samrat, who works in the bistro, to a soundtrack of Eritrean music. 5 Zvuloon Street.
and still more… check out the facebook event page.