The Suzanne Dellal Centre, a home and stage for dance, an architectural gem and cultural wellspring in Neve Tzedek, will celebrate their 25th anniversary this year! Sharing the joy with everyone, there will be an abundance of special activities, both at the centre, and countrywide, to mark the festive occasion.
Suzanne Dellal has become a focal point, not only for dance aficionados, but for the many travelers and photographers who have documented the elegant buildings and open, welcoming courtyard. An exhibition of photos taken by visitors to Suzanne Dellal over the years will be on display in mid-April, as well as an exhibit of photographs from the dance photographer, Gadi Dagon, whose creative mind has been attuned to dance for many years. Dagon will exhibit portraits of Israeli choreographers, among them will be: Ohad Naharin, Itzik Galili, Yasmeen Godder, Nir Ben-Gal, Ido Tadmor, Yossi Berg & Oded Graf, and Roy Assaf.
Every celebration deserves a dance party, and the Suzanne Dellal Centre will hold a huge happening in the courtyard on Thursday, May 8, 2014 – everyone is invited!
If you are seriously into dance, there will be a conference on April 25th "Dvar HaYotzer" – The Creator's Word, giving choreographers a chance to talk about their artistic vision. The conference is a joint initiative of the Suzanne Dellal Centre and Ron Braun, founder of Maakaf, an online magazine of dance and visual theatre.
Tel Aviv Dance, the annual festival of Israeli and international dance will be a major part of the festivities, taking place from April 30 – June 13, 2014. Some exceptional dance companies will be coming to Israel, it's an excellent opportunity to see the work of significant international choreographers. Among the companies to perform this spring are:
Maguy Marin with May B. (1981)
Ballet Preljocaj with a new work by Angelin Preljocaj for six dancers and an actor – Ce Que J'appelle Oublie (That which I call forgetting), a dance that reflects on the tragic killing of a young man that took place in France, a reflection on the often problematic relationships between immigrants and native residents.
Rehearsals for Ce Que J'appelle Oublie

Danish choreographer Palle Granhøj with two works – Dance Me to the End On/Off Love, based on the works of poet/singer Leonard Cohen, and Men & Mahler, a work for eight male dancers and a female singer.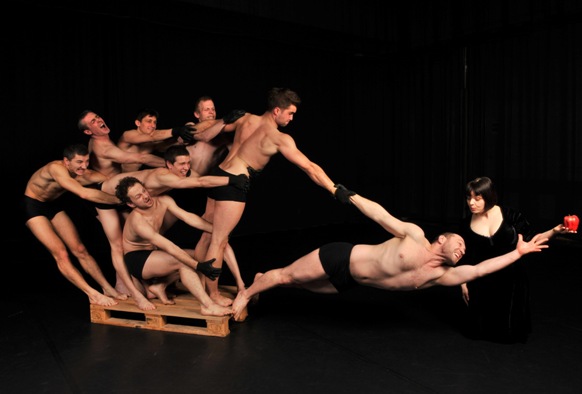 Miguel Ángel Berna and his company will premiere a new work – Mediterraneo, a dance in the jota style for six dancers, musicians and a singer.
Israeli choreographers and dance companies that will participate in Tel Aviv Dance include: Batsheva Dance Company with a revival of Virus by Ohad Naharin; the Kibbutz Contemporary Dance Company will perform their signature work Aide Memoire; Vertigo Dance Company will perform their landmark work The Birth of the Phoenix, as well as present an evening in collaboration with the Weizmann Institute; the Inbal Pinto Avshalom Pollak Dance Company will perform a special, one time only edition of their outstanding work Oyster, Yasmeen Godder will present a revival of Love Fire, a different perspective on the waltzes of Johann Strauss; Niv Sheinfeld and Oren Laor will perform their distinctive reinterpretation of Two Room Apartment; Ido Tadmor will perform a selection of his works; the Suzanne Dellal – Israeli Opera co-production of Barak Marshall's Rooster; as well as works by Israeli choreographers Ronit Ziv, Shlomit Fundaminsky, Dafi Altebeb, Shlomi Bitton & Michal Herman, Adi Boutrous & Andrea Martini, Odelya Kupperberg, Rachel Erdos & musician Idan Shimoni and many more.
Reaching out to the wider community, the Suzanne Dellal Centre has launched a country-wide project: "Mahol Hovek Israel" Dance Embracing Israel – A Choreography Lab. As part of this program, young choreographers and dancers will perform their works and conduct workshops in dance centers throughout Israel.
Saluting the Suzanne Dellal Centre will be cultural institutes such as the Israeli Opera and the Arthur Rubinstein Piano Competition NPO, who will join together for an evening of popular opera arias accompanied by piano, on May 22, 2014. More to come in May – Docaviv, the documentary film festival, will feature a special program of films on dance, and in July, the Tel Aviv Cinematheque will show a weekend of Israeli dance films. An exhibition on dance in honor of Suzanne Dellal's 25th is planned for Summer 2014 at the Israel Museum.
Information on performance dates and times may be found on the Suzanne Dellal website and tickets may be purchased online, or call: 03-5105656. Find more Suzanne Dellal news, photos and updates on the facebook page.