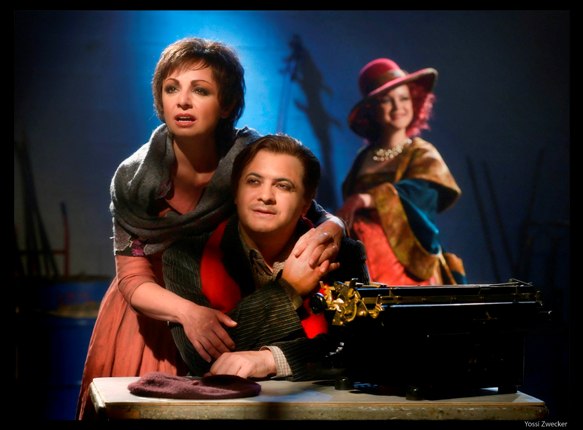 A starving writer sits in his freezing apartment, trying to finish an article. His work is interrupted by a new neighbor, a beautiful girl he's never seen before. She's looking for her lost key, and she's shivering even more than he is. Sparks fly, and both abandon their work for a night on the town in Paris' Latin Quarter.
Thus begins Puccini's beloved La Bohème, soon to be presented in a new production at the Israel Opera, conducted by Maestro Daniel Oren and directed by Stefano Mazzonis di Pralafera.
The opera is based on the semi-autobiographical Scènes de la vie de bohème, a collection of stories by Henri Murger about the "bohemian" inhabitants of the Parisian Latin Quarter. The "Bohème" of the title doesn't refer to Bohemians by nationality, but to the artistic, carefree types who form the cast of characters, and specifically the main character – the seamstress Mimì.
Some opera plots are complex, some simple; some are far-fetched and some are downright silly. The plot of La Bohème may seem simplistic – a young man and woman meet and fall in love, and their love ends in tragedy when she falls ill and dies. However, the plot itself is of secondary importance – it is the music, and the characters, which create the magic of this opera.
Acting as foil characters to the young couple are Rodolfo's best friend, Marcello, and his on-again-off-again paramour, the coquettish Musetta. The characters are all "bohemians" – Marcello is a painter, Rodolfo a poet, Musetta a singer. Their friends include Colline, a philosopher, and Schaunard, a musician. All are charmingly poor but happy – they take delight in sitting at Café Momus, watching passersby and escaping their cold, threadbare apartments (in the opening scene, they try to keep warm by burning Rodolfo's latest manuscript – we can only hope this idea wasn't based on a real-life incident). In perhaps the most famous scene in the opera, Rodolfo is preparing to head to Momus when he hears a knock on the door: it is Mimì, a neighbor, who has lost her key and cannot find it in the darkness. While fumbling for the key, they introduce themselves to one another (of course, Rodolfo has meanwhile found the key and hidden it, wanting instead to get to know his new friend).

La Bohème premiered in 1896. Puccini had already established himself as a composer and was battling it out with his competition (most of all, Ruggero Leoncavallo, who also composed a Bohème of his own). It was a brave new world for operatic composers: verismo, or realism, was on the rise, and Puccini was a fitting proponent of the style. Gone were the days of Verdian and Wagnerian nationalism, and of kings and queens dominating the stage. The protagonists Verdi's successors chose to depict were everyday people, commonfolk, and middle-class urban dwellers: Mascagni's Sicilians in Cavalleria rusticana, Leoncavallo's clowns, and the starving artists of Puccini's Bohème and Charpentier's Louise.
Like the author Murger, Puccini spent much of his time with other artists, writers and musicians. Together they formed a "Club La Bohème" next to a nearby tavern, where Puccini could escape from the demands of the job and from Elvira, his strong-willed wife. The members even formed their own humorous, sometimes self-deprecatory "code", which included rules outlawing excess wisdom, silence, and "games permitted by law". There the composer would play cards, party hard, and get up every once in a while to compose a few more bars, until little by little the work was finished. It seems fitting that a verismo opera, based on real people and featuring a "slice of life", would be composed within life, and within the world depicted on the stage.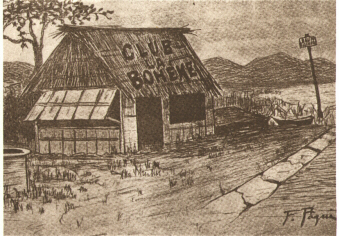 The correspondence between Puccini the composer and his two long-suffering librettists, Giuseppe Giacosa and Luigi Illica, provides an intriguing insight into the working lives of these Bohemians. Puccini was famously hard on his librettists, demanding rewrite after rewrite and changing his mind constantly, so much so that at one point Giacosa wrote to the publisher:
"I confess to you that of all this incessant rewriting, retouching, adding, correcting, taking away and sticking on again, puffing it out on the right side to thin it down on the left, I am sick to death. Curse the libretto!"
Their hard work, however, paid off, and despite a somewhat rocky start, La Bohème is today the third most performed opera in the world. It has been recorded by the biggest stars in opera, most recently in a film version with Rolando Villazon and Anna Netrebko, the full version of which can be found on YouTube (on this link).
No discussion of La Bohème can go without the following anecdote. In the opera's final act, Colline sings a short but beautiful aria, bidding good bye to his coat: he is going to sell it in order to buy Mimì something to warm her hands. He thanks the coat for faithfully keeping him warm, and remembers fondly that it kept the words of great poets and philosophers within its cavelike pockets. Puccini stated that this was based on an incident in which, as an impoverished student in Milan, he sold his own coat in order to take a beautiful ballerina out to dinner. Bohemian indeed.

Performances of La Bohème at the Israel Opera will commence immediately after Passover. The Towards Opening lecture will be held on Saturday, April 19 at 11:00. A pre-performance lecture (in Hebrew) will be held one hour before every performance, and on selected evenings there will be an Opera Talkback session, in which you can discuss the performance with the singers.
Performances dates and times may be viewed on the Israeli Opera website, and tickets purchased online.