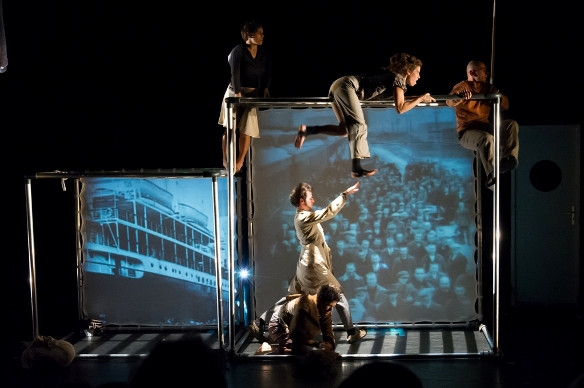 ON-time, a festival of contemporary circus performance will take place in Hadera from April 24 – May 3, 2014. Contemporary circus uses the traditional circus skills to create a show centered around a theme or story, with an emphasis on aesthetics and content. The ON Contemporary Circus Creation Center will feature two new works (intended for adult audiences), and will be hosting Gilgamesh, a performance for the whole family. Performances will take place at the Mix Commercial Center (East entrance to Hadera, opposite the fire dept.) on 5 Zahal Street.
Somewhere and Nowhere, created by Orit Nevo and Guy Carrara, premiered at the Cirque en Corps festival in Marseille in 2013. The work is an Israeli-French artistic collaboration between ON and Archaos. The performers portray immigrants in an unknown transit area, a somewhere that is nowhere, waiting to see if they will be given permission to enter, and the relationships between them as they wait to see what the future holds for them…
Performers: Aharon Tobias – juggling, Maayan Gur – dance, Noa Shnitzer – trapeze, Inbal Ben Haim – rope, Florian Meheux – Chinese pole. Music: Dori Ben Zeev and Asaf Givati; Video: Eran Shapira; Lighting and Design: Jake Sliv; Construction: Boaz Yachin; Costumes: Hadas Gertman; Production: Inbar Even Zur. Performance: April 24th at 20:30.

Revolt #1 was invited to represent Israel at the International Biennale for Contemporary Circus in Marseille, and will premiere there in January 2015. These preview performances will be followed by an opportunity to talk to the creators and performers following each show.
Revolt is a work which deals with all that makes a person say: no more! That desire to effect change, to turn things around and work for something different, better. Concept, writing and direction: Orit Ben Nevo; Video (concept, writing, and creation): Eran Shapira; Animation: Tomer Gerby; Stills photography, video editing and art: Elia Natalia Izrikova; Music: Dori Ben Zeev and Asaf Givati; Lighting: Jake Sliv; Costumes: Elia Natalia Izrikova; Performers: Namer Golan – juggling; Shay Ramot: rope; Yael Berkman, Daniel Latura – acrobatics; Neta Pollak – movement, dance and handstands. Performances: April 30th at 20:30, May 1 at 20:30, May 3rd at 20:30.
Here's a look at the rehearsal process, as the artists talk about their experiences: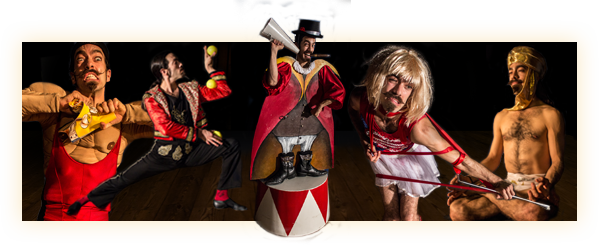 Gilgamesh, a contemporary circus performance for the whole family by Gilad Shabtai will take place on April 25th at 14:00.
Tickets may be ordered online via this link.