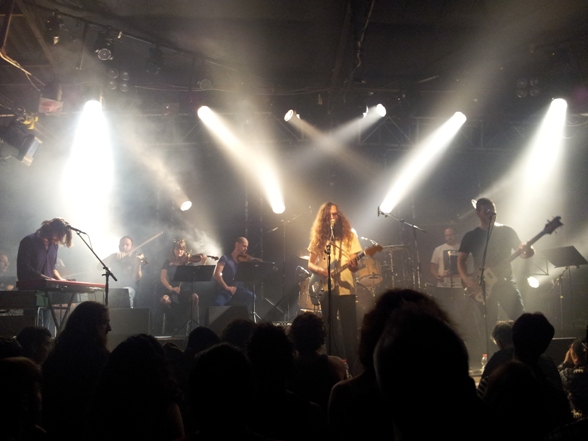 An elegant cowboy in a black jacket and white button down shirt, long hair temporarily revealing the signature black frame glasses, Uzi Ramirez took the stage at the Barby with a few of his friends, who just happen to be amazing musicians, and launched his new album – Cheese in My Pocket, in style. Uzi (Feinerman) Ramirez, of the deep voice and bad-boy locks, has taken his alt-rock country style into some beautiful orchestration in this album, with the Extra Cheese Orchestra performing.
On Saturday night at the Barby, the live version, although different in line-up from the album, made it a night to remember. Uzi started off with Lydia, a song from his previous (and really good) album Lick My Heart, with Yair Vermouth on keyboards, Alon Lotringer on bass, and Tal Tamari on drums. Uzi delivers music straight up, going from song to song almost without stopping. The connection between the audience and the songs is so tight, that's really all that's needed.

The Extra Cheese Orchestra began to come in on Bodean, the second track on Cheese, with a lush strings intro to this alt-country love song. On the album, it starts out with more of a guitar twang – I like it when there's something a little different in a live show. Oh yeah, and by this time, the jacket has come off. Then jumping back to Lick My Heart, brother Sefi (Zisling) Ramirez joined in on Confide in Me, building up to the full brass contingent on Surrender, the first track on the new album. "I don't want to be a star," sings Ramirez, with a lively brass and strings on this indie love anthem – "there's just no getting over you."
Mixing it up in the best of ways, with songs older and new, in different ensembles of musicians, shifting shades of rock, blues and indie orchestration. Great bluesy number performed by the Ramirez Brothers (Uzi Feinerman, Sefi Zisling & Eitan Efrat) – "Bury my body 'neath the old pine tree."  Cheese in My Pocket is a sexy album full of love songs, sad songs, fun songs and arrangements that feel free to go wild – and hearing it all live is like having Extra Cheese.
Uzi Ramirez – Cheese in My Pocket
Album launch musicians: Yair Vermouth – keyboards, Alon Lotringer – bass, Tal Tamari – drums, Extra Cheese Orchestra: Sefi (Zisling) Ramirez – trumpet, Shlomi Alon – saxophone and flute, Yair Slutski – trombone, Yuval "Tuby" Zolorov – tuba, Chen Shenhar – violin, Maya Lee Roman – violin, Noam Haimovitz Weinschel – viola, Avigail Arad – cello.